Trump Slams Police Brutality: 'George Floyd's Death Was A Terrible Thing'
KEY POINTS
President Donald Trump says the police have to "do better"
Polls show police trust among African-Americans is at a lowly 36%
Trump called on everyone, including local authorities, to work together to restore hope in communities affected by the riots and consequent looting
President Donald Trump on Wednesday called on the police to "do better," saying police misconduct has been a "long term problem."
In an interview on "The Brian Kilmeade Show," Trump addressed concerns about the mounting distruct against American police, especially among the black community. In an Axios/ Ipsos poll cited by host Brian Kilmeade, 70% of white Americans trust the police, but only 36% of African-Americans do.
"They [police] have to get better at what they have been doing. Obviously, that [George Floyd's death] was a terrible thing," Trump said.
"The police department, everybody has to do better. It's a long-term problem. This didn't happen today."
During the interview, Kilmeade also brought up New York City Mayor Bill de Blasio's statement that National Guard troops are not trained to handle unrest, saying "no good comes of it." Trump, however, reiterated his trust in the troops, citing how the police were not able to control the violent riots in Minnesota.
"After three days of watching it, I demanded that the National Guard be utilized and in one day, it was over," Trump said. He had previously warned cities and states that he would deploy the National Guard if local authorities won't be able to contain the violent protests.
"The governor was a nice man, but he was not using enough," he said. "You saw the police were running in Minneapolis and they were running away from their precinct which is something I have never seen before."
Trump, who had earlier been criticized for not immediately speaking on the issue of Floyd's death, has expressed his solidarity with the people protesting and demanding for justice.
"No one is more upset than fellow law enforcement offices by this small handful who failed to abide by their oath to serve and protect," he had said. "We must all work together as a society … We must forge a partnership with community leaders, local law enforcement and the faith community to restore hope."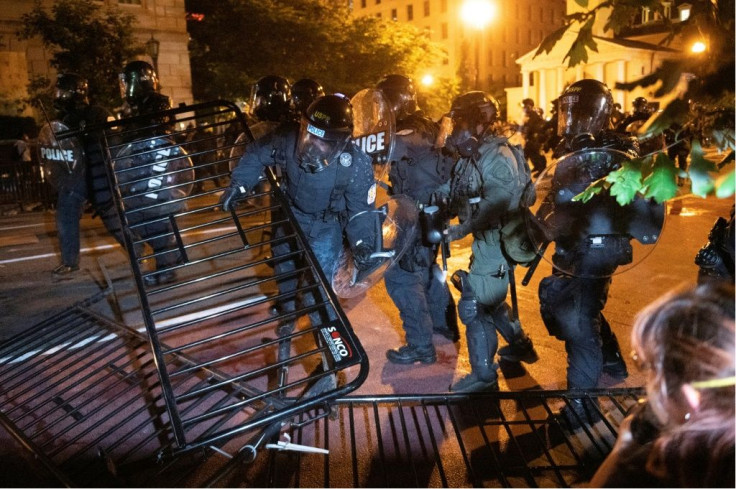 © Copyright IBTimes 2023. All rights reserved.