Truth About George, Amal Clooney Hiding Marriage Troubles, 'Nasty Divorce Battle'
Are George and Amal Clooney hiding a messy marriage by putting on a "happy face"? This is what a new report is claiming, but there is no evidence backing up this claim.
RadarOnline recently put out a report claiming that the Clooneys are in the middle of a "nasty divorce battle." However, the outlet asserted that they were pretending that they had no "marriage troubles" in public by putting on a sweet display in front of cameras.
The unreliable outlet's report pointed out that Clooney and his human rights lawyer wife were "all smiles" when they attended an event in Scotland on Thursday and were recognized for their humanitarian work. It also mentioned that the couple had been at Buckingham Palace "eating dinner with Prince Harry," but the dinner was actually hosted by his father, Prince Charles.
Despite this, RadarOnline asserted that Clooney and Amal were "sleeping in separate bedrooms" as early as April 2017. It also claimed that the couple was already on the verge of a divorce and that Amal had taken their twin children, Ella and Alexander, to a villa in Sardinia.
However, Gossip Cop confirmed with sources close to the Clooneys that the two remain happily married nearly five years after tying the knot in September 2014.
Photos from their recent events also support the confirmation as George and Amal looked just as in love as ever. The actor was seen holding his wife's hand as they entered McEwan Hall in Scotland before they received their humanitarian award just last week, BBC reported.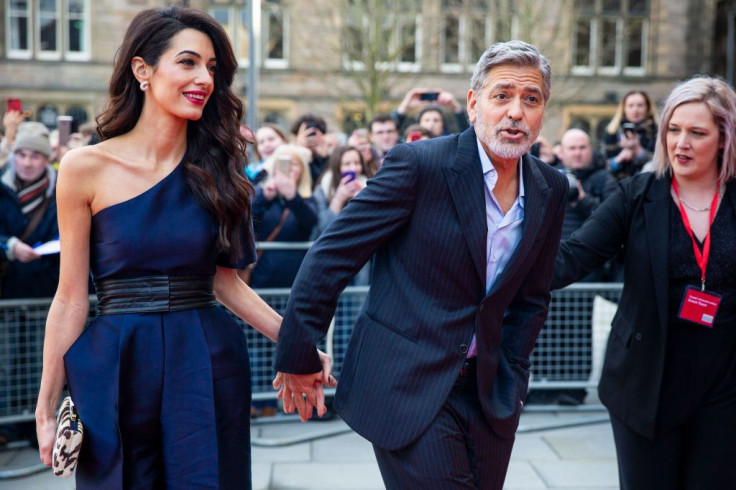 Last year, Amal also made sure to let her husband know just how much he is loved. When the actor received the American Film Institute Life (AFI) Achievement Award, Amal was among those who gave a special message in honor of Clooney at the event held at the Dolby Theatre in Hollywood.
Amal praised George's "modesty," "incredible talent" and "character" during her speech. She also called him an "amazing husband and father."
"My love, what I have found with you is the great love that I always hoped existed. And seeing you with our children, Ella and Alexander, is the greatest joy in my life," she said (via E! News). "You fill our home with laughter and happiness and that's even before the children have worked out that 'dada' is actually Batman, a talking fox, and friends with Mary Poppins."
© Copyright IBTimes 2023. All rights reserved.