TSX hits 10-week high on Europe hope, U.S. banks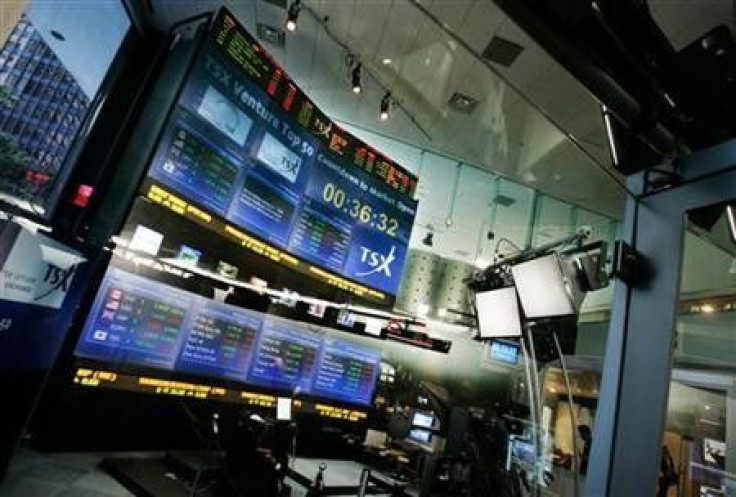 Canada's main stock index touched a 10-week high on Thursday as the financial and energy-linked sectors climbed on easing concerns about the European debt crisis and encouraging U.S. bank earnings.
Heavyweight stocks leading the index higher included Bank of Nova Scotia (BNS.TO: Quote), which climbed 2.7 percent to C$53.98, and Royal Bank of Canada (RY.TO: Quote), which rose 1.2 percent to C$53.10.
Toronto-Dominion Bank (TD.TO: Quote) also gained 1.3 percent to C$78.22 as financials got a boost from broader risk appetite. Investors were more bullish as good demand for European government bonds offset fears over funding costs and worries about a potential Greek debt default.
France and Spain together sold about $16 billion worth of new paper, while continuing talks on Greek debt restructuring also helped sentiment.
There's a growing sentiment that the actions in Europe will make it such that the worst case scenario will probably be avoided, said George Vasic, chief economist and equity strategist at UBS Securities Canada.
Specifically, the talks are going on around private-sector involvement in Greece and the downgrades of France and the other countries are now behind us.
Last week, ratings agency Standard & Poor's downgraded the credit ratings of nine euro zone countries, including France, rattling markets and keeping the region's debt woes in the spotlight.
The Toronto Stock Exchange's S&P/TSX composite index .GSPTSE ended the day up 53.17 points, or 0.43 percent, at 12,380.69. Earlier, it climbed to 12,417.69, its strongest level since November 9.
Seven of the index's 10 main sectors were higher, with the financials and energy sectors leading the gains, up 1.6 percent and 0.5 percent, respectively.
A lot of people are still skeptical. They don't think Europe is solved yet. However, we believe Europe is on the right track, said Irwin Michael, portfolio manager at ABC Funds.
Psychologically, the market is trying to make a comeback.
Also helping investor sentiment were healthier earnings reports from Bank of America and Morgan Stanley.
As well, U.S. data suggested the momentum for recovery was building in the world's largest economy with the number of Americans filing for new jobless benefits last week dropping to near a four-year low. .N
Other stocks helping to lift the Toronto index included diversified miner Teck Resources (TCKb.TO: Quote), up 3.2 percent at C$42.22. The Thomson Reuters-Jefferies CRB index .CRB, a global commodities benchmark, rose 0.47 percent.
Big names on the downside were Barrick Gold (ABX.TO: Quote), down 3.2 percent at C$46.97, and Goldcorp (G.TO: Quote), down 1.2 percent at C$44.89, helping to drag the broader materials sector down nearly 1 percent.
Gold prices retreated as tame U.S. inflation data prompted bullion investors to take profits after a three-day rally.
Viterra (VT.TO: Quote) ended the day down nearly 5 percent as the grain handler reported a lower fourth-quarter profit than expected.
The blue chip S&P/TSX 60 index closed 3.70 points higher, or 0.53 percent, at 707.42.
© Copyright Thomson Reuters 2023. All rights reserved.