Twitter Reacts To Daniel Kaluuya's 'SNL' Joke About Royal Family After Meghan Markle's Racism Claims
KEY POINTS
Daniel Kaluuya touched the allegations of racism Meghan Markle made against the royal family in his "SNL" monologue
A number of Twitter users found his "SNL" monologue hilarious
Others were not impressed with the "Black Panther" star's jab at the royal family
Daniel Kaluuya took a jab at the British royal family when he made his "Saturday Night Live" hosting debut over the weekend.
The "Black Panther" star touched on several topics during his "SNL" monologue, including the allegations of racism Meghan Markle made during her and Prince Harry's tell-all interview with Oprah Winfrey last month. The Duchess of Sussex alleged that a member of the royal family had concerns about how dark her first child's skin would be before he was born, though Prince Harry reportedly clarified that it was neither the Queen nor Prince Philip.
"First of all, I know you're hearing my accent and thinking 'oh no, he's not Black, he's British,'" Kaluuya said during the latest episode of the NBC show. "Let me reassure you that I am Black. I'm Black and I'm British. Basically, I am what the royal family was worried the baby would look like."
Prince William has since denied the allegations, Meanwhile, Buckingham Palace released a statement, which read in part, "While some recollections may vary, they are taken very seriously and will be addressed by the family privately."
Kaluuya's monologue immediately had viewers taking to Twitter to share their opinions, with some expressing disapproval over the jokes he made.
"Hope he's got deep pockets as he could be sued for slander as there is NO proof the Royal family think this way," one commented.
"Yes Daniel, I can tell you are British by your very traditional surname and not just your accent. The Kaluuye's go back to Henry viii do they not ! I'm not surprised you'll be agreeing with Meghan Markle, it's disappointing you've got your facts wrong though," another commented.
Some were not happy with the "Vaccine Game Show" skit, in which Kaluuya played a doctor working on the frontlines of the COVID-19 pandemic. He hosts a game show and tries to convince the contestants, his unvaccinated family members, to agree to get their shots.
One Twitter user commented, "No. No. No. @nbcsnl, how did this skit even make it on air? It's deeply problematic - making fun of Black folks declining the vaccine, esp without any context - past and ongoing racism within and outside healthcare institutions. You all should know better by now."
However, most were impressed with Kaluuya's "SNL" monologue and skits, with some even dubbing him their favorite host.
"Daniel Kaluuya just killed his #SNL monologue," Philip Lewis tweeted, sharing Kaluuya's monologue.
"Did you see any of Daniel Kaluuya on SNL? His monologue was brilliant. The other stuff was okay but he really punched hard on racism in the UK in the monologue," another said.
"That was a good episode last night. Didn't realize he had such good comic timing. Nice," a third Twitter user added.
"Daniel Kaluuya might just be my fav SNL host," another added.
Aside from his jab at the royal family, Kaluuya also compared British racism and American racism during his "SNL" monologue.
"Let me put it this way. British racism is so bad, white people left. They wanted to be free — free to create their own kinds of racisms. That's why they invented Australia, South Africa and Boston," the 32-year-old actor quipped.
He also joked about the technical difficulties he experienced at the Golden Globes in February when he virtually accepted the award for best supporting actor for his role in "Judas and the Black Messiah."
"I was muted. Can you believe that? I told the best joke of my life and I was muted," Kaluuya said before making a reference to his movie "Get Out." "I felt like I was in a sunken place."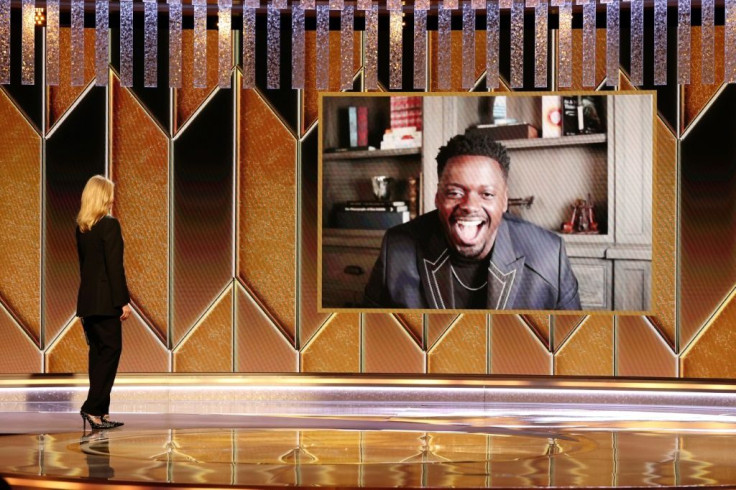 © Copyright IBTimes 2023. All rights reserved.
FOLLOW MORE IBT NEWS ON THE BELOW CHANNELS