Twitter Reacts To Palace Reportedly Stripping Prince Harry's Military Uniform Of Queen's 'ER' Initials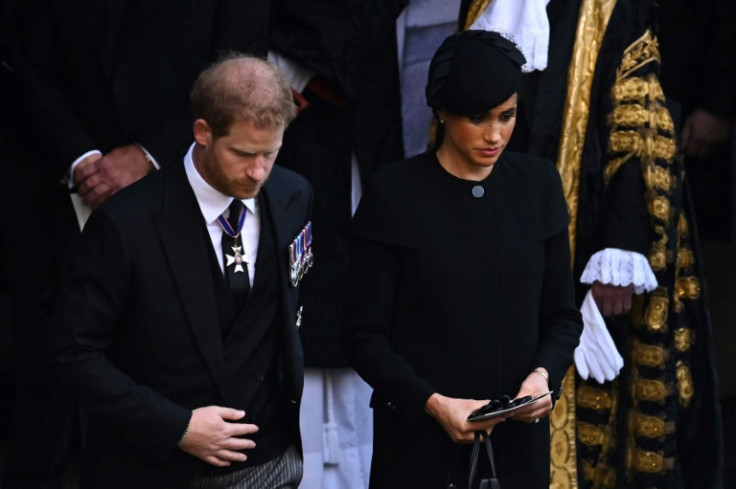 KEY POINTS
Prince Harry's military uniform at a vigil for the Queen Saturday did not feature his grandmother's "ER" initials
Some royal fans slammed the palace for the alleged dig at the Duke of Sussex
Others defended the royal family, pointing out that Prince Harry was stripped of his military titles after quitting royal duties
The removal of Queen Elizabeth II's royal cypher, a piece of hardware that consists of her initials "ER," from Prince Harry's ceremonial military uniform has received criticism from some royal fans.
The Duke of Sussex, who is no longer a working royal, wore his Blues and Royals No 1 dress uniform to a special vigil for his late grandmother at Westminster Hall Saturday after being granted permission by King Charles III. But while Prince William was photographed wearing a uniform that bore the Queen's "ER" initials — E refers to Elizabeth and R is for Regina (Queen in Latin) — on the shoulder, the initials were missing from Prince Harry's outfit.
Roya Nikkhah, the royal editor for The Sunday Times, reported that before the vigil, Prince Harry's uniform was returned to him from Buckingham Palace "stripped" of the Queen's cypher. It reportedly left Prince Harry "devastated" and "heartbroken." International Business Times could not independently verify this information.
The report received mixed responses on social media. Some slammed the palace over the alleged dig at Prince Harry, pointing out that Prince Andrew's military uniform still had the "ER" initials despite also not being a working royal and no longer having military titles.
"[Harry] was there to honor his grandmother, his Commander-in-Chief. @RoyalFamily wanted to play petty games again," one person tweeted.
"The Firm should realize by now that everything is noticed. This act to diminish Harry only amplifies the way the outside world views the Firm and the Monarchy. Today's word is petty," another wrote.
"I always thought that the royals were a cut above. That they were always gracious. But after seeing what they did to Prince Harry's uniform, removing the initials ER, has changed my opinion greatly. This is an insult, and not even a veiled insult. I will never bow to King Charles," a third Twitter user commented.
"The discrimination against Harry is so sickening and sad, I hope he releases his book immediately after the funeral," a fourth person opined.
Other social media users defended the royal family, pointing out that the removal of the Queen's initials may have been protocol as Prince Harry was stripped of his military titles after stepping back from royal duties in 2020.
"He chose to leave but still wants all the perks. He should stay away and make podcasts as he wanted. But [he] couldn't do that as he's used to having everything done for him," one commented.
"He's not a Royal Colonel or a General Officer. If he was wearing combats, his rank slide would be on his chest and would show his regiment. In his case, HCR (Household Cavalry Regiment)," another wrote.
One user shared a photo from Prince Harry's 2018 wedding to Meghan Markle showing both the Duke of Sussex and his older brother wearing the frockcoat uniform of the Blues and Royals. But while Prince William's uniform bore the "ER" initials, the Duke of Sussex's did not in the snap.
"You can only wear the royal cypher on your uniform when you are personal aide-de-camp to the sovereign. Harry was personal ADC to [Her Majesty] between October 2018 and February 2021, when he had to hand in all his military positions. After this date, he can no longer wear the insignia of ADC on his uniform," the user tweeted.
Buckingham Palace and representatives for the Duke and Duchess of Sussex have not publicly addressed why Prince Harry's uniform did not feature the Queen's initials.
In addition to the missing "ER" initials from the shoulder epaulets, the aiguillettes – ornamental braided cord – that usually appears with the cypher were also removed from Prince Harry's uniform, The Telegraph reported.
The outlet confirmed that the decorations can only be worn by personal aide-de-camps to the monarch.
Despite being stripped of his honorary military roles and patronages by the late Queen in January, Prince Andrew remained in the position of aide-de-camp.
All working members of the royal family with military rank will wear their military uniforms to Queen Elizabeth II's state funeral at Westminster Abbey Monday.
Prince Harry and Prince Andrew are expected to wear mourning suits.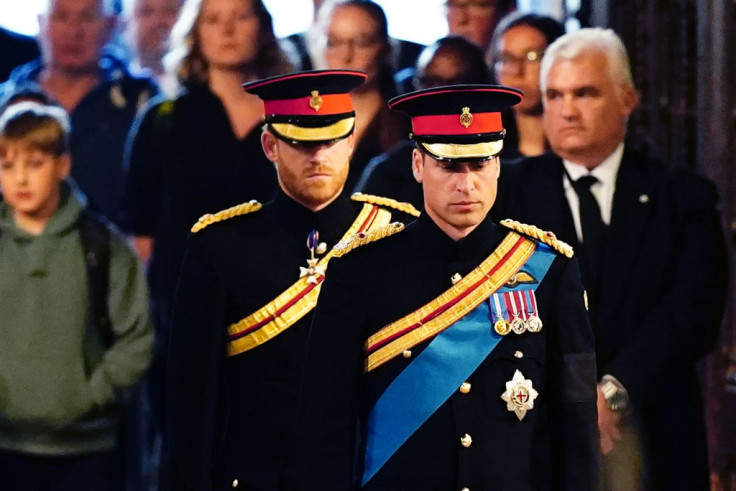 © Copyright IBTimes 2023. All rights reserved.