Twitter On Tom Brady Throwing Lombardi Trophy Across The Water During Parade: 'Total Disrespect'
KEY POINTS
Tom Brady threw the Lombardi Trophy across the water during the Super Bowl boat parade
Several Twitter users felt that what Brady did was disrespectful and he was being irresponsible
Some online user just laughed at Brady's action because he has six more trophies at home
Tom Brady was overjoyed with his seventh Super Bowl championship that he playfully threw the Lombardi Trophy across the river during the Tampa Bay Buccaneers' boat parade.
Brady, 43, and his teammates celebrated their Super Bowl LV victory with a boat parade on the Hillsborough River in downtown Tampa, Florida Wednesday. Brady's kids joined him during the celebration at the harbor area, Entertainment Tonight reported.
The quarterback was in great spirits and even playfully threw the Lombardi Trophy over the water to his teammate who caught it. The moment was captured on camera sparking various reactions from the netizens, with some thinking the act was a total disrespect to the coveted trophy.
"IMO total disrespect!!! Can u imagine if it had fallen into the water!!!!" one commented.
"WTF spoiled and irresponsible," another added.
"My family's owned Season tickets to the Packer's since the FROZEN TUNDRA!DON'T DISRESPECT THE TROPHY," a third user wrote.
"Absolutely shameful," another wrote.
"If that wasn't a replica, Vince Lombardi turning over in his grave. Respect the trophy," Nick Rocchio commented.
Meanwhile, some were sad because they felt that the trophy didn't matter to Brady anymore since he already has many of them at home. Several also took Brady's move as a serious offense and suggested that the Super Bowl 2021 MVP should get a fine for his action.
"When you've won so many you don't even care about the reward anymore," Kristoffer Valukis wrote.
"He should get fined for the throwing the trophy. Disrespectful," @Katieshelby2 opined.
"NFL need to fines them as soon as possible," another agreed.
However, some just laughed at what Brady did because they know he didn't mean to disrespect the trophy seeing that they were just celebrating. Meanwhile, others felt that it wasn't a big deal because he has six other Lombardi trophies at home.
"He is like i have 6 of there already. So what if the 7th goes in the water. Big deal," @gmj_19 commented.
"He's like 'whatever I have more of these at home,'" one added.
"S--t you do when you have seven of anything. Tom treating the SB trophy like Mardi Gras beads," another wrote with many laughing emoji.
"I guess if you got 7 Lombardi trophies the possibility of losing one in the harbor is an acceptable loss," another added with a laughing emoji.
Brady led the Buccaneers to their second Super Bowl championship on Sunday. He secured the MVP award after the game. It was his 10th Super Bowl appearance and seventh championship overall.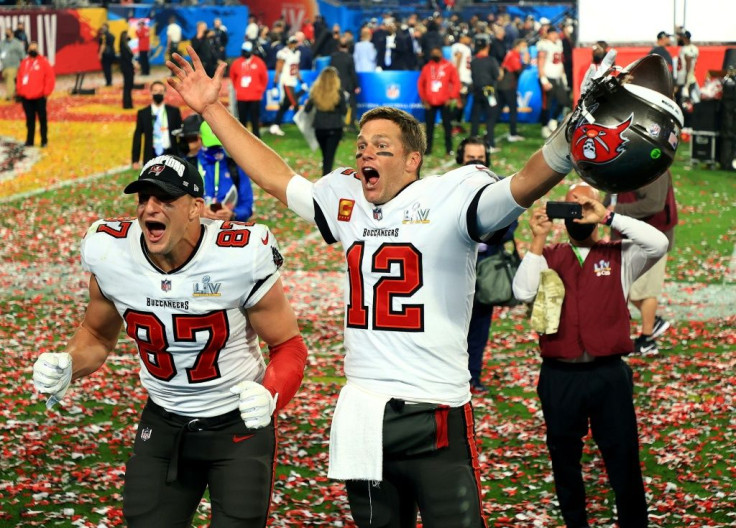 © Copyright IBTimes 2022. All rights reserved.
FOLLOW MORE IBT NEWS ON THE BELOW CHANNELS