Uber Issues Holiday Reminder To Users: Surge Pricing Will Be In Effect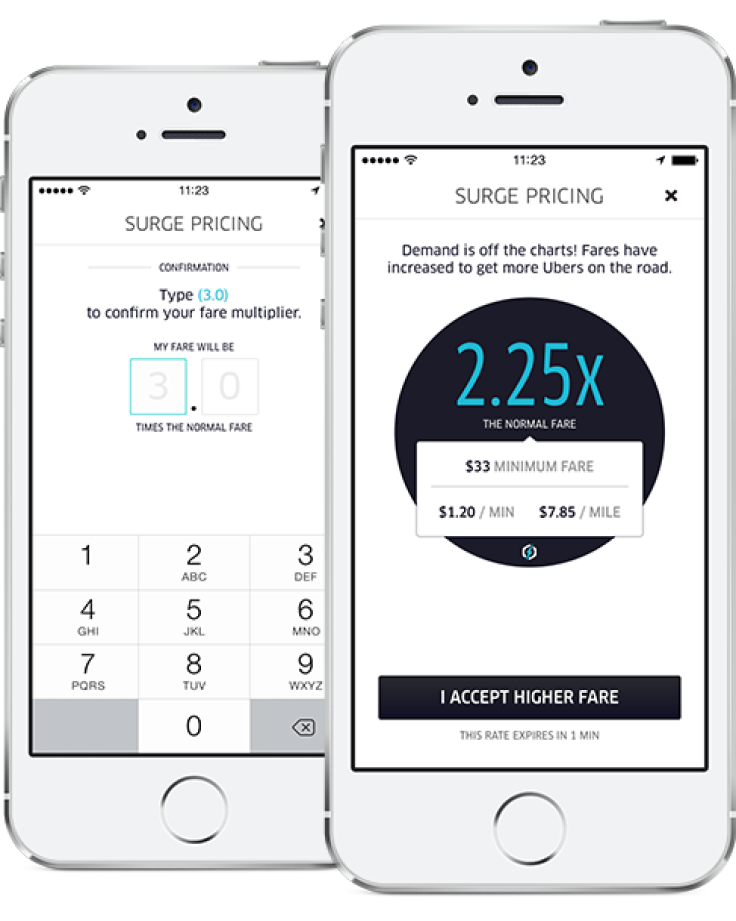 Uber's surge-pricing plan has infuriated customers, earned an F-rating from the Better Business Bureau and backed rivals' assertions that the company will do anything to make a buck. Now, as the holiday party and travel season gets underway, Uber has sent customers a reminder about how the dynamic charging structure works and when it's in effect.
Founded in 2011, the ride-sharing company has taken heat for the impression - - true or false -- that it knows customers are unclear about surge-pricing yet does nothing to clear things up. Now, for what appears to be the first time and just before the busy holiday season, the company sent an email to Los Angeles customers asking them to be proactive when considering how they're going to get home. First obtained by PandoDaily, the email was sent before a night of Halloween partying but also as Thanksgiving, Christmas and New Year's Eve become visible on the calendar.
"As you finalize your weekend plans, keep in mind that tomorrow will be one of those rare evenings when every witch, mummy and Miley lookalike wants to leave at exactly the same time," the email starts, before going on to recommend that customers split a fare, sign up for ride notifications and that they become familiar with Uber's lost-and-found policy.
Along with customer service, the tips could be evidence that Uber feels contrite after years of bad publicity focused on its relationship with employees and labor, lack of driving training and business tactics.
Most important among those recommendations, though, is the one that advises customers to estimate their fare within the Uber app before requesting a ride. Uber, like Lyft, its chief competitor, has touted prices that are consistently lower than traditional taxi services. But research has shown that the claim isn't true when surge pricing is in effect, a particularly frustrating point for customers trying to get home at rush hour or on a busy night like Halloween.
The concept is a simple case of supply and demand, with Uber ratcheting up fees for customers based on how many drivers are available at the time. Prices would remain consistent in the daytime hours, for instance, only to climb as riders hit the town, then return to normal, then rise again when bars and restaurants let out.
© Copyright IBTimes 2023. All rights reserved.