UN Raises $80M To Feed Syrian Refugees As Nations Pledge To House 100K People Fleeing Conflict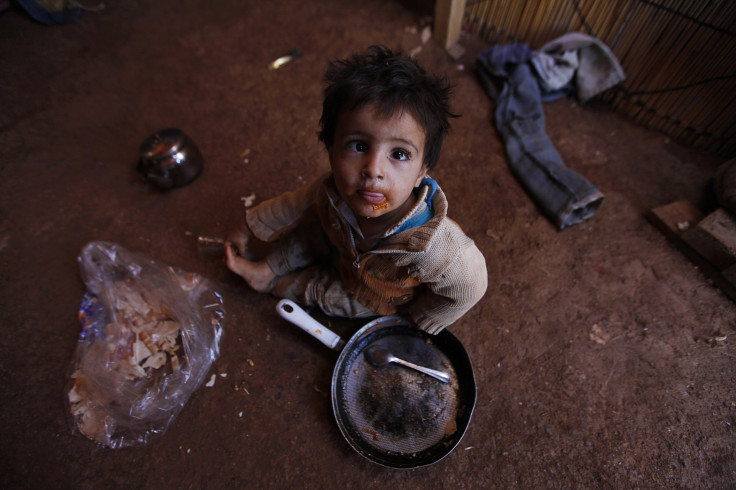 Days after suspending its massive food assistance program, which serves over 1.7 million Syrian refugees, the United Nations' World Food Programme (WFP) announced that it will once again begin dispensing food aid after raising nearly $80 million through donations, in a statement released Tuesday. Earlier this month, the U.N. agency had said that it needed $64 million to fund its operations for the month of December alone.
"By mid-December, Syrian refugees in Lebanon, Jordan, Turkey, Iraq and Egypt will have their electronic food vouchers -- also known as e-cards -- uploaded with an average amount of US$30 per family member so that they can immediately use them to buy food from local shops," WFP said, in the statement.
Following the suspension of the food aid, WFP, along with the U.N. Refugee Agency (UNHCR), had launched a massive fundraising drive to mitigate what the organization had earlier termed as the "worst humanitarian disaster since the end of the Cold War."
"This outpouring of support in such a short time is unprecedented," WFP Executive Director Ertharin Cousin said, in the statement, adding that while government donations made up most of the amount raised, over 14,000 individuals and private sector donors had contributed nearly $2 million.
Also on Tuesday, UNHCR said that governments from 28 nations had pledged to grant asylum to nearly 100,000 Syrian refugees -- a significant move toward the agency's stated goal of resettling 130,000 refugees by the end of 2016 -- at a meeting in Geneva, according to media reports.
Currently, about 2.5 million Syrians are believed to be internally displaced. A worsening conflict between forces loyal to President Bashar Assad, Syrian rebels and militants of the Islamic State group, has led to the exodus of an additional 3.2 million people, who have taken refuge in the neighboring nations of Jordan, Lebanon, Iraq, Turkey and Egypt.
"Syria has become the defining humanitarian challenge of our times, and it's important that the kind of offers of help that we've seen today keep coming in," Antonio Guterres, the U.N. high commissioner for refugees said, in a statement released after the meeting in Geneva.
However, several human rights group reportedly said that even the new pledges were not enough to accommodate nearly 300,000 refugees who were in need of resettlement.
© Copyright IBTimes 2023. All rights reserved.