'Uncharted 4: A Thief's End': A Family Affair For Nathan Drake's Farewell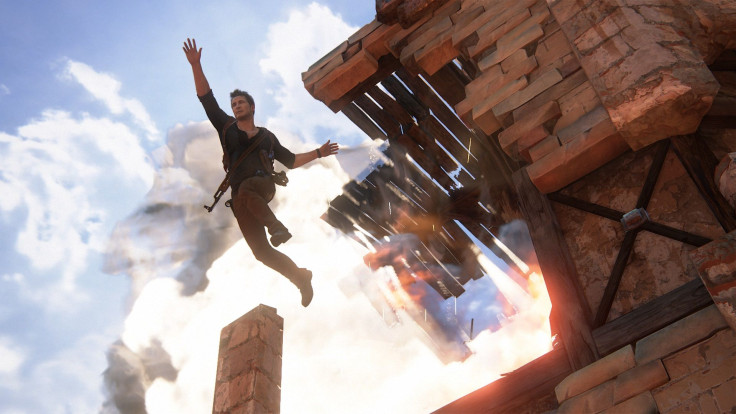 "Uncharted 4: A Thief's End," to be released May 10, is just that for Nathan Drake. Naughty Dog is bringing the curtain down on the franchise with a finale that's fitting for a devil-may-care treasure hunter.
For Naughty Dog, the game developer acquired by Sony in 2001, this is the end of their most successful franchise ever, selling oved 21 million units. "Uncharted 3" sold 3.8 million copies in its first day alone when released in 2012.
In a preview event in New York City March 31, Naughty Dog revealed the expansive world of "Uncharted 4." Drake is on the hunt of the elusive treasure of Henry Avery. The famed pirate with his ship, the Fancy, made off in gold and jewels equivalent to around $400 million before vanishing without a trace. It's a treasure every adventurer hopes to find. Except for Drake. He's retired, married Elena Fisher and looking forward to a life where a gun is not pointed at him. That's all disrupted when his brother, Sam, appears with a vital clue that could lead them to Avery's lost treasure.
Avery's treasure is a MacGuffin, an excuse for Drake to reconnect with his brother. Unfortunately, a group known as Shoreline, led by Nadine Ross, are willing to kill anyone in their own pursuit of Avery's treasure. The adventure takes the Drake brothers and Sully to Madagascar.
This was the first time during the development of the "Uncharted" series where Naughty Dog worked on a different game. Work began on "Uncharted 2: Among Thieves" after "Uncharted: Drake's Fortune." Pre-production for "The Last of Us" was just starting as "Uncharted 3: Drake's Deception" was in production. "What you see here is a lot of what we learned from 'The Last of Us' as far as a more system-based world. That's in terms of how the AI works, how the combat is intertwined with the core of the game, how we've taken Nate's core moves set with the 4x4 vehicle," Bruce Straley, "Uncharted 4" director, said to International Business Times.
Vehicles have been used within larger action sequences as players dodge, shoot and crash their way through danger. Players can now control the the 4x4 across Madagascar. It's another way to explore ruins, find treasure and overcome obstacles.
In "Uncharted 4," tall grass gives Drake a stealth element to gain the advantage on the Shoreline group. Drake can now mark enemies and use a rope to swing into the fray. There's an alertness level for enemies. A white marker means enemies are unaware of Drake, yellow means they are searching for Drake and orange means combat is now engaged. Drake can hide in the tall grass to disengage, giving players a way to start over on how they approach a stronghold or group of enemies.
Characterization was another important lesson learned from "The Last of Us." Drake, Elena and Sully are strong characters with unique personalities and history. But, the characters are all archetypes familiar to the adventure genre. Drake is rakish, but has a heart of gold. Elena is a strong female character who may get in trouble every once in awhile, but is not afraid to fight or use a gun.
After "The Last of Us," Straley said they learned how to get to the root of these beloved characters. "I think it's advanced, as far as games are concerned," Straley said. The game follows a gameplay template of story beats, chase sequences and set pieces, but that familiarity lets "Uncharted 4" dive further into the story surrounding Drake.
"The story we've built up around Nathan Drake is going to create an interesting dilemma inside yourself," Straley said. "As you go on these adventures, which are fun and adrenaline-drenched, players are completely invested in these high-action moments, but, at the same time, we're torn inside by the people we're putting in jeopardy and the choices we're making." Through this, Straley hopes players learn more about Drake, his motivations and why he cares so much about the small group of people he has let into his life.
As for a happy ending for Drake, Straley remains coy. "The title, in and of itself, explains how we're playing into that idea. We looked back at what we set up and made sure all of the things we teed up that haven't been paid off are paid off here," Straley said. "I think there's a beautiful payoff in terms of story and gameplay."
FOR FREE to continue reading
✔️ Unlock the full content of International Business Times UK for free
offer available for a limited time only
✔️ Easily manage your Newsletters subscriptions and save your favourite articles
✔️ No payment method required
Already have an account? Log in
© Copyright IBTimes 2023. All rights reserved.