The Undertaker WWE Return: Wrestler To Appear On 'SmackDown' Before Survivor Series 2016, Set Up WrestleMania 33 Match?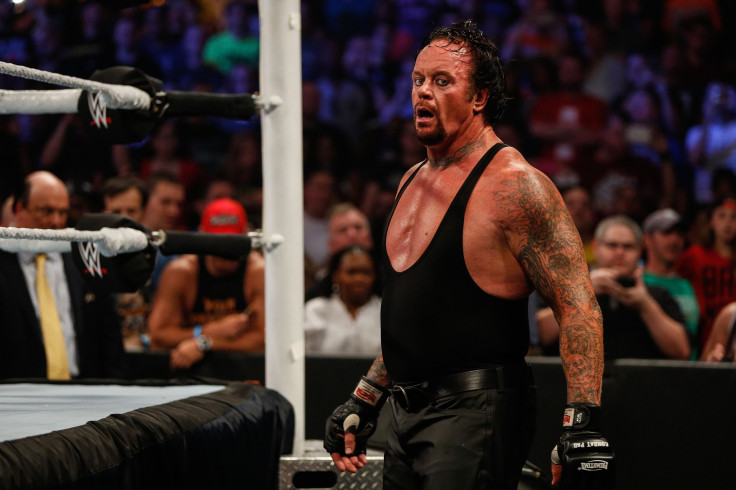 After being away from WWE for seven months, The Undertaker is set to make his return. It was announced on Wednesday that the wrestler will make an appearance on the Nov. 15 edition of "SmackDown."
The Undertaker made headlines last week when he was seen at the Cleveland Cavaliers' home opener, but he hasn't appeared on WWE TV since WrestleMania 32 in April. There's been plenty of speculation regarding whether the 51-year-old would be a part of WrestleMania 33 next year, and the most recent news could mean that he's coming back for at least one more match.
With The Undertaker set to return in less than two weeks, he could be a part of at least one pay-per-view before WWE's biggest event of next year. Survivor Series will take place just five days after The Undertaker shows up on "SmackDown" at the Mohegan Sun Arena in Wilkes-Barre Township, Pennsylvania.
The Undertaker had a match at last year's Survivor Series, teaming up with Kane to defeat Bray Wyatt and Luke Harper. It's almost certain that the Deadman won't compete in a match at this year's event, but it's not out of the question that he could show up at the PPV, or have a match sometime before WrestleMania 33 on April 2, 2017. The Undertaker appeared at five PPV's in 2015.
WrestleMania 33 is still five months away, but WWE might plant the seeds for The Undertaker's match at the event. A lot can change in the future, but John Cena appears to be the favorite to take on The Undertaker in what could be the last match of the Deadman's career. The Undertaker could take on an opponent that few are expecting, much like he did at WrestleMania 32 when he faced Shane McMahon.
It wouldn't be the first time that The Undertaker's WrestleMania opponent has been recognized months in advance. Shawn Michaels challenged The Undertaker on "Monday Night Raw," more than three months before their WrestleMania 26 match.
Nov. 15 will mark the 900th episode of "SmackDown," which began in 1999.
© Copyright IBTimes 2023. All rights reserved.