UNLV Rebels Nickname Controversy: Mascot Not Linked To Confederacy, Says University President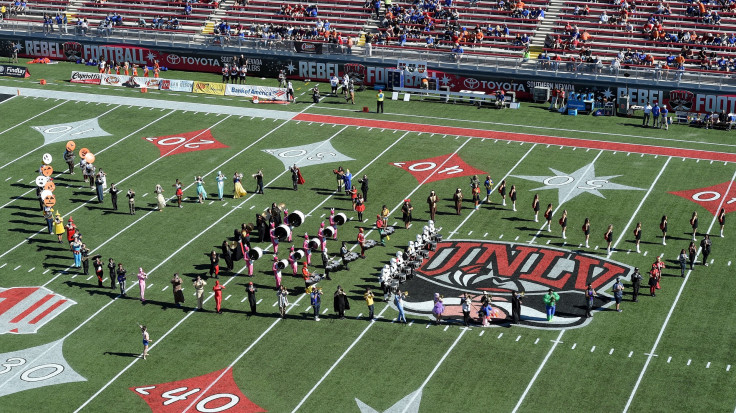 The debate over Confederate symbols on American college campuses has reached the University of Nevada, Las Vegas, and the school is fighting back. University President Len Jessup released a statement Monday backing the institution's nickname, the Rebels, and mascot, "Hey Reb!" He denied allegations that the character had any connection to the Confederacy, according to the Associated Press.
"It was coined as our young institution was fighting to establish its own identity, and it has come to represent the very independence and spirit that embodies both UNLV and Southern Nevada," Jessup, who took office in January, said. "Rather than trying to erase our history, we must accept it, learn from it, and as we move on, strengthen our resolve for equity and inclusion."
"Hey Reb!," a mountain man with a big chin, mustache and cowboy hat, has been the university's mascot since the 1980s. Before that, the Confederate-uniform-wearing wolf Beauregard represented the school. A band of black student athletes requested the change in the 1970s, according to UNLV's website.
Focus returned to the mascot this past summer after a white suspect fatally shot nine black people at the historically black Emanuel African Methodist Episcopal Church in Charleston, South Carolina. Several states began to remove Confederate symbols -- everything from flags to statues of famous figures -- in the wake of the massacre. Sen. Harry Reid, D-Nev., recommended in June that school administrators "take a look" at their Rebel imagery, the Las Vegas Review-Journal reported.
But a university report compiled recently by Rainier Spencer, its chief diversity officer, found no link between the Civil War and the mascot. The idea of rebellion stemmed from a desire to be nonconformist and separate from the University of Nevada, Reno, though the school did borrow the Confederate identity for about 20 years, according to the website.
Jessup said Monday the school "must keep the term 'Rebels' as our nickname," but he noted the need to "freshen the mascot's costume and related marketing images," the Las Vegas Sun reported.
© Copyright IBTimes 2023. All rights reserved.