US Airstrike In Mosul Killed ISIS Militants, Injured Some Of The Freed 46 Turkish Hostages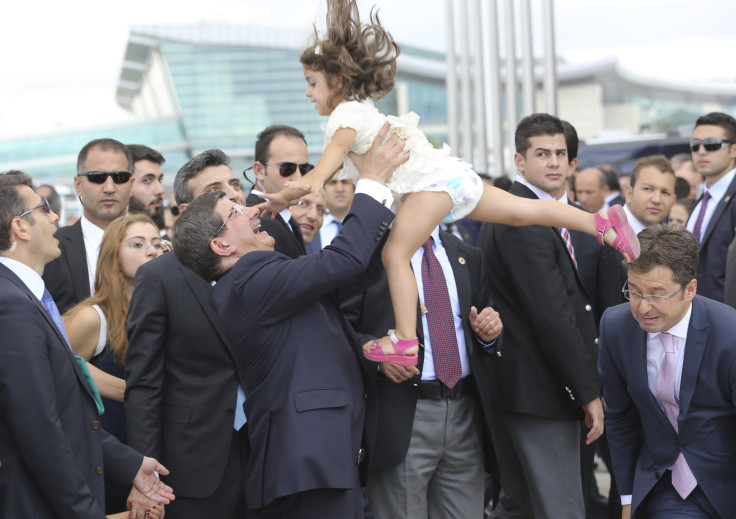 A recent U.S. airstrike in Mosul on an Islamic State target killed two militants guarding the building where 46 Turkish hostages were being kept. In an interview with Turkish news station NTV one of the detainees freed Saturday said some hostages were injured in the bombing, but without it, they may not have survived.
"The area that we were kept and the road that our vehicle used were bombed. Some airstrikes hit very close. There were people among us who were injured when windows shattered. Still, without the U.S. bombing, perhaps we wouldn't be able to survive," Consul General Öztürk Yılmaz, one of the hostages, said Saturday in a live interview with NTV.
Yılmaz is one of 46 Turkish citizens and three Iraqis held for 101 days by Islamic State militants. They were taken when the group, formerly known as the Islamic State in Iraq and Syria or ISIS, seized the Iraqi city of Mosul earlier this summer.
"It hit us," another hostage said, according to Hurriyet Daily News. "I was trapped under debris. Glass had stuck into my head. They told [us] that two [militants] were killed outside."
During their captivity, one of the hostages said they were forced to watch ISIS propaganda videos, including those purporting to show the beheadings of journalists James Foley and Steven Sotloff and of aide worker David Haines. They said militants threatened to hurt them but never actually used physical violence.
Turkish Prime Minister Ahmet Davutoglu told reporters Saturday the hostages had been freed and were "safely back to Turkey." No further details have been released on the conditions of their release nor any details on how the Turkish government negotiated with ISIS.
© Copyright IBTimes 2022. All rights reserved.
FOLLOW MORE IBT NEWS ON THE BELOW CHANNELS