US Business Leaders Visit Cuba, May Push For Lifting Trade Embargo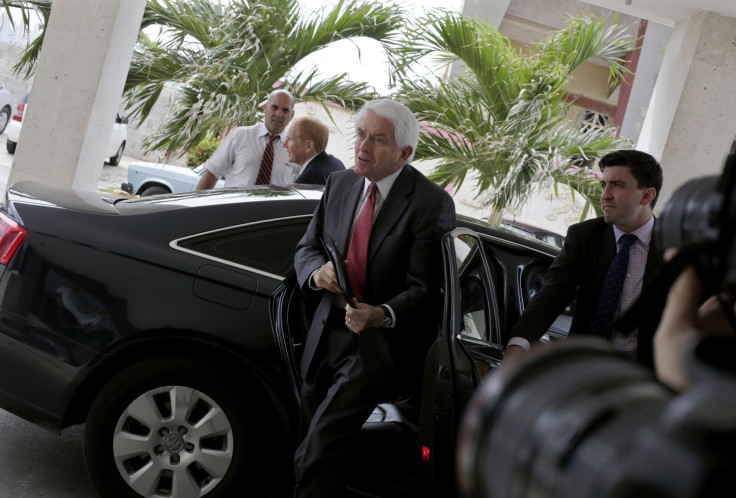 An American trade delegation is making a rare visit to Cuba this week to weigh Raul Castro's new business-friendly policy reforms against his abysmal human rights record.
The trip is a step in the gradual move away from a trade embargo put in place more than 50 years ago. Business leaders say stronger trade ties between the U.S. and Cuba would have economic benefits for both countries -- and could also help push the long-isolated Cuban leadership to lessen its political stranglehold. But many Americans, including Cuban immigrants, remain opposed to any U.S. relationship with the dictatorship. President Barack Obama seems to favor a closer relationship but has moved delicately.
"What we see now is broad-based support in the business community and academic world for another round of sanction-loosening to help accelerate the ongoing reform process there," said Richard Feinberg, professor of international political economy at the Graduate School of International Relations at University of California, San Diego.
"The administration needs to decide, and be willing to take little political heat," he said.
Thomas Donohue, head of the U.S. Chamber of Commerce, is leading the delegation on a three-day trip to the Caribbean island, visiting cooperatives and small firms to get a sense of the country's fledgling private sector.
"We have been told that there is a genuine shift in the economy model under way," Jodi Bond, the chamber's vice president for the Americas, told Bloomberg. "Our plan is to see those changes firsthand and to help clarify the benefits of pro-market reforms."
In advance of the trip, a group of U.S. business leaders and former government officials wrote an open letter to Obama, urging looser trade restrictions. It was signed by 46 businessmen, politicians and foreign officials, including Andres Fanjul, a Cuban-American sugar producer long associated with support for the embargo.
"Now more than ever, the United States can help the Cuban people determine their own destiny by building on the U.S. policy reforms that have already been started," the letter says. "The Obama Administration has an unprecedented opportunity to usher in significant progress using its executive authority at a time when public opinion on Cuba policy has shifted toward greater engagement with the Cuban people while continuing to pressure the Cuban government on human rights."
Their recommendations include authorization of imports and exports between the U.S. private sector and independent Cuban entrepreneurs, and allowing NGOs to make loans directly to farmers and cooperatives.
But Cuba remains a contentious political issue.
New Jersey Democrat U.S. Senator Robert Menendez decried the visit in a letter on Tuesday. "I write to express my serious concern about the Chamber of Commerce's trip to Cuba and its efforts to promote and enhance engagement with the Cuban regime, which controls nearly all economic activity in the country," he wrote. The trip would appear to condone a government that "jails foreign business leaders without justification, violates international labor standards, and denies its citizens their basic rights."
The embargo began in 1960, a year after Fidel Castro seized power. In the years since, the U.S. has designated the country a state sponsor of terrorism, and the imprisonment of American contractor Alan Gross, convicted in 2011 on charges of "acting against the independence and territorial integrity of the state," remains a source of tension.
"The Cuban government continues to repress individuals and groups who criticize the government or call for basic human rights," according to the Human Rights Watch 2014 report. "Officials employ a range of tactics to punish dissent and instill fear in the public, including beatings, public acts of shaming, termination of employment and threats of long-term imprisonment."
When Obama took office in 2009, he quickly moved to reverse some restrictions. The new rules made travel a bit easier, and allowed Cuban-Americans to send remittances to family back home. This influx of cash helped buoy the now-burgeoning private sector, which the government hopes will attract more investors.
To reach its economic growth target of 7 percent, Cuba needs to attract between $2 billion and $2.5 billion in foreign direct investment every year, according to a televised statement in March by the Cuban minister for foreign trade and investment.
Later that month, Cuba's National Assembly passed legislation that eased corporate tax burdens and other measures to make the country's businesses more appealing to investors.
If the Chamber of Commerce visitors see opportunities for American businesses, they could help the administration resist anti-Cuban political pressure.
"If they come back to Washington and articulate their position, that should widen the political space for the administration to take another round of measures," Feinberg said.
Though the Cuban economy is a relatively small one, American firms won't appreciate competition from European, Canadian and South American businesses who would be first to get a foot in the door.
© Copyright IBTimes 2023. All rights reserved.