US - China Relations: Will Biden Have A Different Approach Than Trump?
In a recent interview with CBS News' Norah O'Donnell, President Joe Biden said his approach to dealing with China will be a reversal from the contentious relations under Donald Trump.
Biden has not yet spoken to Chinese President Xi Jinping but noted that the two men know each other from several meetings when they served as vice president of their respective nations.
Trump once boasted of having a "great bond" with Xi but admitted last summer that the relationship soured in the wake of the pandemic, with Trump often suggesting China deliberately set the virus loose on the rest of the world with xenophobic references to a "China virus."
Biden said the U.S. and China have a broad agenda to cover.
"A lot to talk about, a whole lot to talk about," Biden said. "He's very bright. He's very tough. He doesn't have – and I don't mean this as a criticism, just the reality – he doesn't have a democratic 'small D' bone in his body."
Biden said the relationship can avoid conflict.
"But there's gonna be extreme competition. And I'm not going to do it the way he knows. And that's because he's sending signals, as well. I'm not gonna do it the way Trump did. We're gonna focus on international rules of the road," Biden said.
Biden has repeatedly vowed to repair damaged alliances with U.S. allies abroad and to stand with them to push back against China in the economic arena.
"We will confront China's economic abuses," Biden said, marking a dramatic shift from Trump's "America First" rhetoric.
While the Beijing government welcomed the decision by the Biden administration to remain a member of the World Health Organization and return to the Paris climate accords, there are still several pressure points in U.S.-China relations.
The countries had another flareup of the continued contentious status of China's assertive moves to control the South China Sea. Last week, the USS John S. McCain, a Naval destroyer, sailed near the Paracel Islands – under Chinese control. It was the first maneuver of its type since Biden took office.
The Navy's 7th Fleet, headquartered in Japan, said per a Reuters report the USS McCain "asserted navigational rights and freedoms in the vicinity of the Paracel Island, consistent with international law."
China's military condemned the move and deployed naval and air units to follow the USS McCain while also attempting to warn it off. China claims irrefutable sovereignty in the disputed region and has accused the U.S. of intentionally seeking to escalate tensions.
The nations also have simmering disputes over a trade war escalated dramatically under the Trump administration, as well U.S.-imposed sanctions against China for anti-democratic moves the Chinese government made in both Hong Kong and Taiwan.
Appearing Sunday on CBS' "Face the Nation," Sen. Lindsey Graham, R-S.C., said China will be one of Biden's most difficult challenges and cautioned the White House against dismissing Trump administration policies.
"He's going to have three problems here: what to do with Iran differently than Trump, what to do with China differently than Trump and how to change Trump immigration policies without creating a run on the border," Graham said. "I would caution President Biden because 'Trump did it,' doesn't mean it's wrong."
Biden said he will lean on previously established dialogue with Xi.
"I had 24, 25 hours of private meetings with him when I was vice president," Biden said. "Traveled 17,000 miles with him. I know him pretty well."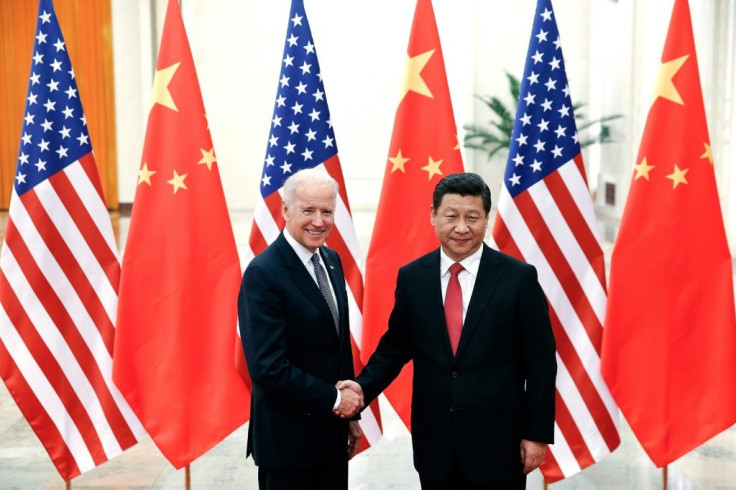 © Copyright IBTimes 2023. All rights reserved.