US Churches Make Moves To Become More Diverse, Less Racially Segregated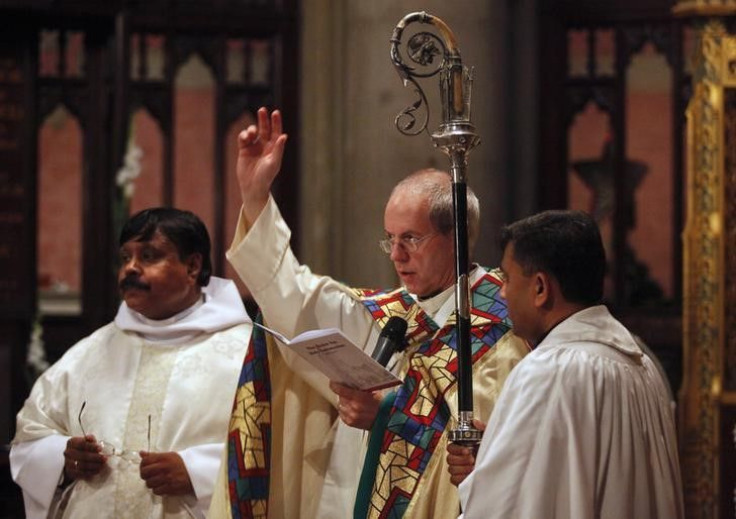 Mark DeYmaz was a youth pastor for a megachurch in Little Rock, Arkansas, in the 1990s when he realized the 5,000 people in the pews all looked alike. "The only minorities were the janitors," DeYmaz said about the nearly all-white Protestant evangelical church. That realization led him to leave his post in 2001 and found Mosaic Church of Central Arkansas, with the aim to bring diverse people together to worship as one.
"The church should reflect the kingdom of God on Earth, not align a local church to my preferences," DeYmaz said.
Thirteen years after its founding, Mosaic boasts 600 congregants spread between two campuses -- one of which is located in an abandoned Walmart building. No more than half of the congregants are white; the remainder are minorities. They represent more than 20 nations, DeYmaz said.
Churches like Mosaic reflect a growing trend in the U.S. of congregations becoming more racially and ethnically diverse. According to findings from the 2012 National Congregations Study, the number of white people attending churches that are entirely white has dropped by half since the 1990s. In 1998, 20 percent of U.S. congregants belonged to all-white churches; in 2012, that number fell to 11 percent.
"I would rather have 3,000 people who are homeless, bricklayers and doctors" than a congregation of all one race and background, DeYmaz said. "At the end of the day those 3,000 people belong to the same segments of a community and run in the same social circles," he said. A diverse bunch reaches "several slices of the pie" in terms of society at large.
Still, the majority of U.S. churches are racially homogeneous. Multiethnic congregations make up just 13.7 percent of churches in America. DeYmaz's church in Arkansas is just one of four multi-thnic churches among 600 congregations across the state.
One of the latest instances of churches looking to bridge the racial divide is taking place in Jacksonville, Florida. In January, Ridgewood Baptist Church, a predominantly white church in suburban Orange Park, will merge with the predominantly black Shiloh Metropolitan Baptist Church, citing financial troubles.
Christ Episcopal Church in Glen Ridge, New Jersey, experienced a similar merger seven years ago when it welcomed the predominantly African-American and Caribbean-American members of Trinity Church in Montclair, which shut down. Now, the church is more diverse than ever -- and not just in terms of race. Both pastors are gay, one clerk is blind and nearly half of the church's vestry are women. The congregation is evenly divided between black and white parishioners, one-quarter are gay and more than half of the congregants are women.
The Florida and New Jersey churches are in areas where racial tensions run high. In 2012 in Jacksonville, Jordan Davis, a black 17-year-old, was killed by a white 47-year-old man for playing music too loudly. In October, the man was charged with first-degree murder.
"We're hoping we'll be a witness of racial reconciliation in our city and beyond and that we can come together beyond the things that divide us and work together to make the community better," Shiloh Pastor H.B Charles Jr., who is black, told the Huffington Post about his church's upcoming merger.
The Rev. Diana Wilcox of Christ Episcopal Church has been giving sermons on racial equality following the decisions by grand juries not to indict police officers involved in the deaths of Michael Brown in Ferguson, Missouri, and Eric Garner in New York City.
"One gay man yesterday said, 'We need to hear more of this in our churches,'" Wilcox said referring to the sermon she gave Sunday that emphasized the church's role in promoting peace in wake of the recent protests of the Ferguson and New York decisions.
For DeYmaz, instances of racial violence do not necessarily isolate white and African-American communities. In fact, he has seen them do the opposite.
"Each case that comes to the front brings more and more white evangelicals moving into our camp," he said referring to the multiethnic church movement. As the pews become more diverse, the issues raised by these kinds of crimes become "humanized because they are their friends or your pastor, not just someone they see on TV," DeYmaz said.
Kathleen Garces-Foley, a professor at Marymount University who specializes in trends in religion, agrees.
"The current dialogue about racism in America may encourage more Christians to seek out diverse churches," she told International Business Times. "This is what I would expect to happen."
While diverse churches may be the ideal, making changes to established houses of worship has its challenges.
"Many longtime members of churches think of them as a second home. They do not readily change the way they do church," Garces-Foley said. "It is much easier to create a new church with a mission to be racially diverse."
This is what DeYmaz has been doing in Arkansas. He heads the Mosaix Global Network, a nonprofit group that consults with established churches to make their congregations more inclusive. Sometimes this involves making changes to existing congregations. In other cases, new church campuses are created.
Another Christian denomination, the United Methodist Church, has recognized the need to diversify as well. In 2012, the church launched a campaign to create 1,000 multicultural churches over the course of four years. One of the reasons behind the initiative is the fact that nearly 91 percent of the church's U.S. lay membership was non-Hispanic white in 2010. In 2012, that number fell slightly to 89.9 percent.
Catholic churches have different diversity problems. "Diversity has come to Catholic parishes through immigration primarily, but also parishes' mergers," Garces-Foley said. "When Catholic immigrants come to their local parish, the challenge is for existing members is to accept them and make room for them."
Drawing from his experience in the field, DeYmaz says church leadership sees that an inclusive congregation will keep them relevant.
"Large established churches are saying we have to change for the sake of credibility," DeYmaz said, adding that this trend can be attributed to changing demographics, including younger parishioners who refuse to accept a homogeneous congregation. While the trend may be slow for now, he is hopeful that race won't play a part in churches of the future.
"Churches that are not multiethnic by 2025 will be seen the same way Christians look at cults," DeYmaz said. "They won't understand it, they won't accept it and they won't embrace it."
© Copyright IBTimes 2022. All rights reserved.
FOLLOW MORE IBT NEWS ON THE BELOW CHANNELS