US Coronavirus: California Cases Hit Record-High 9,500 In One Day; Arizona Doctors 'Losing Hope'
KEY POINTS
On Wednesday, California reported 9,500 new cases -- a record single-day high
California will have a cumulative death toll of 16,800 by November 1, IHME model predicts
Arizona on Wednesday said 25% -- or 24,522 cases -- out of its total number of COVID-19 cases since the pandemic began came in the last seven days
California and Arizona, two of the four states suffering the most from the post-Memorial Day COVID-19 surge, are reporting stomach-churning new case spikes and hospitalizations. The other two states are Florida and Texas.
COVID-19's renewed and rapid community spread in California now sees the state exceeding its worst days in April. On Wednesday, California reported 9,500 new cases -- a record single-day high -- and more than 130 deaths.
The number of new cases is also skyrocketing in Arizona. On Wednesday, Arizona officials said 25% -- or 24,522 cases -- out of its total number of COVID-19 cases since the pandemic began came in the last seven days. COVID-19 cases in Arizona exceeded 108,000 on Wednesday.
Total confirmed cases in California as of Wednesday afternoon stood at 298,000. There were also 6,700 deaths, based on Worldometer data. Worldometer, however, only reported 8,200 new cases Wednesday. This total lags behind data in a daily COVID-19 tracker developed by The Los Angeles Times, which reported 9,500 new cases Wednesday.
Based on the Times' tracker, California's new cases are set to double every 24.8 days. Its data shows California with 291,244 confirmed cases as of 4:00 p.m. Wednesday.
This data also shows an average of 7,403 new coronavirus infections and 69.6 new deaths per day since last week.
Hospitalizations, which California sees as a more reliable indicator of COVID-19's extent, have jumped 88%, causing some hospitals to come close to exceeding capacity. Nearly 6,000 people were hospitalized for the disease as of Wednesday.
The California Department of Public Health (CDPH) said this total is a 3.4% one-day increase. It also reports a record number of COVID-19 patients in intensive care units (ICUs).
CDPH reports at least 6,448 deaths since the beginning of the pandemic. More than 110 people died Wednesday.
CDPH said California's positivity rate over the past two weeks came to 6.8%. Some 4.9 million tests have been conducted in the state to date.
Gov. Gavin Newsom on Wednesday again called on Californians to do their part in slowing the spread of the COVID-19 by wearing face masks. Californians should also practice safe physical distancing and wash their hands frequently.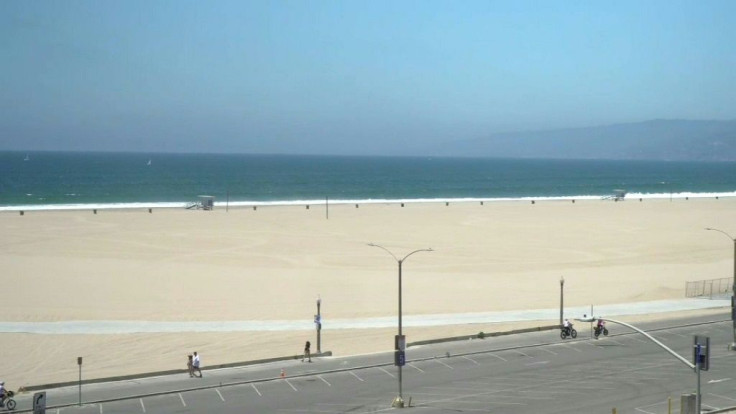 "I hope all of us are sober about that and cognizant of the moment we're in and the vulnerability that everyone has in this moment," he said.
He's confident conditions will eventually improve, but can't say when. Los Angeles County still has the highest number of coronavirus cases in the state, as well as the most deaths. County officials confirmed 2,496 additional cases Wednesday and 65 new deaths. On Tuesday, LA County had 4,015 new cases, which remains the highest single day number of cases. It's seen a total of 123,000 cases and 3,642 deaths.
The University of Washington's Institute for Health Metrics and Evaluation (IHME) now projects California will have a cumulative death toll of 16,800 by November 1. This represents an increase of more than 150% over the state's current fatality number.
As for Arizona, apart from the 25% increase in cases over seven days, it also reports its lowest-ever number of available ICU beds. Dr. Murtaza Akhter, an emergency medicine physician in Phoenix, told CNN so many patients are coming in that he's already having to make tough decisions over resources.
Dr. Akhter also said seeing people continue to disregard safe practices as his emergency room treats coronavirus patients makes him feel like he's "losing hope."
Young Arizonans are the hardest hit by the surge. The Arizona Department of Health Services (ADHS) said the largest increase in new cases is among young people.
It reported that of the 101,441 confirmed cases as of Monday, more than 62,000 are under age 44. It also revealed 88% of ICU beds and 84% inpatient beds were in use as of Sunday.
The surge in cases forced Gov. Doug Ducey on Monday to shut down Arizona's bars, gyms, water parks, movie theaters and river tubing for 30 days. Ducey's executive order expires July 27.
© Copyright IBTimes 2023. All rights reserved.
FOLLOW MORE IBT NEWS ON THE BELOW CHANNELS