US Coronavirus: Democrats Want Trump Investigated For Call To 'Slow Testing Down'
KEY POINTS
"When you do testing to that extent, you are gonna find more people, you're gonna find more cases. So I said to my people, 'Slow the testing down please'," said Trump at Tulsa
Senate Democrats now want to uncover if Trump issued orders that enforced this statement
Thery're asking the HHS Inspector General to investigate
Senate Democrats are demanding the Department of Health and Human Services (HHS) investigate if President Donald Trump did actually issue an order to the federal government to slow down coronavirus testing.
Trump triggered this latest scandal by loudly boasting at Saturday's MAGA rally in Tulsa, Oklahoma he had ordered his people to ease-off on testing because more tests relate to higher COVID-19 cases.
"When you do testing to that extent, you are gonna find more people, you're gonna find more cases," declared Trump loudly. "So I said to my people, 'Slow the testing down please.' They test and they test. We have tests that people don't know what's going on."
"We got another one over here," he said, pointing into the crowd. "The young man is 10 years old. He's got the sniffles. He'll recover in about 15 minutes. That's a case!"
Trump's controversial remarks, which have received widespread condemnation, prompted four Senate Democrats to write a letter on Monday to acting HHS Inspector General Christi Grimm requesting she investigate Trump's Tulsa statement.
Senate Minority Leader Sen. Chuck Schumer of New York, Sen. Elizabeth Warren and Sen. Ed Markey of Massachusetts and Sen. Richard Blumenthal of Connecticut urged Grimm to review all coronavirus testing funding streams and programs "to determine whether any programs have been 'slowed down' at the request of President Trump."
They said "it appears, however, that President Trump does not support federal efforts to expand access to COVID-19 tests and has undermined efforts to increase testing."
The four senators called Trump's comment "abhorrent," adding the president cares about "superficially minimizing the threat of COVID-19" that stopping the virus altogether.
"He has sought to undermine efforts to increase testing that are necessary to identify and slow viral outbreaks."
Fueling fears Trump might have actually issued an order to do so is his refusal to answer a question about this at an interview in Phoenix, Arizona with Joe St. George, national political editor and Washington correspondent at Scripps Television. Trump gave an evasive answer when asked by St. George if he was joking when he said "Slow the testing down please."
"If it did slow down, frankly, I think we're way ahead of ourselves, if you want to know the truth," said Trump. "We've done too good a job."
He again made the false claim the reason the United States has more coronavirus cases is that it does more testing. Trump is in Arizona for his second campaign rally to be held in Phoenix Tuesday.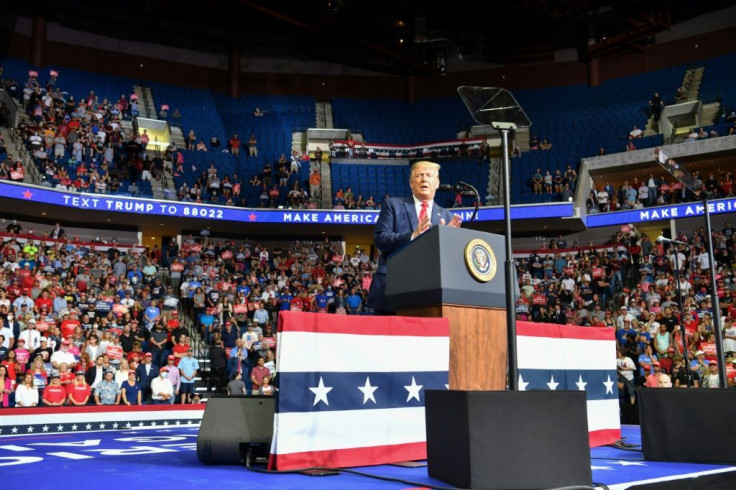 © Copyright IBTimes 2023. All rights reserved.