US Coronavirus Situation Is 'Very Serious' And 'Window Is Closing' To Control It, Azar Warns
KEY POINTS
COVID-19 case numbers are skyrocketing throughout the country in the aftermath of states hastily reopening their moribund economies
Confirmed cases are rising in 36 states; only two states report a drop
"I can tell you with 100% certainty that in most states where you're seeing an increase, it is a real increase," declared Dr. Tom Frieden
Health experts continue to warn of an impending and unprecedented health crisis in the United States with COVID-19 cases skyrocketing almost out of control nationwide due to states hastily reopening their paralyzed economies.
As of Sunday (June 28), 36 states reported an increase in new COVID-19 cases. Arizona, California, Florida and Texas are the hardest hit by the stunning case spike. Florida reported 9,585 new cases Saturday, a single-day record high since the start of the pandemic, and another 8,530 new cases Sunday.
A dozen more states said their case counts remained almost stable. Only Connecticut and Rhode Island reported a decline in new cases.
Dr. Tom Frieden, former director of the U.S. Centers for Disease Control and Prevention, affirmed the case increases are actual and not an anomaly related to more testing numbers. He also warned of more new cases and deaths in the future.
"As a doctor, a scientist, an epidemiologist, I can tell you with 100% certainty that in most states where you're seeing an increase, it is a real increase," declared Dr. Frieden. "It is not more tests. It is more spread of the virus."
Alex Azar, secretary of the Department of Health and Human Services, added his warning to that of Dr. Frieden on Sunday. He said the "window is closing" for the U.S. to get a grip on the intractable pandemic.
He warned Americans if they "act irresponsibly, if we don't socially distance, if we don't use face coverings in settings where we can't social distance, if we don't practice appropriate personal hygiene, we're going to see spread of disease."
The situation today is "very different from two months ago... So it is a very different situation, but this is a very, very serious situation and the window is closing for us to take action and get this under control," said Azar on CNN's "State of the Union" program.
He then reverted to Trump administration talking points praising President Donald Trump's actions taken back in March to stem the pandemic. He claimed the U.S. is now better positioned to handle the pandemic than before, and noted the increased testing, contact tracing, hospital capacity and large numbers of personal protective equipment. Azar also praised progress toward therapeutics and potential vaccines.
Like Vice President Mike Pence, Azar denied reopening too quickly caused the rise in cases. He insisted "inappropriate individual behavior" enabled the spread of the virus.
"That's not so much about what the law says on the reopening as what our behaviors are within that," he said.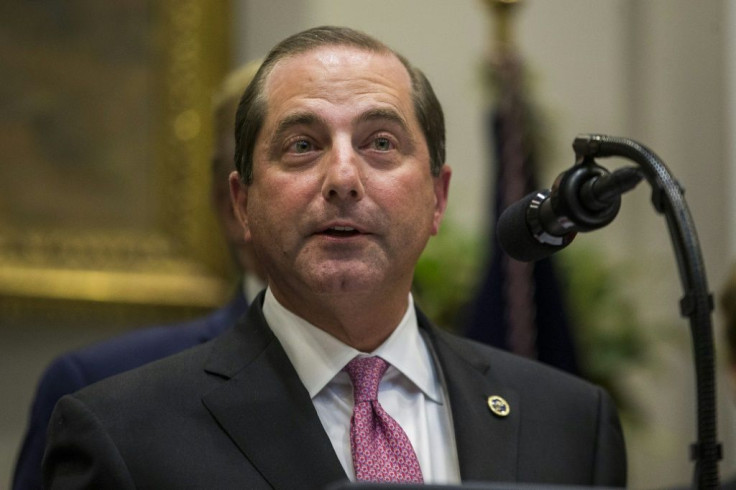 © Copyright IBTimes 2023. All rights reserved.
FOLLOW MORE IBT NEWS ON THE BELOW CHANNELS