US keen on non-military solution to Libya: Gates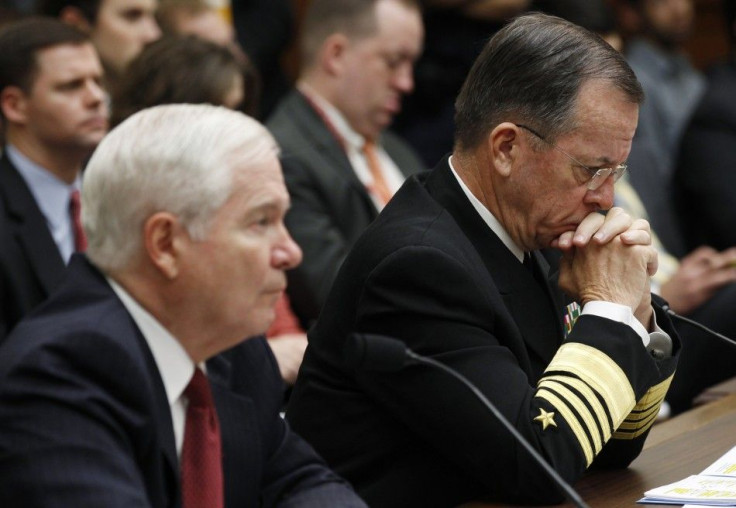 U.S. forces will significantly dilute their role in Libya though they played crucial role in the first phase of Operation Odyssey Dawn, Defense Secretary Robert M. Gates told the House Armed Services Committee on Thursday.
He said the removal of Colonel Gaddafi will soon be achieved through political and economic measures and by his own people but insisted that there will be no American boots on the ground in Libya.
U.S. will focus on providing the capabilities to other nations engaged in the war like aerial refueling, intelligence, surveillance and reconnaisance, he said, underlining a new shift in Washington's approach to deal with Gaddafi's forces.
Other reports quoting a top NATO official said no purely military solution is possible in Libya. Apparently, there is a shift in overall policy like toning down military option and encouraging domestic opposition to Gaddafi's regime and also to provide logistical and military aid to the fighting rebels in Libya.
The focus of our mission is to protect the civilian population, said Adm Giampaolo di Paola, Chaiman of the NATO Military Committee in statements to reporters from NATO headquarters in Brussels.
We know that this is a challenging endeavor and the situation on the ground is complex. We are also aware that there is no purely military solution to the crisis, he said.
Earlier in the week representatives from 40 countries and organizations gathered in London for a conference on the political way forward in Libya to pressure Col. Muammar Gaddafi to leave.
Early in the military intervention, the United States, Britain and France enforced a no-fly zone over the country that has taken out Libyan air defenses under a United Nation's resolution. The forces also had a mandate to prevent Gaddafi forces from reaching too far eastward, threatening civilians in Libya's second largest city, Benghazi.
NATO has assumed control of that effort, with many of the same countries along with Arab partners providing military assets to implement the resolutions.
NATO is also in charge of providing humanitarian aid through member countries. The United States, which played a key military role in early attacks on Libya's air defenses will be providing the alliance intelligence, and logistical support. Partners including Britain and France will enforce the no-fly zone.
Rebels Retreat
Gaddafi's forces have beaten back rebels, recapturing a pair of key oil cities they lost amid the alliance's air assault. They are now threatening to push farther east.
As of early Friday, reports show some rebels have remained in Ajdabiya, a city about 50 miles northeast of Brega, an oil exporting base. Rebels had advanced as far west as Ras Lanuf, where oil refineries are earlier in the week.
Amid the rebel retreat, the international conversation has turned to whether the international community or specific countries such as the U.S., and France should arm rebels.
It was revealed on Wednesday in a reports by Reuters and ABC citing unidentified sources that over the past two or three weeks, President Barack Obama had signed an order secretly authorized of the Central Intelligence Agency to enter Libya and learn more about the rebels.
Obama has not ruled out arming the rebels, according to White House spokesman Jay Carney.
On Tuesday, Secretary of State Hillary Clinton said arming the rebels was permitted under a set of United Nations resolutions, the latest of which calls for the protection of Libyan civilians by all means necessary short of a foreign occupation.
© Copyright IBTimes 2023. All rights reserved.
FOLLOW MORE IBT NEWS ON THE BELOW CHANNELS