US-Nigeria Cooperation Strengthens As Kerry Meets With Buhari At Nuclear Security Summit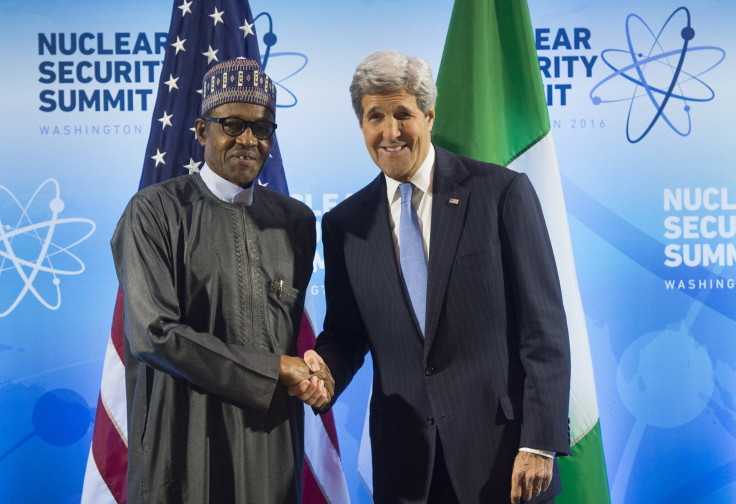 U.S. Secretary of State John Kerry met with Nigerian President Muhammadu Buhari on the sidelines of a nuclear security summit in Washington, D.C., Thursday, Reuters reported. Their meeting comes a day after the two countries agreed to establish working groups aimed at boosting security cooperation, economic growth and fighting corruption, marking a continued shift in bilateral relations that faltered under Buhari's predecessor, Goodluck Jonathan.
Kerry, who attended Buhari's presidential inauguration in Nigeria last year, said the United States was steadfast in helping Nigeria battle Boko Haram and its deadly insurgency in the north. But he warned that Nigerian forces must avoid human rights abuses even as they ramp up the fight against the Islamic militant group, which has killed some 20,000 people and driven 2.5 million others from their homes since 2009.
"Now, I want to be clear, this aid is predicated on the understanding that, even when countering a group as ruthless as Boko Haram, security forces have a duty to set the standard with respect to human rights," Kerry said Wednesday, according to Reuters. "One abuse does not excuse another."
Kerry said U.S. military personnel have been training Nigerian security forces in recent months on improving information sharing. They were also helping train and equip two infantry battalions.
Since taking office in late May, Buhari has made efforts to enhance Nigeria-U.S. cooperation, which had come to a grinding halt under Jonathan's administration, which refused to investigate corruption and human rights abuses by the Nigerian military. In December 2013, Jonathan canceled U.S. Army training for the Nigerian military, which was intended to help the troops fight Boko Haram in northeast Nigeria. After defeating Jonathan in the March presidential elections, Buhari said he would like to restore military ties with the United States.
"My administration would welcome the resumption of a military training agreement with the United States, which was halted during the previous administration," the then-president-elect wrote in an op-ed for the New York Times in April last year. "We must, of course, have better coordination with the military campaigns our African allies, like Chad and Niger, are waging in the struggle against Boko Haram. But, in the end, the answer to this threat must come from within Nigeria."
© Copyright IBTimes 2022. All rights reserved.
FOLLOW MORE IBT NEWS ON THE BELOW CHANNELS