As US Promotes TPP As A Way To Improve Labor Standards, Guatemala Shows Failed Promises Of Previous Trade Deals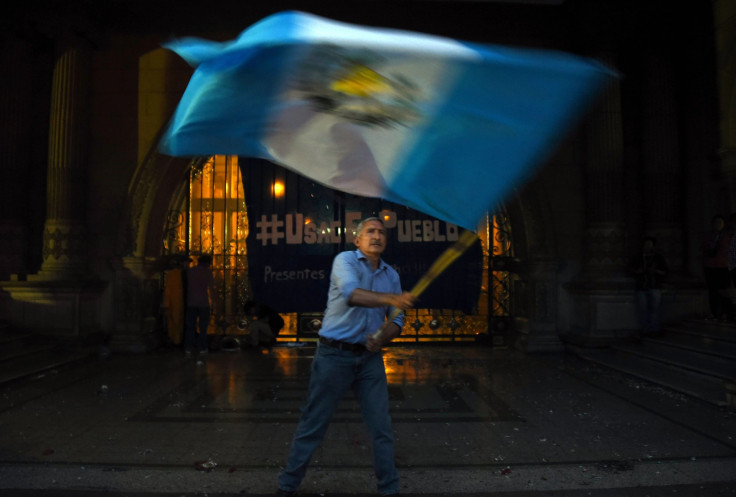 SANTA ELENA, Guatemala -- Edgar Aldana was starting to panic. Two men on a red motorcycle were trailing the union leader home from his office at the run-down San Benito Hospital. Days earlier, in the spring of 2009, Aldana and other local members of the National Health Workers' Union had protested the death of a mother and her newborn child inside the two-story public hospital.
Aldana quickly changed his route and lost the tail. His phone rang. It was his wife, urging him not to come home. Two men on a red motorcycle had just fired nine bullets at the house. His wife and daughter, who were inside at the time, weren't hit. But hours later, he received a message from an unknown number: "This is for involving yourselves in problems, for being union workers at the hospital," according to a report from the human rights group Amnesty International.
Six years later, the violence against union members in Guatemala only has escalated. Aldana told International Business Times this week he remains under the watch of Amnesty International, whose staff calls Aldana every so often to check in. Inside his windowless office, tucked down a narrow corridor at the hospital, he continues to meet with workers and pressure Guatemalan officials to boost both labor and healthcare conditions.
"We haven't advanced at all. We have no support here," Aldana, 49, said Thursday, from behind a desk strewn with papers and surrounded by union banners.
Things were supposed to be different in Guatemala. When the country joined the Dominican Republic-Central America Free Trade Agreement in 2006, proponents of the deal said it would improve conditions for workers, raise wages and make it easier for laborers to organize. Seven years later, Guatemala was named the most dangerous country in the world for trade unionists. Critics say basic rights of workers to form unions and speak out without facing discrimination are not enforced.
Supporters of the Trans-Pacific Partnership (TPP) are making many of the same promises. As they aim to shore up support in the U.S. Congress, proponents of the hotly contested trade deal say it will improve labor standards across signatory nations -- especially in those countries known for mistreating workers and failing to enforce employment laws. According to U.S. officials the TPP "has the strongest protections for workers of any trade agreement in history."
Cafta supporters struck a similar tone a decade ago. Seeking support from Congress, then-United States Trade Representative Rob Portman said the deal had the "strongest labor and environmental provisions of any trade agreement ever negotiated by the United States."
Since the deal was signed, violence and intimidation of labor activists in Guatemala has spiked.
"Despite many years of promises by successive governments to take the steps necessary to respond to this crisis, the situation has only worsened with each passing year," found a 2013 report from the International Trade Union Confederation, the world's largest trade union federation.
Murder is a constant problem for workers who organize unions in Guatemala. Since 2007, more than 70 labor activists have been killed, according to the nonprofit Solidarity Center, which is affiliated with the AFL-CIO. Kidnappings, break-ins and death threats are fairly common as well.
Guatemala Overview | FindTheData
Critics maintain the legal system remains biased against workers -- despite millions in assistance from the International Labor Organization and other international donors. Employees who are fired for organizing unions or speaking out about working conditions often struggle to find remedies in the courts. Frequently, pro-worker orders from judges go unheeded.
When Mynor Rolando Ramos Castillo was gunned down outside his home in Jalapa less than two months ago, he became the sixth member of his union to be slain this year. At the time of his death, the 58-year-old municipal worker and devoted union activist was battling city officials in the courts and fighting to be reinstated to his job.
Export-oriented factories, or maquiladoras, have thrived under Cafta. While the facilities are supposed to respect labor law to receive generous tax breaks, Guatemalan authorities rarely enforce this requirement. Bosses regularly block efforts to organize unions, use subcontractors to avoid legal liabilities, demand uncompensated overtime and oversee hazardous working conditions.
At hospitals, workers can go weeks or months without a paycheck from their employer: the Guatemalan government. In Santa Elena, many of the nearly 500 people who work at the San Benito Hospital -- from doctors and surgical assistants to janitors and administrative personnel -- are awaiting two months' pay. "It's demoralizing," said a surgeon, who asked not to be named for fear of repercussions.
Cathy Feingold, director of international affairs with the AFL-CIO, said the structure of Cafta left little incentive for the Guatemalan government to monitor and improve labor standards. It allowed Guatemala to start reaping the rewards of the trade pact without first showing evidence it was complying with the deal's labor standards.
Critics say TPP commits the same error. Without immediately demanding that countries comply with its labor provisions, it extends benefits to countries like Malaysia, where a recent report found nearly a third of all migrant workers in the nation's booming electronics industry are working under forced labor conditions, and to Vietnam, which bans all unions that are independent of a top-down labor federation tied to the Communist Party dictatorship.
"If you allow countries that are out of compliance with the labor chapter to get all the benefits [of the trade agreement] without making changes, then you lose all your leverage," Feingold said. "And that's what we've found."
Last year, the investigative arm of Congress, the Government Accountability Office, examined the record of labor standards in free trade agreements with Central America, Colombia, Oman and Peru. Researchers found compliance with "labor provisions in most partner countries is generally not monitored or enforced systematically."
Last fall, in response to a petition from the AFL-CIO, the U.S. Department of Labor finally agreed -- for the first time -- to arbitrate an allegation that Guatemala had violated its labor commitments under the trade pact.
"It's taken us more than six years to move the case to arbitration," Feingold said. "The people whose cases we've documented have long lost their jobs."
© Copyright IBTimes 2023. All rights reserved.