Valentine's Day 2018 Chocolate Gifts: Ideas For Every Budget, Where To Buy
Valentine's Day is just around the corner and if you have been wracking your brain trying to think of the perfect gift for a special someone on the sweetest day of the year, why not treat them to some chocolate?
Whether you are on a tight budget or are willing to shell out a lot of cash, there is a chocolate gift out there that is sure to put a smile on your loved one's face.
Check out these Valentine's Day chocolate gift ideas for every budget.
Amazon
Thanks to features like Amazon Prime, ordering a last minute Valentine's Day gift has never been so easy. From a 48 count of Ferrero Rocher Hazelnut Chocolates for $12.49 to Dove's Valentine's Milk Chocolate Truffles Heart Gift Box for $9.99, Amazon has got you covered for affordable chocolate gift ideas.
zChocolat

Can you really put a price on love? Not if you are looking to snag one of these delectable sweets from zChocolat. Show your love just how important they are to you by gifting them with a luxurious box filled with 57 pieces of chocolate. The Valentine's Day Adonis set includes 12 colorful chocolate hearts and 45 of the company's most requested recipes, all packaged into a handmade mahogany chest. This tasty gift is valued at $282.17.
There is also the option of charming your loved one with the $93.23 zBox 27. The two-tiered set features 15-pieces of a traditional assortment of chocolate paired along with a 12-piece variety of artisanal chocolate hearts.
If you want to make your loved one feel really special this Valentine's Day, try feeding them gold. The Gold Valentine's Day Opal comes with two heart-shaped candies filled with fleur-de-sel caramel, covered by a rich Venezuelan dark cocoa couverture, and coated in 4 leaves of pure 24-karat edible gold. For $110.33, you can dazzle your love with something shiny and sweet.
Under the lid of each box hides delicate rose petals that are meant to surprise its recipient, filling them with an instant feeling of romance and drama. Along with every zChocolat product, items from the Valentine's Collection can be customized by engraving the recipient's name on the package, including a special message or a heart-shaped padlock with an individually selected combination.
Godiva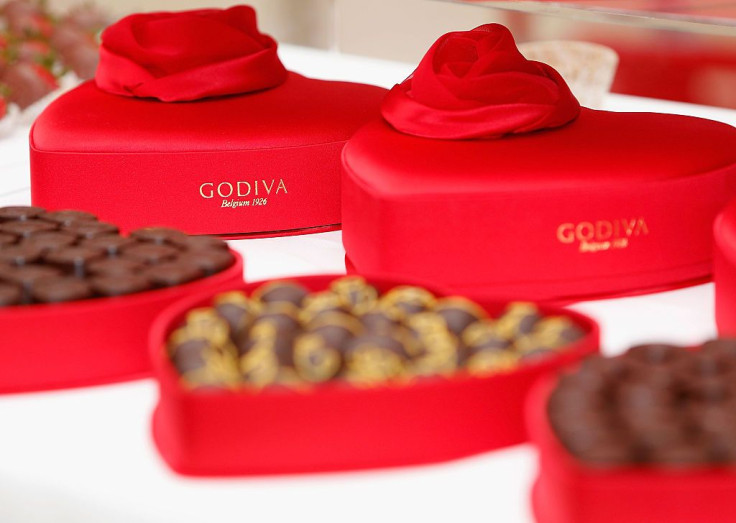 The company, known for its decadent chocolate, is featuring a heart collection for the 2018 holiday, starting at $7, and ranging up to $158. The chocolatier's six-piece Mini Heart Gift Box costs $7 and features six milk chocolate carrés wrapped in decorative paper. Meanwhile, the Gold Metallic Throw with Hearts Tower features three boxes of chocolate and a cozy 50in x 70in throw blanket for $158.
Drug Store Or Supermarket
There is no shame in running into your local drug store or supermarket to pick up some sweets for your sweet. Chances are you already need to make a stop in one the establishments, so do yourself a favor and save some time by grabbing your necessities and a chocolate gift for your sweetheart.
© Copyright IBTimes 2023. All rights reserved.