'Vampire Diaries' Romance Off Screen: 5 Couples That Dated In Real Life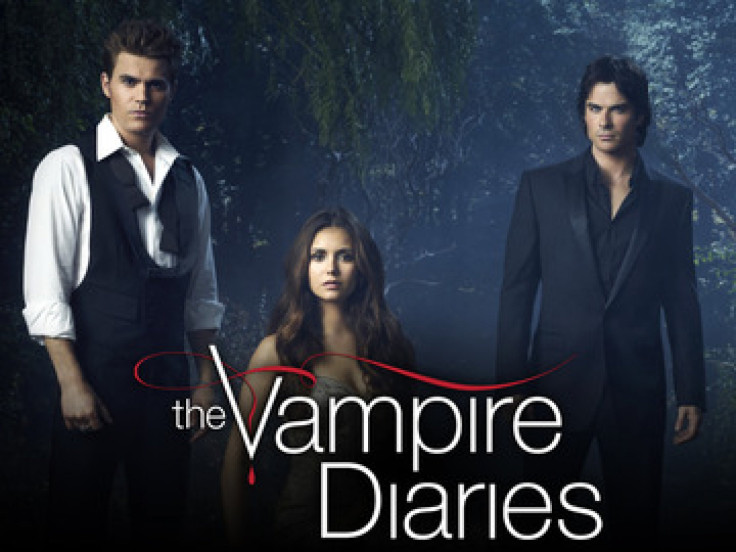 "The Vampire Diaries" is known for its blood, teen drama and steamy romances. But did you know that the stars of the hit CW drama have not only brought the heat on screen … but off the screen as well?
Nina Dobrev and Ian Somerhalder's once on-and-off screen romance was highly publicized (especially after their May 2013 breakup), but what most don't realize is that they weren't the only "Vampire Diaries" actors to hook up off-screen.
Candice Accola And Zach Roerig
Remember when "The Vampire Diaries" characters Caroline Forbes dated Matt Donovan? Their relationship was rocky, but behind-the-scenes the actors Candice Accola and Zach Roerig really hit it off.
Dating throughout 2011, news broke in May 2012 that the pair ended their relationship. A year later Accola became engaged to Joe King, guitarist for The Fray. In July 2013 Roerig made headlines when he petitioned for full custody of his 2-year-old daughter. The actor's baby momma, Alanna Turner, was reportedly arrested "at least three times" and is currently incarcerated after pleading guilty to "various crimes."
Paul Wesley And Torrey DeVitto
Paul Wesley, who stars as Stefan Salvatore, and Torrey DeVitto, who plays Dr. Meredith Fell, were not love interests on-screen, but the two were definitely lovers off-screen. Meeting on the 2007 set of "Killer Movie," the pair wed in New York in April 2011.
Their romance ended in July 2013 when a rep revealed that the two stars were divorcing. "Paul Wesley and Torrey DeVitto have decided to amicably split," the rep stated. "They will continue to remain good friends."
Nina Dobrev And Ian Somerhalder
Nina Dobrev's Elena and Ian Somerhalder's Damon are a hot item on "The Vampire Diaries." The love triangle involving Paul Wesley's Stefan has sparked many Delena vs. Stelena wars between fans.
While Elena flip-flopped between the brothers throughout the past four seasons, Dobrev had only one man on her arm for three years -- Somerhalder. Unfortunately their off-screen love affair ended in early May … just as their on-screen romance sprouted new life. Despite being broken up, the two put aside their differences to film the very steamy season 5 premiere episode.
Joseph Morgan And Persia White
Joseph Morgan may have broken free from "The Vampire Diaries" with his spinoff show, "The Originals," but he took a little piece of his old show with him -- actress Persia White!
For those unfamiliar with Persia White, she played Bonnie's witch-turned-vampire mom on "The Vampire Diaries."
While Morgan's former co-stars have had a bit of bad luck dating their co-workers, the actor and his beau are still holding on. "You know, I'm very happy, it's great," Morgan told the Huffington Post of Persia White in late September. "I'm lucky enough, she came with me to New York to enjoy a little but of the city. I get the weekend off so we get to experience a little of that. But that's all I'm going to put out there, I'm going to keep the rest for myself.
Paul Wesley And Phoebe Tonkin
Yes, Paul Wesley is on the list again! His relationship with Torrey DeVitto may have ended, but he's reportedly giving (on-set) love another chance. Sources dished to Us Weekly in late September that 31-year-old Wesley is getting close to his former "Vampire Diaries" co-star Phoebe Tonkin. The 24-year-old actress played werewolf Hayley, and while she wasn't a love interest for Wesley's Stefan, she did share some steamy moments with Michael Trevino's Tyler and Joseph Morgan's Klaus. Tonkin recently left "The Vampire Diaries" to join its spinoff show, "The Originals."
The insider explained that Wesley and Tonkin, 24, were spotted out on a double date with Ben McKenzie and Shelley Hennig.
"Paul and Phoebe were 100 percent romantic," said the source. "They were across the table from Ben all cozied up on the couch kissing each other. She had her head on his chest."
Their relationship has not been confirmed.
Are you shocked by any of these "Vampire Diaries" on-set romances? What actors would you like to see together off-screen? Let us know in the comments section.
© Copyright IBTimes 2023. All rights reserved.