'Vampire Diaries' Spinoff With Alaric And Lexi? Julie Plec And Arielle Kebbel Tease Joke About New Romance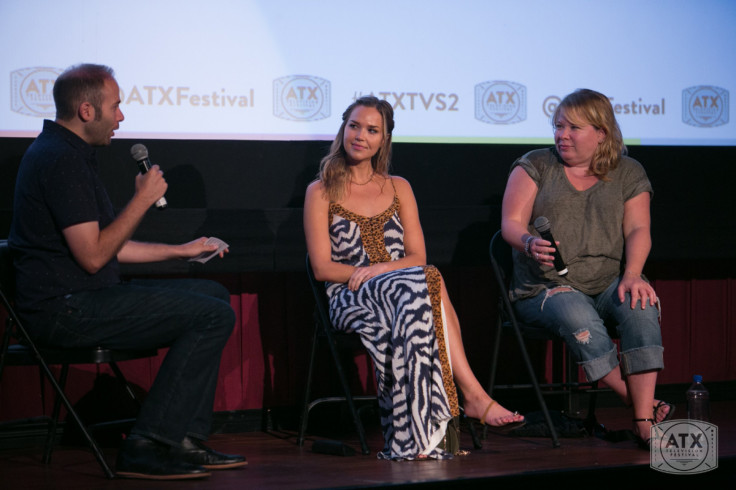 "Vampire Diaries" fans had a great weekend at the 2013 ATX Television Festival. Gathering at the Alamo Drafthouse in Austin, Texas, on Sunday, viewers were treated to a special screening of the season four finale (which looks awesome on a big screen) that was followed by a Q&A with Executive Producer Julie Plec and Arielle Kebbel.
Breaking down the finale episode and talking about the future of the Mystic Falls crew, Plec and Kebbel were hit with a topic that surprised the crowd: "Talk about the deleted scene where Lexi and Alaric reveal they're a couple because they're just soul mates."
The audience immediately went into an excited uproar at the thought of the two dead supernatural characters finding love on the other side. "We were actually thinking a sitcom," Kebbel, who plays Lexi, joked.
The thought of the two getting together stems from a sweet scene in "Graduation," where Lexi tells Alaric that there has to be more out there for them besides the other side. She tells Alaric that maybe when they are done paying for the bad things they have done they can move forward and find happiness.
Unfortunately, Lexi and Alaric won't be following in the footsteps of Klaus on "The Originals." Despite ATX attendees totally jumping on board with the suggestion of "Alexi," the relationship was just a joke.
"It's funny because when I saw the episode cut together for the first time -- you know Matt [Davis] just has that way of looking and connecting with the actor in the scene -- and I was like, 'Oh, my God, I am totally shipping Lexi and Alaric right now,'" Plec revealed to the audience, laughing.
"Yeah, I don't get any," Kebbel chimed in. "I'm always helping everyone."
When the International Business Times sat down with Kebbel later on in the afternoon, she dished that she would totally support a Web series following the two characters. "I'm so down," she laughed. "I love that people thought we had chemistry, 'cause we do. I love it."
Matt Davis' "Cult" did get canceled.
Did you see any sparks flying between Alaric and Lexi in the season four finale of "The Vampire Diaries"? Sound off in the comments section.
© Copyright IBTimes 2023. All rights reserved.