'Vampire Diaries' Star Nina Dobrev Addresses Dating Rumors With Kellan Lutz At 2014 Teen Choice Awards [PHOTOS]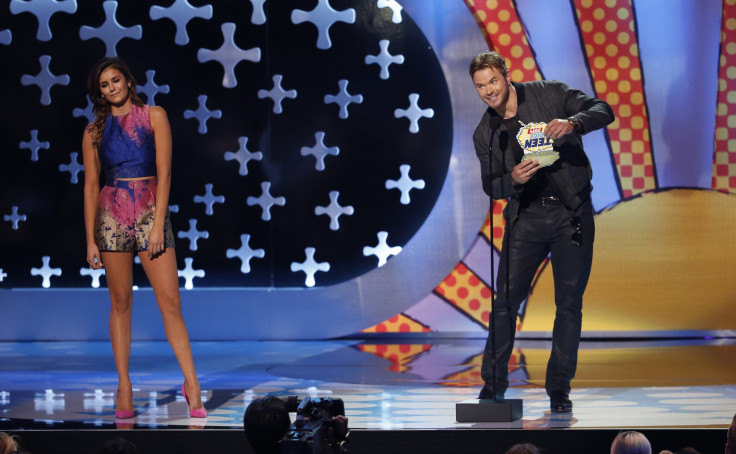 Nina Dobrev is a lucky, lucky gal. Since "The Vampire Diaries" star ended her three-year relationship with CW co-star Ian Somerhalder, the 25-year-old starlet has been linked to every hunky actor that she's photographed with. And she made sure to run with that joke while presenting an award at the 2014 Teen Choice Awards on Sunday evening.
With former "Twilight" star and "Expendables 3" actor Kellan Lutz at her side, Dobrev was on the Shrine Auditorium stage in Los Angeles to present the award for Choice Movie Actress: Action/ Adventure to Shailene Woodley. But before they announced the "Divergent" actress as the winner, Dobrev and Lutz decided to crack a few jokes about the ever growing list of boyfriends that Dobrev appears to have.
The laughs began when Lutz refused to stand next to Dobrev at the microphone. When "The Vampire Diaries" starlet questioned him about his odd behavior he countered that he didn't want people to start thinking that he was her boyfriend. According to Lutz, Dobrev has five rumored boyfriends and he's not interested in becoming another name on that list.
"Those are tabloids," Nina Dobrev tried to explain to her co-presenter.
However Kellan Lutz wasn't interested. Instead he joked that they should keep a "five-foot radius rule" in order to avoid new rumors of a relationship sparking between the two.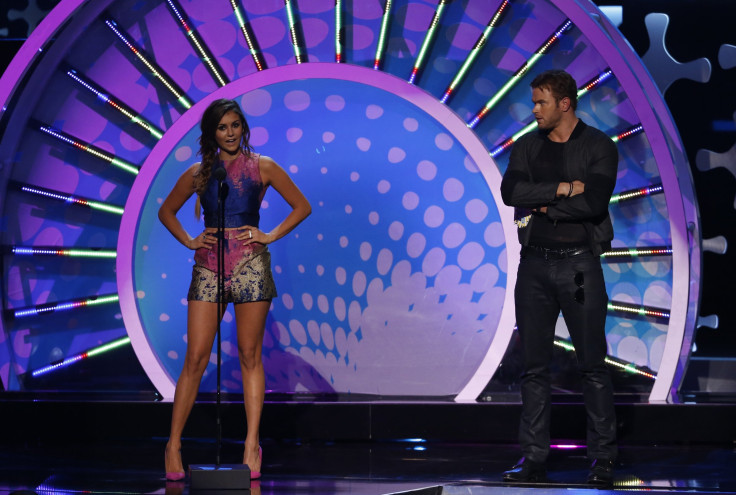 In the past few weeks the actress has been linked to Orlando Bloom, Benjamin McKenzie and Derek Theler. At the beginning of August Dobrev took to social media to deny the rumors of her dating life. But instead of getting defensive, she decided to fight her ever-growing list of "boyfriends" with some humor.
"Apparently I have SOOOO many boyfriends," the starlet posted on her WhoSay account. The text accompanied a photo that she cleverly captioned, "Here's four more." The image featured Dobrev with four of her "Vampire Diaries" co-stars, Steven R. McQueen, Zach Roerig, Joseph Morgan (who received his own "Vampire Diaries" spinoff, "The Originals") and Matthew Davis.
The jokes about Nina Dobrev's love life didn't stop at the Teen Choice Awards show. Kellan Lutz took to Twitter that evening to keep their stage laughs alive.
Do you think the rumors surrounding Nina Dobrev's love life are out of control? Tweet your thoughts to @AmandaTVScoop.
© Copyright IBTimes 2023. All rights reserved.
FOLLOW MORE IBT NEWS ON THE BELOW CHANNELS