Venezuela's Toilet Paper Shortage Ended; 3 Other Basic Goods That Went Scarce In The Country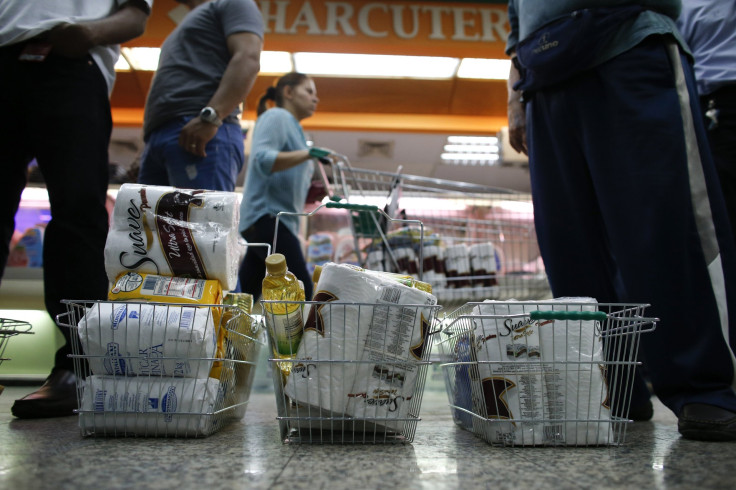 The core of the latest Venezuelan crisis is not the rumored political division within the late President Hugo Chávez's party, nor the allegations of fraud in the last elections. It is toilet paper, or specifically, the lack of it.
After a hard month in which supermarkets in Caracas and surroundings ran out of the toiletry and astonished Venezuelans stayed in lines for hours hoping to snatch a few remaining rolls, the country's National Assembly announced on Wednesday that it approved a $79 million credit that will be used to import 39 million rolls.
The issue went beyond annoyed citizens and economic imbalance. The recently inaugurated new government took the opportunity to blame the shortage on the opposition: According to President Nicolás Maduro, it was due to a media campaign by opponents, which caused an overconsumption of the item in question.
The party of defeated presidential candidate Henrique Capriles, on the other hand, attributes the situation to bad economic policies, which have also caused several other shortages in basics -- including sugar, coffee and corn -- and has pushed Venezuela to Latin America's top spot in inflation, running at 25 percent.
When the dying Hugo Chávez appointed Maduro as his successor, the now president vowed to keep the legacy of the late president. Chávez's "21-century socialism" involved nationalization and extensive social programs, but as reported by the BBC, the attempts to impose state control on the economy led to big imbalances that have led to shortages.
Toilet paper is not the only basic toiletry that has been rationed for lack of supplies. Here are four others that disappeared from supermarket stands:
Deodorant
Along with toilet paper, this toiletry was the first flying off supermarket shelves. A Venezuelan mother of three told Spanish newspaper El Mundo that the cashier only allowed her to buy two tubes. "We are five in my house, and yes we are a family, but some articles are for personal use only," she complained.
Toothpaste
The budget approved by the National Assembly included importing 3 million boxes of toothpaste, which has been almost gone for a month. "A country that has to import toilet paper, soap, and toothpaste is seriously in the gutter," tweeted opposition congressman Julio Montoya.
Diapers
The government has promised importing 17 million packs of this baby essential. The government promised that the cargo will arrive in less than a week and would be enough to last for three months, reported Emol, a business website.
Follow me on Twitter: @PReyMallen
© Copyright IBTimes 2022. All rights reserved.
FOLLOW MORE IBT NEWS ON THE BELOW CHANNELS