Venus Angelic, 15-Years-Old, Is A Living Doll; See Her With And Without Makeup [PHOTOS]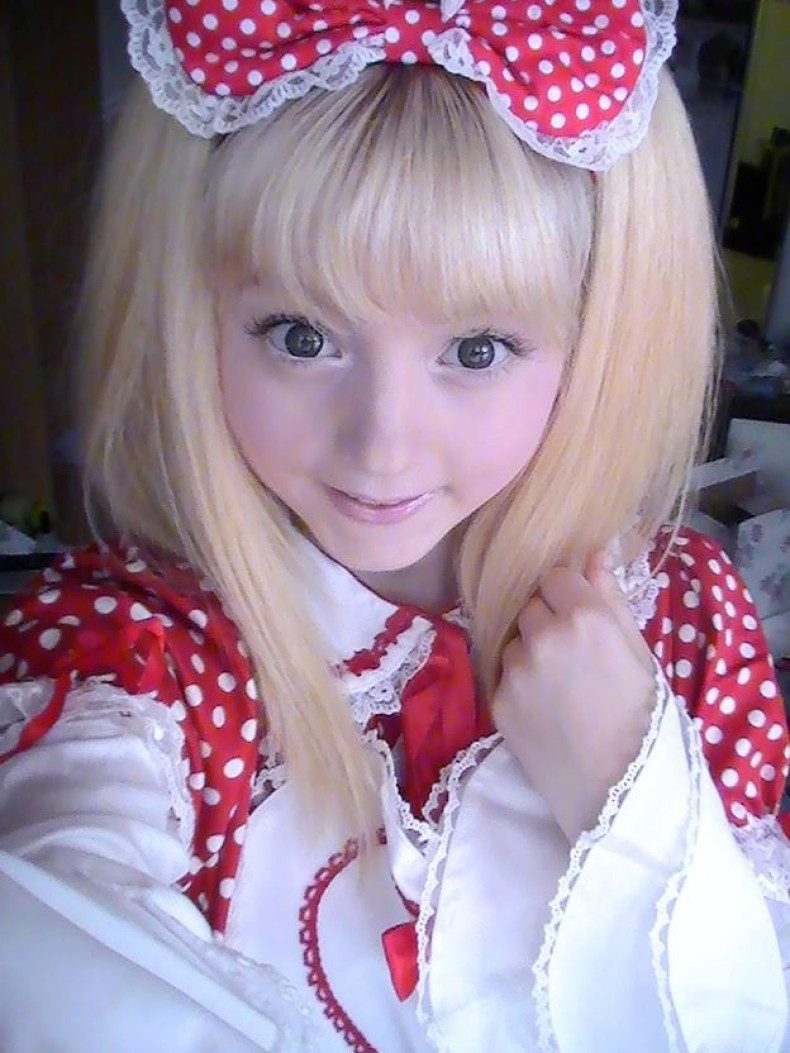 A teenage girl has become an Internet cult sensation not because of her singing talents or her amazing dance moves, but because she resembles a living doll - complete with huge eyes, porcelain skin and white-blonde hair.
Venus Angelic, as she is known online, is a 15-year-old girl who is gaining enormous popularity on the Internet for her YouTube tutorials on how to look like a living doll. Venus Angelic, whose birth name is Venus Palermo, has 78 videos on her official YouTube page - ranging from makeup tutorials and nail art to dancing and cosplay.
The most popular videos are her makeup tutorials, in which she teaches viewers how to use cosmetics to transform into a doll.
Some people were asking me, 'how do you do your makeup?' and I decided to put a tutorial on YouTube, Venus Angelic told the cast of RightThisMinute, a television show that puts a spotlight on the strangest clips circulating on the Internet.
Angelic has been dressing up like a doll for the past two years, according to The Huffington Post. She was inspired by Japanese anime culture after having lived in Japan for a couple of years. Angelic's look resembles that of a female Japanese anime character, with large eyes and flawless skin. She is not of Japanese descent.
She's not Japanese, RightThisMinute producer Betsy Gessell told HuffPost Weird News. But she spent some time there and it influenced her.
Her voice sounds quite babyish and it would make sense that it is part of Angelic's doll persona, but she insists her voice is real. Yes, of course it's my real voice, Angelic told RightThisMinute. I think [it sounds that way] because I speak five languages and all the accents mix together.
She's not Asian. She's western, Gessell said. Her mom had an almost German accent. I also think she really is a teenager, but, in some ways, she does seem wise beyond her years.
Certainly, Venus Angelic's façade has gained her popularity. Her YouTube videos have garnered over 5 million and over 18,000 subscribers. She even has her own Facebook fan club with over 5,000 fans.
She has influenced a lot of people, Gessell told the Huffington Post. [Dressing like a doll] is something a lot of people think about and she's making it safe.
Angelic speaks to her fans with kitschy, cossetting phrases like: rainbow coloured little sugarballs [sic], wonderful summer-sky blue sugary fairy crystal bonbons, my sweetie candy cane giraffes and naughty chubbie-puppies [sic].
Despite the fact that some might find her hobbies unusual, her mother approves. She actually thinks it's cute to wear cute and frilly clothes, Angelic said. I don't think that I will ever stop. I think I will grow in my style and just keep doing what I love.
Venus Angelic's Doll-Inspired Makeup Ritual
Venus Angelic doll-makeup regime is quite complex. To achieve a doll's smooth skin, she first she applies moisturizer, which is a common ritual for many women every day. However, her next step is anything but typical. Venus Angelic uses contact lenses with a full, opaque color to make here irises look extra large - like a doll's. Angelic then applies two coats of peach concealer to her face and then powder in her natural skin tone. We want the difference between powder color and natural color to be seen as it creates a natural but doll-like skin, she said in a YouTube tutorial.
To achieve a doll's deep set eyes, Venus Angelic first applies light pink eyeshadow and then applies a light brown shadow to the outer corners of her eyelids. She next uses a lip liner to line the lower outer rim of her eyes. Next, she uses the liner to draw an arch on the top of her eyelid, which she blends in, to create the deep-set effect.
Layers of mascara are necessary for this look, she insists. Venus Angelic uses false eyelashes as well. She lines her lips with a brown lip liner and then blends in a cheery red color for a soft look. She tops this off with red lip gloss.
Finally she applies pink blush to the apples of her cheeks and to her temples followed by bronzer. This time, bronzer is not used to tan us, but to create warm shadows, said Angelic. She brushes the bronzer along the sides of her cheeks and the sides of her nose, to give the illusion of a narrow nose like most dolls usually have.