'Vikings' Season 4 Spoilers: New Set Photos Tease Super Bloody Battle When History Channel Series Returns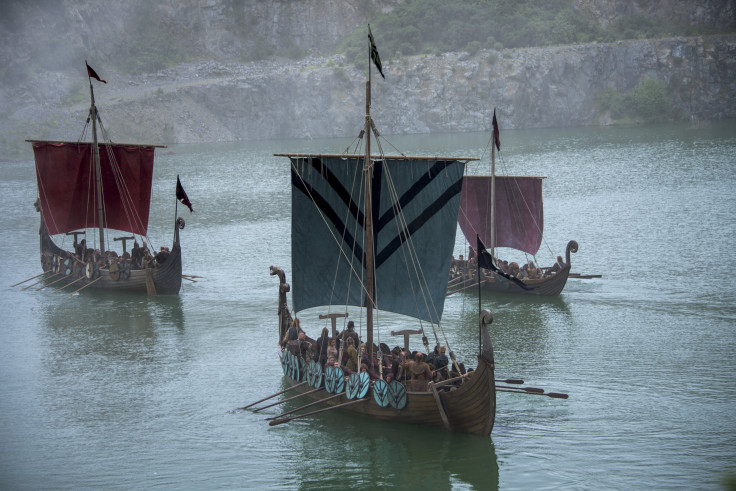 Time to break out your battle axes, "Vikings" fans, because you're definitely need them when the History Chanel series returns this fall for the second half of Season 4.
Recently, Alex Høgh Andersen , who portrays Ivar the Boneless on the epic drama, shared a gruesome behind-the-scenes photo from the Season 4 set of "Vikings." "You know it has been a messy day if you look like this even though makeup already tried to clean you up," the actor captioned a selfie of himself covered in dirt and blood.
But that wasn't the only blood-soaked photo Andersen shared. The Danish star also posted an image of himself drenched in a red liquid that saturated his hair and flooded his right eye. "Forget yesterday," Andersen captioned the jaw-dropping picture. "Today was crazy."
The photos tease that Season 4B will be quite the grizzly one, with battles that'll end in butchery and carnage. But, of course, the trailer for Season 4B also teased impending deaths when it was released during 2016 San Diego Comic-Con. In the trailer, the Seer (John Kavanagh) reveals to Bjorn (Alexander Ludwig) that Ragnar's (Travis Fimmel) return to Kattegat will result in "calamity, chaos, tragedy and death."
"You should curse the day," he warns Bjorn.
Michael Hirst, creator of "Vikings," revealed to the Hollywood Reporter in July that Ragnar's reappearance will "cause a lot of tragic and earth shattering events." These events will go on to affect Kattegat and Ragnar's sons … specifically Ivar.
In the trailer, audiences watch as Ragnar takes Ivar under his wing, promising his youngest son that he will be the most feared Viking of all despite being crippled. Hirst confirmed that Ivar the Boneless will indeed "push boundaries" when the second half of Season 4 returns in the fall — boundaries that fans received a glimpse of in Anderson's Instagram images.
"Vikings" will return in the fall with the second half of Season 4 on History Channel.​
© Copyright IBTimes 2023. All rights reserved.