Vince Gill Explores Truth and Fiction in New Album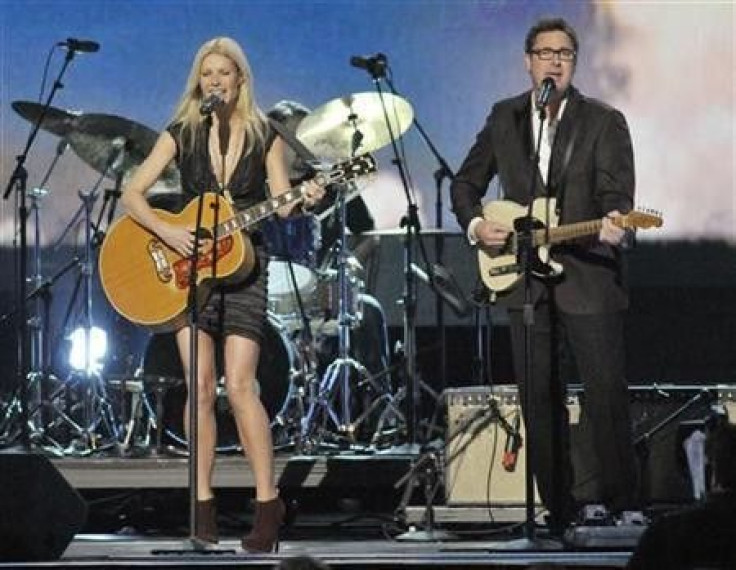 Vince Gill mixed a little truth with just enough fiction in writing the songs for his new album, Guitar Slinger, that hit record stores and websites on Monday marking his first CD in five years.
Gill chose topics as diverse as a murder-suicide, an out-of-the way motel and True Love -- a song he co-wrote with his wife of 11 years, Christian singer Amy Grant.
I think songs like 'Bread and Water,' which I could say is the truth about my (late) brother, or 'Billy Paul,' about a caddy at my golf club who killed his girlfriend and himself, have what I call a step aside from truth, Gill said.
The first line of 'Bread and Water' makes me think of my brother but it's not how his life turned out. If truth is the center of inspiration then it never leaves it. My job as a songwriter is to take that truth and make it interesting, the Oklahoma native told Reuters.
Take the album's story song, The Old Lucky Diamond Motel, about the cast of characters who frequent a rural motel. It is based on a true story -- his brother had a wreck on an Oklahoma highway near El Reno. But Gill swears the prostitute who appears is no one he knows and is purely fictional.
A song like that allows you to hold back a few of your cards, he said. It's fun to watch people wonder just what is truth and what is fiction.
FIRST IN FIVE YEARS
Guitar Slinger is a follow-up to the Grammy-winning 43-song, four-CD set, These Days, that Gill said took all of his creative energy. He said he wondered when he would write again. Then The Old Lucky Diamond Motel slowly took shape, and happily it was nothing like his last project.
That was good news for me. I can always write a song, but the really great songs are pretty hard to write, said Gill, who has been twice named the Country Music Association's Entertainer of the Year and has won more Grammy awards (20) than any other male country artist.
While the new album includes some dark songs, Gill said it was not a complete departure.
It's got a little bit of everything -- humor, really dark tales, romance, story songs, some that have a faith element in them. It's very diverse, with about half of it guitar driven and contemporary, and the other half more country with steel guitar.
Looking back, Gill said his interest in music began early, and he fed off how audiences responded.
As a kid I was like a sponge, soaking it up and trying to figure it out. Music speaks to different people in different ways, and for me it went to my core, to a depth that most people don't go with it.
I started playing in beer joints for money and I was like, 'I can have this much fun and people are gonna pay me for it?' My parents never asked when I was going to get a real job. They saw a kid totally immersed in something, completely happy, and they supported me.
The album's first single, Threaten Me With Heaven, has taken on a new meaning for Gill since he co-wrote it with his wife Amy, Dillon O'Brian and Will Owsley.
Gill came back from playing golf and found the three working on the song. They said, 'Hey come help us, we're stuck.' So I got to help them finish a great idea. It was my lucky day, the way I look at it.
Since we wrote it and I recorded it, my friend Will, who played guitar on it, took his life. It gives that song a special connection for me. Every time I hear it I get to hear him play guitar and remember he's my buddy.
It's a powerful song and a powerful message, he added. I think someone who is struggling will find a lot of good comfort. It makes people feel better.
Gill is currently on tour but said in the future he doesn't want to be on the road as much. You never get past the place of wanting that immediate response that you get from doing a live show. But my priorities are different at 54 than they were at 44. I'm just trying to find a good balance.
© Copyright Thomson Reuters 2023. All rights reserved.