"Visionary Lawyer" Frederick W. Penney Explains The Keys To Successfully Creating A Diverse Law Firm
CEO and Founder of Penney and Associates isn't afraid to be a household name, and his array of wildly successful investments prove that name brand recognition will take you a long way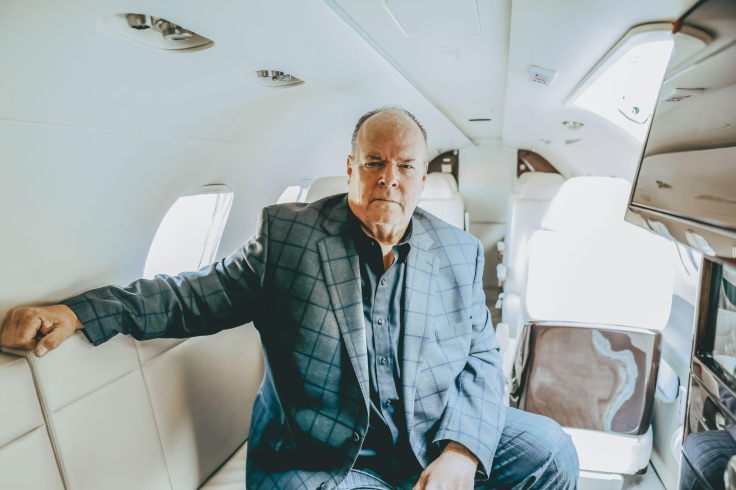 Thinking outside the box has been Fred Penney's staple of success within the legal industry. Whether it's building race cars, hosting a nationwide radio show, or owning a Phenom 300 Jet airplane, Penney has done it with style and panache, and a cool swagger - not arrogant, but assured, and always one step ahead of his industry peers.
I caught up with him to discuss the origins of his biggest brand successes, and how this marketing genius revolutionized the world of jurisprudence.
Sarshar : With regards to marketing your name. Did you feel like you did that to keep up with the latest trends or even cater to a new generation?
Fred : One thing I've always loved is cars. In-fact, I drive a Bentley. I've always loved cars, tractors, motorcycles, you name it. I knew that race cars would have names on them, so I thought about sponsoring a race car. Then - thinking outside the box, I decided to start Penney Racing, which is essentially a distributor of racing car parts, and became the second largest distributor ​​of racing parts in the U.S. west coast. I did that 25 years ago, and then I bought Comptech Race Engines , which won the Indy 500 in 2001, with Juan Pablo Montoya. The reasoning behind this was marketing the Penney name, and what better way to build my name than to have it plastered all over race cars. Everyone knew that name.
Sarshar : Let's talk about your airplane; the Phenom 300 Jet. Is that also for name brand purposes?
Fred : Absolutely. It's name recognition. The private jet is one of the weirdest things that I invested in. But because of it, everyone knows my name. I purchased it originally to travel to court, meet clients, and meet law partners for the personal injury law firm Penney and Associates . I also knew it would be a good marketing billboard to put the name on the tail.
I actually have all kinds of people approach me on the tarmac of various airports and ask for merchandise. First, we promote Frederick Penny's name and everything follows after that. So I push my name on all my social media, and then I push everything else below that - which is Penney Associates.
Sarshar : How is Fred Penney's "outside of the box" any different from others' with the same philosophy?
Fred : I'm always looking five years ahead of me, and that's the difference. I'm a visionary in the sense that the niche markets I cornered were visions of mine years prior. For example, I got into a lot of areas of law that people weren't quite savvy to or understood in the 1990s and early 2000s. Especially the prepaid insurance type of coverage for individuals that they now sell. I was into that space in the 90s when it started. I saw it coming. So everything I do I first ask myself "what is coming five or ten years down the road?" And that's what I invest in.
Sarshar : Another investment is your Radio Law Talk show, which is a nationwide phenomenon. What was the idea behind that?
Fred : Again, pushing the name. Three-time Emmy Award nominee Cal Hunter is a renowned radio show producer - and also friend of mine. He was the one who suggested my larger-than-life persona could fill a void in the radio world. With Podcasts taking over the airstreams, people have tended to forget about radio. So six years ago I started Radio Law Talk, which is an interactive show that discusses the latest national and international legal news with input from experienced lawyers, who put their own humorous spin on affairs.
It's entertaining, exciting, and sometimes informative.
Sarshar: And, aside from being nationwide, how do you plan on growing the show?
Fred: Last November we added three new radio stations, and keep adding new radio station affiliates every month to the Radio Law Talk family. I keep pushing it and my staff keep pushing it and they keep adding new stations. It's the snowball effect and it continues to snowball.
We have over 100 radio stations carrying us nationwide, and we're the second largest radio law talk in the United States. Right now, I host from 9:00am-12:00pm every Saturday but the producers want me to host three hours a day, five days a week - and ultimately, compete against the biggest shows in the country. We've also got a Podcast that was born out of the success of Radio Law Talk.
Sarshar : What's the next Fred Penney five or ten-year vision?
Fred: I truly believe the future is in social media. I've known that for a while. Frederick Penney was one of the first people that understood and got on Twitter . Despite being one of the early adopters I failed to capitalize. Having learned from that I pushed early on new platforms like Fireside; a groundbreaking new app I believe will take off.
I have over one million followers on Instagram, and I'm also verified on Facebook … and it's crucial to be verified.
Right now, I'm working with influencers in California - which is where the Tik Tok hub is. And I'm right in the middle of it.
Frederick W. Penney is a 2018-2021 selectee for the Northern California Super Lawyer Award, with an AVVO personal injury attorney rating of 10. He is an AV preeminent-rated attorney by Martindale Hubbell, one of the most prestigious ratings systems in the U.S.
Penney was also awarded Best Attorney Lifetime Member by Rue Ratings Best Attorneys of America.
Penney has been featured in Forbes and Entrepreneur. He is putting the finishing touches on a series of books that detail how he went "from picking peaches to flying in private jets" which is scheduled for release in 2022.
Frederick W. Penney is the CEO and founder of California firm, Penney & Associates, and the national firm, Penney, Galbraith, Elder, & Brannen .
FOLLOW MORE IBT NEWS ON THE BELOW CHANNELS