Vogue Editor Says Models Think It's OK To Faint From Food Deprivation, Eat Tissues And Go On Hospital Drips To Be 'Paris-Thin'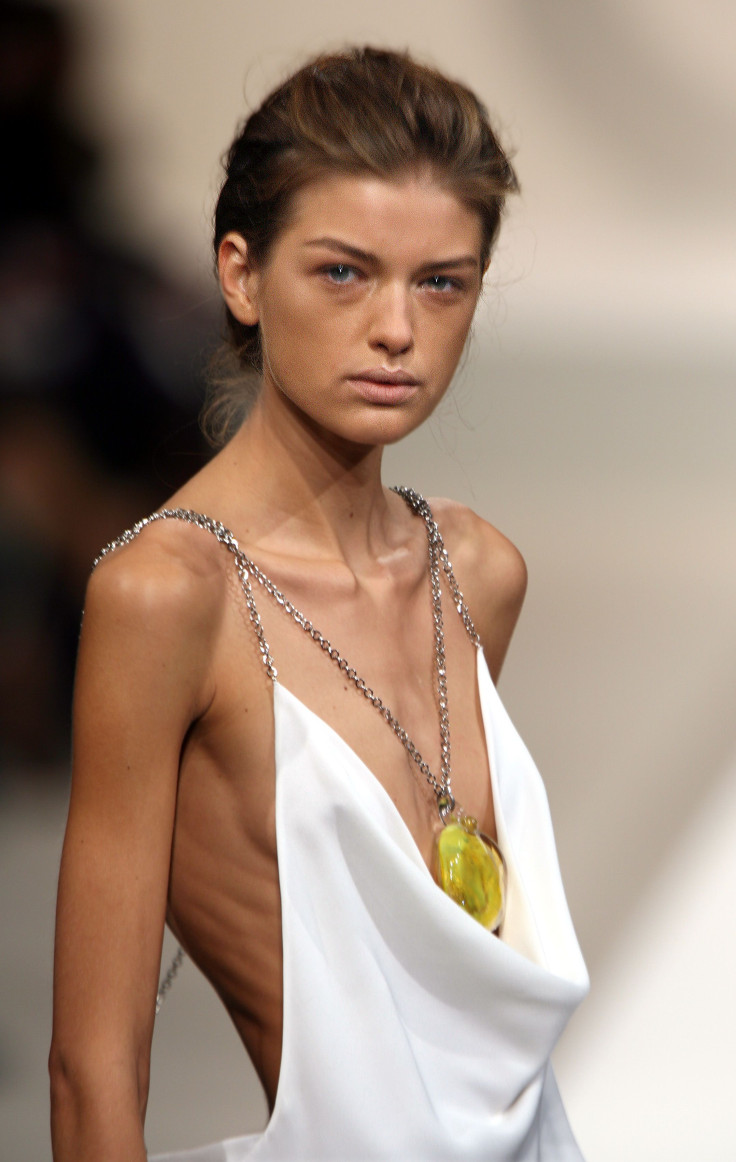 Ever wonder how some of the world's top fashion supermodels keep themselves so thin? Former Vogue Australia editor Kirstie Clements has revealed that models not only eat tissues to swell their stomachs and curb hunger but also go on hospital drips and sometimes faint from food deprivation, while the industry ignores the "telltale signs of anorexia."
The inside-fashion revelations come from a new edited excerpt on the Guardian's website from Clements' tell-all book, "The Vogue Factor," which launched her to fame when it was published in March. Fired from her Australia Vogue post of 25 years, the former editor made international headlines when she recounted in one chapter that a model did not eat one morsel during a lengthy shoot in Marrakech. Later she found out the model was eating tissues to keep her stomach full in the hopes of becoming "Paris thin," a term used to describe an ultra-skinny model suitable for top French fashion shows.
But on Friday, Clements, 50, revealed even more of the fashion industry's dirty laundry in the excerpt of her book on the Guardian site. Clements alleged that models often engage in "dangerous patterns of behavior that the industry – shockingly – begins to accept as par for the course."
"I was dressing a model from the U.S. on a beauty shoot, and I noticed scars and scabs on her knees," Clements wrote. "When I queried her about them, she said nonchalantly: 'Oh, yes. Because I'm always so hungry, I faint a lot.' She thought it was normal to pass out every day, sometimes more than once."
Another model told Clements during a Paris fashion shoot that her flat (apartment) mate is a "fit model," which are models used directly in designer ateliers to act as the mannequin while designers work on creations in the studio. This flat mate, according to the model, is "in hospital on a drip a lot of the time," referring to intravenous therapy, to keep herself nearly two-dimensionally skinny.
Clements wrote: "That the ideal body shape used as a starting point for a collection should be a female on the brink of hospitalization from starvation is frightening." She added that a "dubious achievement" of this nature, "all in the quest to fit into a Balenciaga sample" size, comes with severe side effects such as mood swings, extreme fatigue, binge-eating and self-harm.
But all of this is common in the fashion world, Clements said. She described how a model from Russia who was displaying severe signs of hunger once told her: "It is not my job to eat." Clements added this was one of the only sentences the model knew how to speak in English.
However, Clements wrote that despite food deprivation for many supermodels, others do actually eat, while the rest rely on cigarettes and Diet Coke, or what Clements called "dietary staples."
She explained how she saw the modeling world changing for the worse, with "telltale signs of anorexia" more apparent. Clements said many of the girls developed a "light fuzz" on their faces and arms as the body's natural reaction to keep their thin frames warm. She added that she never heard a model complain about being hot "even if you wrapped her in fur and put her in the middle of the desert."
"It is the ultimate vicious cycle," Clements wrote. "A model who puts on a few kilos can't get into a sample size on a casting and gets reprimanded by her agency. She begins to diet, loses the weight, and is praised by all for how good she looks. But instead of staying at that weight and trying to maintain it through a sensible diet and exercise, she thinks losing more will make her even more desirable. And no one tells her to stop."
Clements' book, though, is not merely a tell-all, dirty laundry-revealing, gossip book, as many critics have claimed. In the excerpted passage in the Guardian, Clements described the reason this painfully thin look has become the status quo in modeling and fashion, blaming not just magazine editors like herself but also designers and their staff.
"When it comes to who should be blamed for the portrayal of overly thin models, magazine editors are in the direct line of fire, but it is more complex than that. The 'fit' model begins the fashion process: designer outfits are created around a live, in-house skeleton. … These collections are then sent to the runway, worn by tall, pin-thin models because that's the way the designer wants to see the clothes fall. … For some bizarre reason, it seems they prefer her to be young, coltish, 6-feet tall and built like a prepubescent boy."
Clements went on to describe the changing bodies of supermodels since she entered the business in the 1980s, which generally began with "natural willowy and slim" girls who were blessed with "glowing skin, shiny hair and loads of energy" but "were not skin and bones." She also cited famous 1980s and 1990s supermodels like Cindy Crawford and Claudia Schiffer, who appear "positively curvaceous" in comparison to today's waifs.
"[Sizes] have become smaller since the early '90s," she wrote. "We've had couture dresses arrive from Europe that are so minuscule they resemble christening robes. There are no bigger samples available, and the designer probably has no interest in seeing their clothes on larger women. Many high-fashion labels are aghast at the idea of producing a size 14, and they certainly wouldn't want to see it displayed in the pages of the glossies."
While Clements acknowledged Vogue's international Health Initiative, which has made major strides to ban models under the age of 16 and help models suffering from eating disorders, she said many top fashion editors still admire these "painfully thin" models.
"It is practically impossible to get a photographer or a fashion editor – male or female – to acknowledge the repercussions of using very thin girls," she wrote. "They don't want to. For them, it's all about the drama of the photograph. They convince themselves that the girls are just genetically 'blessed,' or have achieved it through energetic bouts of yoga and eating goji berries."
© Copyright IBTimes 2022. All rights reserved.
FOLLOW MORE IBT NEWS ON THE BELOW CHANNELS