'The Voice' Season 10 Teaser Shows The Coaches Performing Together To Kick Off The Battle Rounds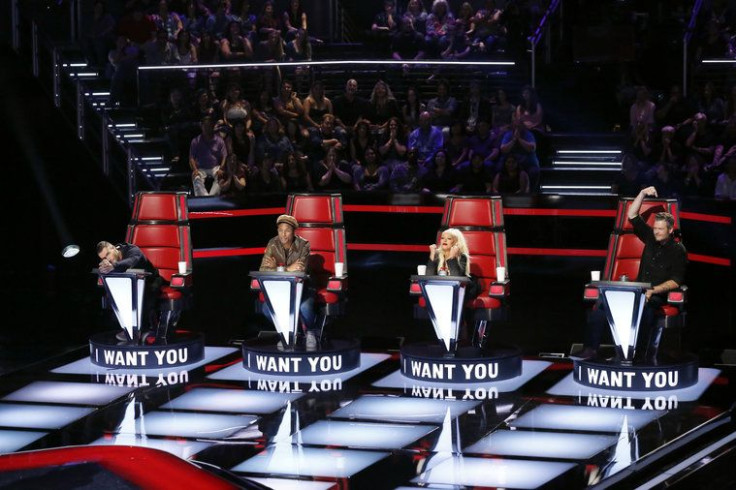 It's the most exciting night on Season 10 of NBC's "The Voice" thus far as the blind auditions are over and the infamous battle rounds begin. To help mark the occasion, the show is leaning on the star power of its coaches for an incredible joint performance that will get the ball rolling on the next phase of the hit reality singing competition.
In an exclusive clip from E! Online, Season 10 coaches Christina Aguilera, Pharrell Williams, Adam Levine and Blake Shelton take the stage together to sing various parts of Stevie Wonder's "I Wish." Shelton, Levine and Aguilera sing at the front of the stage while Williams one-ups them by not only singing, but playing the drums as well. The upbeat song gives all four unique artists an opportunity to blend their voices together seamlessly.
The battle rounds are a fan-favorite stage of the competition as it sees the coaches select members of their fully fleshed out teams to sing head-to-head against each other. When the duet is over, it's up to each team leader to select which of the two will stay on the show and advance to the knockout rounds. It makes sense for the musically inclined panel to show off their singing chops before the beginning of the next round as it will make it a lot easier for them to give the thumbs-up or thumbs-down to their team members after establishing their qualifications.
While the eliminations are certainly interesting to watch, it's the coaches' strategy that makes the battles so much fun to watch. As established in Season 3, Levine, Shelton, Aguilera and Williams each get two saves. That means that if one coach eliminates a performer, another coach can steal that artist.
This isn't the only dose of star power fans of "The Voice" can expect in Season 10. According to the Los Angeles Times, each team will get some help from guest mentors including Sean "Diddy" Combs helping Team Pharrell, Tori Kelly helping Team Adam, Patti LaBelle helping Team Xtina and Season 9 coach Gwen Stefani helping her boyfriend Blake Shelton's team.
"The Voice" Season 10 battle rounds kick off on Monday at 8 p.m. EDT on NBC.
© Copyright IBTimes 2023. All rights reserved.