'The Voice' Season 9 Eliminated Contestant Mark Hood Opens Up About Getting Voted Off And Who He Thinks Will Win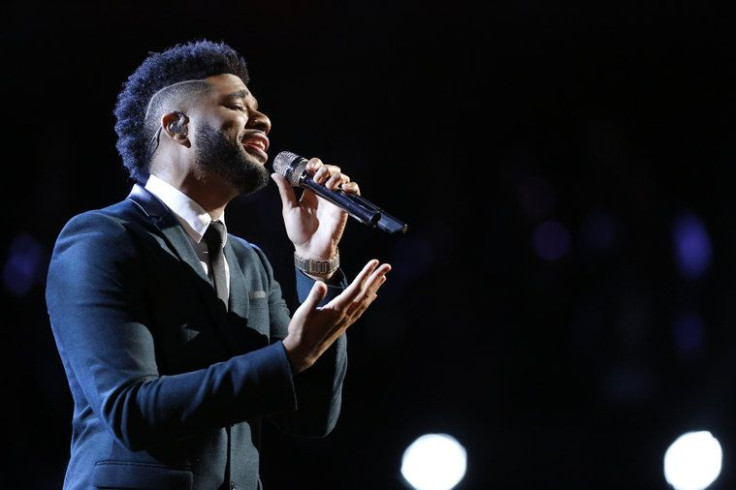 In a surprising upset for many fans of NBC's "The Voice" crowd-favorite Mark Hood was sent home after the top 12 live performances. With the number of contestants down to just 11, many, including Hood, were hoping he'd stick around a lot longer than he did.
The final decision was left up to America's live save as the Chicago-native took the stage to sing his final song, Stevie Wonder's "Signed Sealed Delivered, I'm Yours." He sang against Korin Bukowski's cover of Norah Jones' "Don't Know Why." In the end, Hood didn't capture enough of America's votes and was sent packing, something he wasn't necessarily mentally prepared for.
"I didn't think I was going home," Hood told reporters in a press call on Wednesday. "I did not think I would be sitting in an airport right now. But I had the feeling that I would have to sing my second save song. I was practicing with the vocal coach all day, like, we were going over lyrics, you know, because I just thought I would have to."
The singer's top 12 performance gained a big reaction from the crowd and many believed he'd be safe for at least another week. When asked by host Carson Daly, prior to his elimination, what he hoped to show people if he were to be voted through to the next round, the singer revealed he would show that he's got versatility and is more than a one-trick pony. Speaking to reporters, he confessed that the way he was planning to do that was by taking on a country song. Instead, the young artist has to look ahead to his career beyond "The Voice." Fortunately, he's still got a fallback in show business.
"I see a career, a very big acting career," he said. "My acting career was already budding before the show, like, with theater and television and commercials. So I see a Broadway career in the very near future. And TV as well, you know? Before I left to do the show, I was going through several TV auditions and stuff. You know, next year you'll either see me on your TV screen or on a Broadway stage."
While Hood is pleased with his time on "The Voice" and praises his coach Pharrell Williams for advancing his career by miles with his tutelage, the merit of the show's competition was not lost on him. He confessed that, while being the winner of the show would have been nice, he was aware that other artists were going to beat him for the grand prize -- particularly Team Adam's Joran Smith. When asked if Smith is considered the person to beat among the contestants, Hood revealed the way he approached the competition.
"No, he wasn't the guy to beat because nobody is going to beat him. You know, you've got to know your role and your lane on the show, at least for me, and to know where you sit, you know?" he said. "I knew that I wasn't going to beat Jordan, I just wanted to stay in it long enough to hang around."
While Hood's journey on the show has come to a close, there are still 11 more contestants that remain on "The Voice." They'll each perform once again on Monday, Nov. 23, for America's votes before the artists are whittled down to the top 10 of Season 9. In the meantime, fans can follow Mark Hood on Twitter to see what he's up to next.
© Copyright IBTimes 2023. All rights reserved.