Volkswagen CEO 'Deeply Sorry' For False Emissions Data, Calls For External Investigation; Stock Falls 23% Monday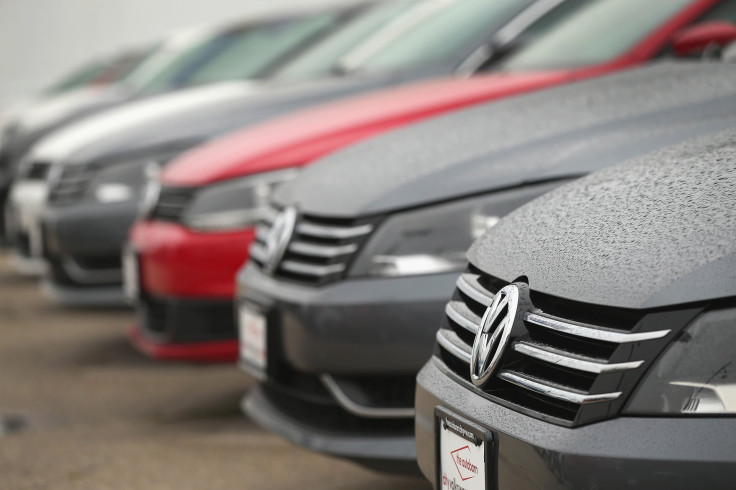 UPDATE: 6:47 a.m. EDT -- Shares in Volkswagen AG were trading down nearly 20 percent late Monday morning after the automaker's stock fell about 23 percent to 125.40 euros in Frankfurt earlier in the day.
Monday's falls bring the overall drop in Volkswagen's stock this year to 31 percent, Bloomberg reported, adding that the company's market value is now down by $17.4 billion.
Overall, among European markets, the FTSE 100 was trading up 0.84 percent while France's CAC-40 was up 0.81 percent. Germany's DAX, however, was down nearly 0.7 percent.
UPDATE: 3:50 a.m. EDT -- Volkswagen AG stock fell Monday by as much as 17 percent in Frankfurt trading -- its steepest fall in nearly seven years -- after the company admitted to tampering with U.S. air pollution tests.
The stock fell by nearly 28 euros to 134.5 euros in Frankfurt, according to Bloomberg, extending the fall in the German automaker's shares this year to 25 percent. At 7:50 a.m. GMT (3:50 a.m. EDT), the stock was trading down 15 percent.
Analysts at Kepler Cheuvreux downgraded the stock to 'hold' from 'buy,' and cut their target price by 27 percent to 185 euros, the Bloomberg report added.
Original story:
Volkswagen apologized Sunday for the conditions that led to the discoveries made by U.S. officials who found the company had been using software that reported false emissions data, Reuters reported. The U.S. Environmental Protection Agency (EPA) said the German automaker could face fines of as much as $18 billion, although it was unclear whether this amount would be pursued.
"I personally am deeply sorry that we have broken the trust of our customers and the public," CEO Martin Winterkorn said in a statement Sunday. "Volkswagen has ordered an external investigation of this matter."
U.S. officials said the software designed for diesel-fueled cars had reported false data making the automobiles appear to pollute far less than they actually did.
Winterkorn said Volkswagen would not "tolerate violations of any kind of our internal rules or of the law." He said his company was cooperating with authorities. No details were available Sunday about how the firm's external investigation would be conducted.
Meanwhile, it is possible executives at Volkswagen could face jail time.
About half a million four-cylinder Audi and Volkswagen cars manufactured between 2009 and 2015 could be affected by a possible 500,000-vehicle recall. The cars include the popular Volkswagen Passat, Jetta and Golf models.
According to the EPA, the software in an affected vehicle would turn emissions controls off when a car was being driven, but turn them on when a car was being checked during an emissions test. This feature is known as a "defeat device." It is possible the vehicles in question emitted as much as 40 times the levels allowed under U.S. clean-air rules.
The director of a small clean-air group in Europe was among the first to notice discrepancies between emissions-test results and the volume of pollutants being released into the air, according to Bloomberg News. The group ran its own tests and said it was shocked by what it found. The Jetta reportedly emitted pollutants that surpassed U.S. emissions standards by 15 to 35 times.
"We were astounded when we saw the numbers," said John German, the U.S. co-lead of the International Council on Clean Transportation.
© Copyright IBTimes 2023. All rights reserved.