Voters Slightly Back Romney, But Half Approve Of How Obama Handles Job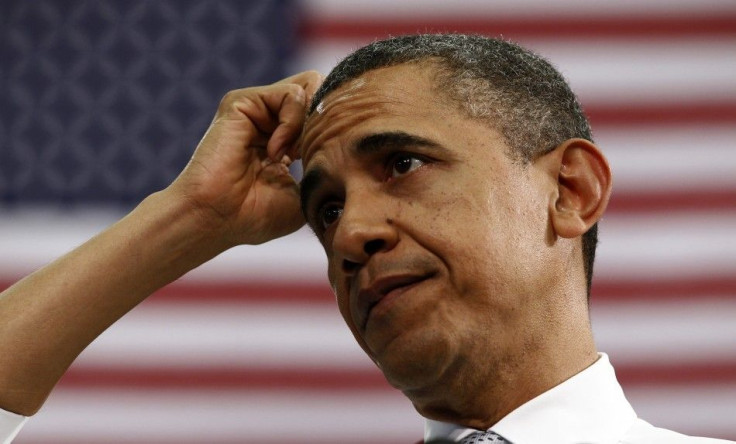 Mitt Romney holds a slight lead in a tight race against President Barack Obama, though voters give him a 50 percent approval rating, a new poll said.
A New York Times/CBS News poll released Monday showed Romney with a three-point advantage over Obama, 46-43 percent, within a margin of error. The former Massachusetts governor now beats Obama among independent voters, 43-36 percent, after being tied with the president in April.
Yet, half of voters approve of Obama's performance, his best polling in two years, save for the short-lived bump of support he received after the death of Osama bin Laden. Among moderates, Obama leads Romney, 50-39 percent.
Voters, however, are a bit lukewarm on both candidates when asked if they have favorable or unfavorable views of them.
For Obama, the electorate is split, with 45 percent each holding a favorable or unfavorable opinion of him. Romney's favorability rating, meanwhile, is underwater; 38 percent have an unfavorable opinion of him, compared to 31 percent with positive views.
The poll shows a good portion of voters are undecided on Romney, or have yet to hear enough about him to form an opinion. Nearly a fifth of voters say they are undecided, down from 22 percent in April; 12 percent said they need to hear more information.
That gives Romney room to grow on poll numbers, but also leaves him vulnerable to letting the Obama campaign team fill in the blanks for these voters.
On the economy, the top issue for most, 67 percent said it is bad. While almost a quarter say the economy is getting worse, more and more voters feel it getting better: 36 percent say things are improving, the most since early 2010. Meanwhile, 39 percent say the economy is stagnant.
Obama's historic announcement that he supports same-sex marriage seemed to barely move voters. Most -- 58 percent -- said the candidates' position on the issue will not matter in the voting booth. Still, two-thirds of voters said politics was the motivating factor for Obama's evolution.
The poll received pushback from the Obama campaign Tuesday over how it was conducted. The poll surveyed from the same pool of people who were picked for an April poll, though there was a smaller sample size this time around.
We can't put the methodology of that poll aside, because the method was biased, Stephanie Cutter, Obama's deputy campaign manager, said on MSNBC. They sampled a biased sample, so they re-biased the same sample. I think the results of that poll are pretty flawed.
© Copyright IBTimes 2022. All rights reserved.
FOLLOW MORE IBT NEWS ON THE BELOW CHANNELS