VR Advertising: Here's What A Virtual Reality Ad Looks Like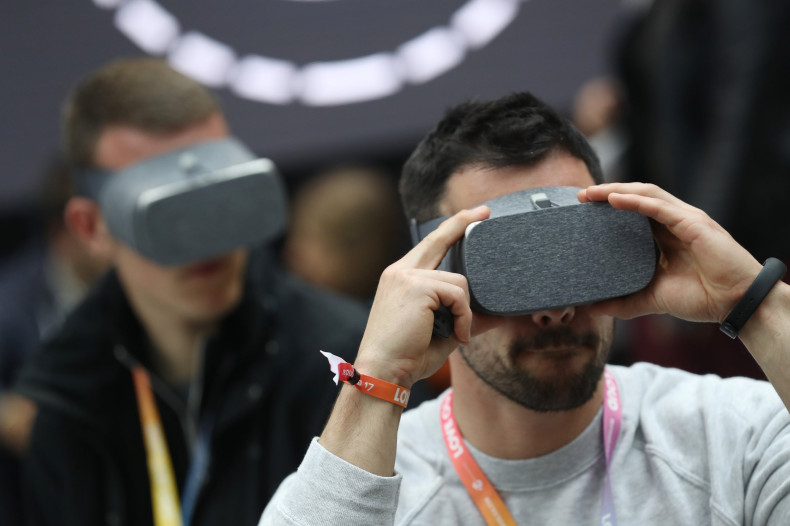 This article was originally published on the Motley Fool.
Perhaps no company is more aware of how important advertising can be than Alphabet's (NASDAQ:GOOG) (NASDAQ:GOOGL) Google. It will earn an estimated 78% of all search ad revenue this year -- or $28.5 billion -- according to eMarketer, and it's expected to grab 80% of the market by 2019. So, when Google talks about how it's working on new adverting opportunities -- this time within virtual reality (VR) -- it's worth paying attention.
The company posted on its Google Developer blog last week that it's already experimenting with how to serve up non-intrusive ads on its own Google Cardboard and Daydream View VR headsets, as well on the Samsung Gear VR.
Here's a glimpse of one of the VR ads the company has already created.
The small, white dot in the video represents where a user is looking with their eyes, or where their hand gestures are moving. These actions are what trigger a small cube to open up and then start playing a video ad, which then offers the option to download an app.
Google said on its blog that the trick to getting VR ads right is to make them non-disruptive to the user experience, and easy to implement for developers.
"So our first idea for a potential format presents a cube to users, with the option to engage with it and then see a video ad. By tapping on the cube or gazing at it for a few seconds, the cube opens a video player where the user can watch, and then easily close, the video," the company said.
Google is in the process of opening up VR ad testing beyond its handful of initial partners, and is asking for more developers to sign up. The company also just released a new software development kit.
Alphabet is already in a great position to grow VR ads
Research firm Strategy Analytics says that Google dominated VR headset shipments in 2016 with a 69% market share, followed by Samsung's Gear VR, which had 17%.
Here's how all the VR headset competitors stacked up last year: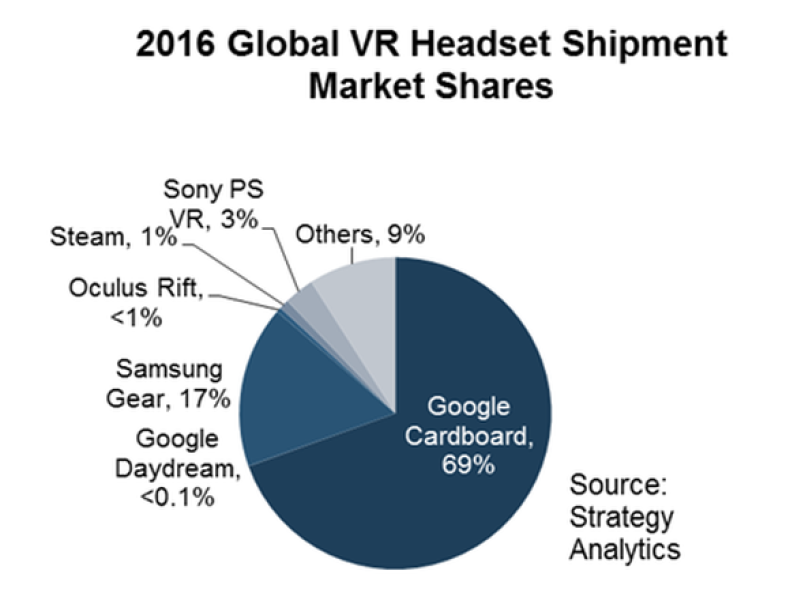 Strategy Analytics expects the VR headset market to be worth more than $10 billion annually and reach an installed base of over half a billion units by 2022. Most of those units will be in the ultra-low price tier that Google's Cardboard and Daydream View headsets fall into. Google's new and most expensive Daydream View headset costs just $79.
Dominating the mobile VR headset space is good, but Google's real advantages will come from getting users to watch more ads on the devices, and buy apps for them. Daydream apps are downloaded through the company's Google Play Store, just like Android's mobile apps, and Google will eventually earn money from them by taking a cut of the revenue earned by paid VR apps, and when users engage with video ads on their VR headsets.
A recent App Annie report forecasts that Google Play revenue will jump from about $16 billion in 2016 to $42 billion in 2021. It's unclear right now how much of that app revenue will derive from VR ads, but Google's early forays into VR advertising should be seen as signs of things to come. The company has built out its search business with ads, gives its Android software away for free by using in-app purchases and advertising to pay for it. Expect to see it use all that experience to become a dominant force in virtual reality ads in the coming years.
Suzanne Frey, an executive at Alphabet, is a member of The Motley Fool's board of directors. Chris Neiger has no position in any stocks mentioned. The Motley Fool owns shares of and recommends Alphabet (A shares) and Alphabet (C shares). The Motley Fool has a disclosure policy.