Wal-Mart Protests Highlight Issues For Working Moms, Ahead Of Shareholder Meeting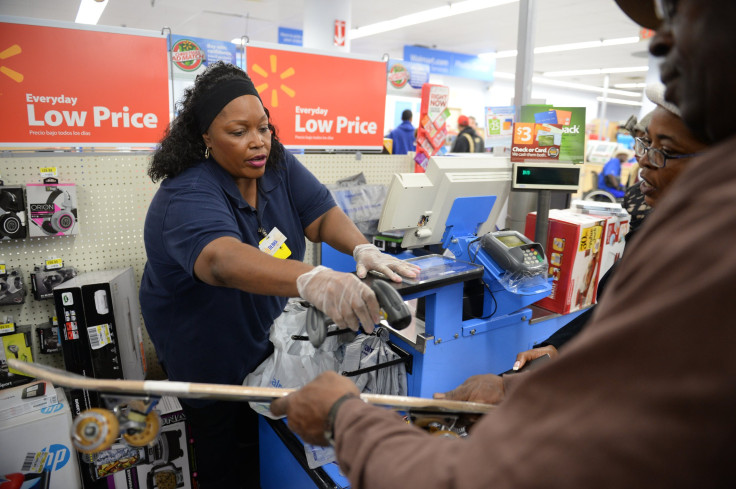 With unpredictable schedules and low wages, working at Wal-Mart is particularly difficult for working moms, say organizers of a series of nationwide protests this week ahead of the company's annual shareholder meeting on Friday.
"My associates' schedules are very unpredictable," said Evelin Cruz, who joined OUR Walmart, a union-backed employee activist group, frustrated by what she has seen in her 10 years as a $14-an-hour full-time department manager at a Wal-Mart in Pico Rivera, Calif. "Part-timers can get anywhere from eight hours to 32 hours a week. Full timers tend to get between 16 and 34 hours. This scheduling has been a huge issue for employees."
Cruz, a married mother of one, said she has witnessed company managers advising their employees to supplement their incomes by taking food stamps and other government benefits, "and even if they're eligible for health insurance, many of them can't afford the premiums, much less the co-pays. So they don't go to the doctor."
The number of working mothers employed by the world's largest retailer is unknown, but women are more likely to work in services-providing industries compared to men, according to the U.S. Bureau of Labor Statistics. Workers and rights groups say working mothers are more likely to be breadwinners in the post-recession recovery that has seen the loss of millions of better-paying manufacturing jobs traditionally held by men. The so-called "Walmart moms" tend to make well under $25,000 a year, according to OUR Walmart.
Strikes and demonstrations took place Wednesday in more than 20 cities, and those will culminate with demonstrations at the University of Arkansas on Friday during the company's meeting with its shareholders. The protests are aimed in part at pressuring the company's new CEO, Doug McMillon, to institute more worker-friendly reforms, including an annual minimum wage of $25,000, or about $12 an hour at full time.
A Wal-Mart representative told International Business Times that these recent demonstrations do not represent the majority of Wal-Mart employees.
"Each year this union group [OUR Walmart] stages these PR events timed to our shareholder's meeting. Every year it appears to get smaller," Wal-Mart spokesperson Kory Lundberg said in an email. "There's also a reason the associates who are part of this group are still with Walmart, it's because they also understand what good jobs Walmart offers."
On Wednesday, Wal-Mart held its annual meet with about 3,000 of its employees ahead of Friday's shareholder conference, part of the company's annual Associate Week. Images of cheering Wal-Mart employees were a contrast to pictures circulating on Twitter of the OUR Walmart demonstrations taking place at the same time.
Isaiah Beamon, a Wal-Mart employee in Maryland and member of OUR Walmart, says he makes $9.70 an hour but has been unable to get the full-time schedule he had hoped for. Beamon earns about $16,000 a year with no benefits. Beamon says he never gets more than 34 hours a week, which is the minimum to be eligible for company health benefits afford full-time workers.
"At my store the scheduling is very unorganized. My set days are Fridays through Sundays, but sometimes they'll ask me to come in on some other day," Beamon said. "A lot of times I'll come in, and they'll say my hours won't fit in their budget, so they'll just tell me to turn around and go home."
Wal-Mart's Friday shareholder meeting will be webcast live here beginning at 7 a.m. CDT. Institutional Shareholder Services Inc., which advises large shareholders such as mutual funds on how to vote on the corporate ballots, is advising shareholders to urge the company to install a more independent board, according to the Wall Street Journal. The advice comes after Wal-Mart reported five consecutive quarters of declining store sales in May, and on the heels of controversy last year surrounding bribery allegations in Mexico related to the company's growth plans there.
The advisory group says shareholders should vote against the re-election of Wal-Mart Chairman S. Robert Walton and should link executive pay more closely to company performance.
© Copyright IBTimes 2023. All rights reserved.
FOLLOW MORE IBT NEWS ON THE BELOW CHANNELS