'Walking Dead' Season 5 Spoilers: Watch 2 Sneak Peek Videos From Episode 6, 'Consumed'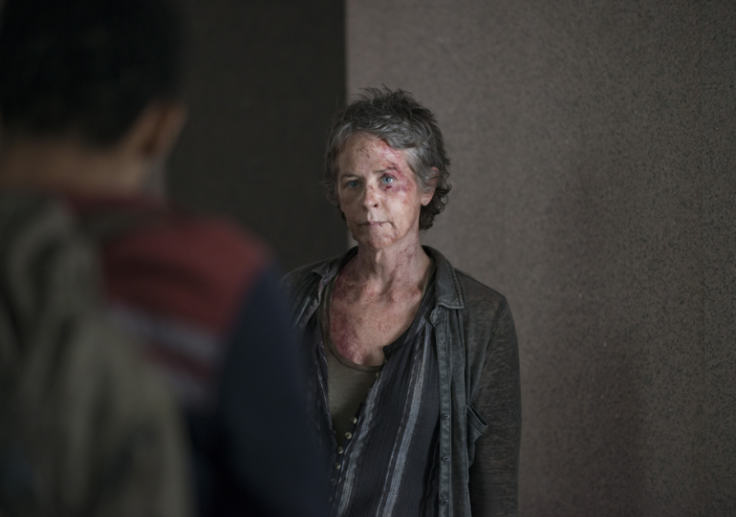 What happened to Carol (Melissa McBride) and Daryl (Norman Reedus) after they left Rick's (Andrew Lincoln) group at Father Gabriel's (Seth Gilliam) church? "Walking Dead" viewers about to find out.
Season 5, episode 6 of the hit AMC series is set to air on Sunday, Nov. 16 at 9 p.m. EST. While fans took a break in episode 5 to follow Abraham (Michael Cudlitz), Eugene (Josh McDermitt) and the others to Washington, D.C., the show will track back to answer the cliffhanger from episode 4 – How did Carol end up at the Atlanta hospital that Beth (Emily Kinney) was stuck in?
As we previously reported, the upcoming episode of "The Walking Dead" will find stakes "high" when "members of the group must go on a rescue mission in a familiar location." While the synopsis didn't say which group members would be heading out on the mission, the promo video for episode 6 makes it safe to assume that this week will be all about Carol and Daryl chasing after the mysterious car with the cross on the back window.
There are a lot of blanks that the show has to fill in. Like we mentioned earlier, "Walking Dead" fans are curious as to how Carol ended up unconscious on a stretcher in the hospital run by Officer Dawn (Christine Woods). Another question plaguing viewers – who was Daryl telling to come out of the woods when he finally returned to Father Gabriel's church? Finally, will we ever see Noah (Tyler James Williams) again?
Hopefully answers are coming in Season 5, episode 6 of "The Walking Dead." Check out two sneak peek videos before the Nov. 16 episode, and tweet your thoughts to @AmandaTVScoop:
Sneak Peek #1
The first sneak peek video from episode 6 shows Daryl and Carol on the road after Daryl spotted the car with the cross. Fans will remember that Daryl had followed Carol to an abandoned car at the end of episode 2. Still struggling with being in the group after the horrific acts she committed in Season 4, Carol had plans to leave the other survivors. Daryl managed to catch her in time, but the two didn't end up returning to Father Gabriel's church – they went on a potential rescue mission to see where the mysterious cross car could have possibly taken Beth.
The clip from "Consumed" features Daryl catching Carol up on what happened with Beth after the Prison fell. "She's tough, she saved herself," Daryl tells Carol when asked if he saved her.
As they follow the unknown vehicle from a safe distance, Daryl acknowledges that Rick is going to wonder where they went and that their tank is low. Carol's solution? End it "quick" by running the other car off the road.
Watch the Season 5, episode 6 sneak peek below:
Sneak Peek #2
"Walking Dead" fans who tuned in for "The Talking Dead" last week were able to catch this sneak peek video of episode 6. The clip shows Daryl walking towards a fire that he appears to have created outside. He holds a body wrapped in a white sheet and gently tosses it on the flames. As he stands back and watches the body burn, Carol joins him. "Thank you," she tells him.
Whose body is Daryl and Carol burning in the sneak peek? Find out when "The Walking Dead" Season 5, episode 6 airs on AMC on Sunday, Nov. 16, at 9 p.m. EST.
© Copyright IBTimes 2023. All rights reserved.