'Walking Dead' Season 6 Spoilers: Steven Yeun Teases How Maggie's Pregnancy Will Affect Glenn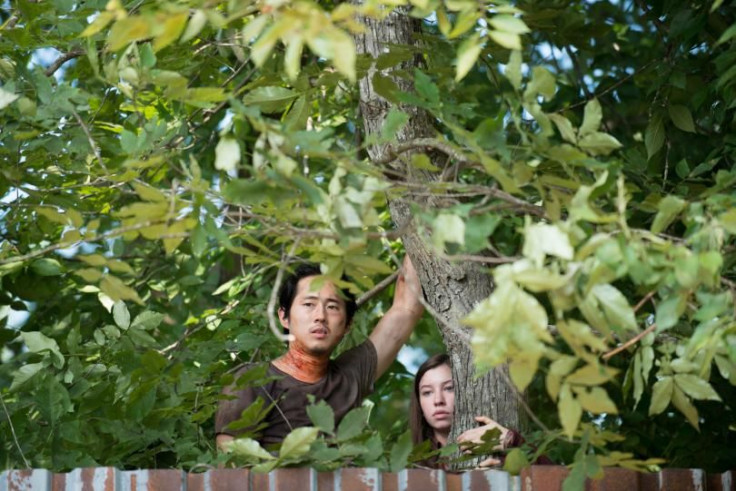 Glenn Rhee (Steven Yeun) has a lot to fight for when Season 6 of AMC's "The Walking Dead" returns. The fan-favorite character already escaped death in the first half of the season, and now he's tasked with rescuing his pregnant wife Maggie Greene (Lauren Cohan) from Alexandria.
Even though viewers did not see Maggie tell her husband about the baby news, Yeun told Entertainment Weekly in an interview published Saturday his character already knows his wife is expecting.
"It's interesting because people assumed that Glenn didn't know about the pregnancy, that Maggie would not have told him, and she told Aaron," he said. "But Glenn has known about the pregnancy since the very beginning."
So how will impending fatherhood affect Glenn? Yeun teased that everything his character does will be in hopes of creating a better world for his child.
"Everything Glenn does is because of the kid that's on the way, be it down to even saving Enid [Katelyn Nacon], even pressing her to come back with him. You know, why would he do that? I think, ultimately, what he's trying to get at is that he's trying to build a world for this kid that can be as close to what he grew up in as possible, that can have hope to be some sort of secured, stable environment," the 32-year-old actor told EW.
He added, "I think everything's kind of prep for this kid, and so, yeah, I mean, that's kind of where they're at right now with the baby."
Norman Reedus (who plays Daryl Dixon) also has dropped a few spoilers about the AMC series, hinting that not every veteran character will make it to the Season 6 finale.
"There are some large things that happen to us in the back half, and we don't all survive," Reedus said in a promotional video. "And we don't all take it very well."
Reedus also previously said that Negan's (Jeffrey Dean Morgan) arrival causes a lot of "turmoil."
"There's going to be a fight," he said. "I won't tell you who, when and where, but I can promise you a fight. All of us are about to clash with that motherf----. There's a lot of turmoil in the second half of Season 6."
Season 6 of "The Walking Dead" returns on AMC Feb. 14.
© Copyright IBTimes 2023. All rights reserved.