Walmart Black Friday 2015 News: Retail Company To Offer Holiday Deals Online, Over Longer Period Of Time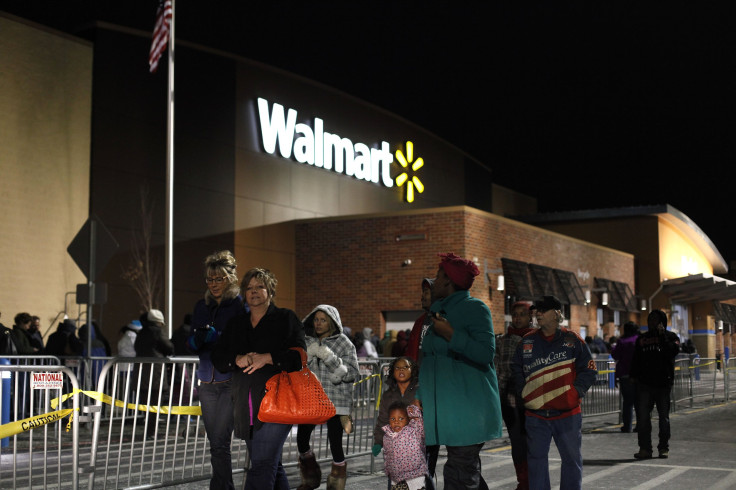 This year, the scene outside Wal-Mart on Black Friday may look a little calmer than normal. The retail giant is changing its strategy for the day after Thanksgiving, aiming for less chaos and more time for shoppers to access deals.
The company will offer big discounts on items such as TVs, DVDs and pajamas starting at 6 p.m. local time Thanksgiving day, but the sales will last until items are gone instead of a only using a five-day period, like last year, according to CNBC. The company also said it will offer more deals across the holiday season. Perhaps an even bigger change, though, is that almost all of Wal-Mart's sales will be available online first, starting at 3 a.m. EST Thanksgiving day.
This digital strategy represents a shift for the chain, which has been known for its door-busting Black Friday events that focus on getting shoppers to show up at its stores as early as possible. In recent years, the crowds at Wal-Mart stores during Black Friday have been intense. People have been trampled to death in stampedes, fights were a regular occurrence and the company seemingly opened its doors earlier and earlier to let customers take advantage of steep discounts.
But the company found that some customers were confused when it promoted deep discounts for multiple days, said Steve Bratspies, Wal-Mart's Chief Merchandising Officer, according to MarketWatch."[The customers] want simple."
The move to offer deals online as well as in stores reflects the efforts companies are making to keep up with consumers' changing shopping habits. While Black Friday has traditionally been the year's big shopping day, sales percentages have shrunk, according to consulting firm AlixPartners LLP. A survey from the National Retail Federation even found that about 40 percent of shoppers start buying gifts before Halloween.
Wal-Mart has also seen protests mark its Black Friday sales in recent years, a trend which could continue this year as its workers push for a $15 an hour minimum wage. Employees of the company across the country are planning a 15-day fast lasting until Black Friday.
"While shoppers get ready to cook their Thanksgiving feasts and take advantage of Black Friday deals, Wal-Mart is still putting profits over their own workers who are unable to buy basic groceries because of low wages and reduced hours," Tyfani Faulkner, a former Wal-Mart worker in Sacramento who has led the planning for upcoming Fast for 15 actions told The Courier-Journal.
Wal-Mart raised its starting pay to $9 an hour this year and plans to offer $10 an hour starting in February, according to The Courier-Journal.
"False attacks and media stunts from the unions have become an annual tradition this time of year," Brian Nick, a Wal-Mart spokesman, told the Courier-Journal. "We will continue to focus on our commitment to invest $2.7 billion over this year and next in wages, education and training for our associates."
© Copyright IBTimes 2023. All rights reserved.
FOLLOW MORE IBT NEWS ON THE BELOW CHANNELS