Watch: Blac Chyna Hurls Baby Stroller During Brawl At Six Flags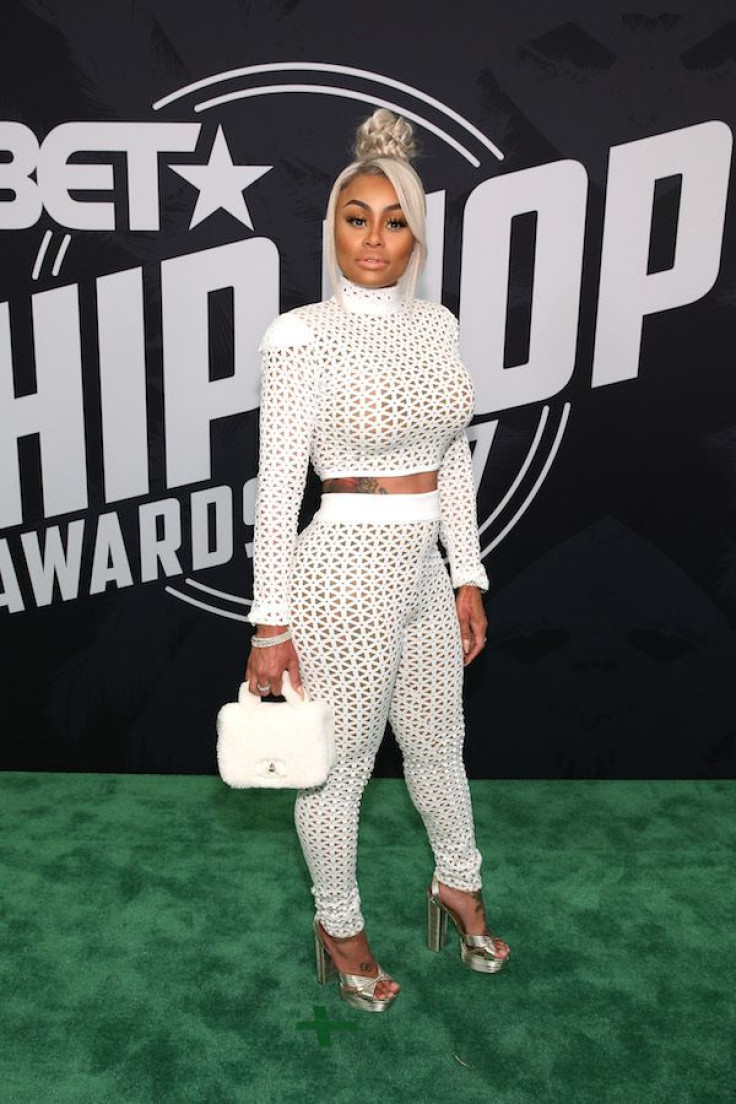 Reality TV star Blac Chyna was caught on camera getting involved in a verbal argument with a group of people at Six Flags, Los Angeles, theme park on Easter Sunday. A video showing Chyna swinging a baby stroller at the crowd went viral on social media.
Chyna was with her teen rapper boyfriend YBN Almighty Jay at the amusement park when the scuffle broke out. It was unclear what sparked the fight. However, one woman who claimed to be the person with whom Chyna got into a fight wrote on Twitter the scuffle broke out after she admired the reality star's daughter Dream Kardashian and then rubbed the little girl's hand.
Alluding to the incident that took place Sunday, Chyna took to her Instagram Story writing, "Being famous is hard enough dealing with scrutiny but when someone feels comfortable to come and touch your child it's a whole other story. I do not condone violence nor am I a violent person but shout out to all of the amazing mothers out there that will protect their children at all cost. ... Love, King and Dreams mommy."
Video of the incident that surfaced online showed multiple people trying to stop Chyna as she lost her cool and hurled the bright pink children's ride-on car at someone in the theme park.
According to reports, the fight turned ugly before security at the park tried to bring an end to the scuffle.
Social media users reacted to the viral video, with some of them remarking the fight may have erupted after someone at the amusement park made a joke about her much younger boyfriend.
"Blac Chyna out here fighting with a stroller at Six Flags because they said her man wasn't old enough to ride the ride," one user joked.
Last month, Rob Kardashian's ex-girlfriend confirmed her relationship with YBN Almighty Jay, who is apparently 11 years younger than her. Chyna has a daughter, named Dream, with the "Keeping Up With The Kardashians" star.
According to reports, the baby-stroller that Chyna swinged at the people at Six Flags is believed to be of her daughter. On March 22, Kardashian had posted a photo of his daughter Dream in a similar-looking baby stroller.
Last year, Kardashian and Chyna settled their lengthy joint custody agreement over daughter Dream, after the 30-year-old reportedly agreed to pay his ex-partner $20,000 a month in child support.
After the latest video of Chyna's brawl surfaced, several social media users remarked Kardashian will be sending the clip to the court to get the custody of his daughter.
Earlier on Sunday, Chyna had shared videos on Snapchat of her one-year-old daughter and five-year-old son King Cairo, whom she has with her former boyfriend Tyga. The Snapchat videos show Dream being pushed around the theme park in the same bright pink baby-stroller she used to attack the people she had a fight with.
© Copyright IBTimes 2023. All rights reserved.