Watch Live: Astronauts On International Space Station Conduct Spacewalk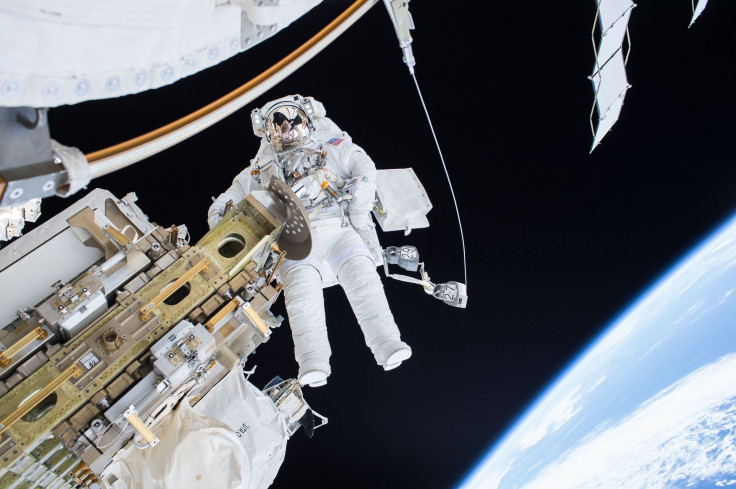 Two astronauts currently living on the International Space Station have a big day ahead of them. Expedition 53 Commander Randy Bresnik and Flight Engineer Joe Acaba from NASA will conduct a spacewalk outside of the station to do some maintenance and prepare the station for the arrival of the Cygnus cargo carrier that is set to launch in November.
Live coverage of the walk will begin at 6:30 a.m. EDT on NASA's website and YouTube channel but the astronauts aren't scheduled to head outside of the station until 8:05 a.m. Friday morning. The walk was originally planned for Wednesday but was delayed because of a camera light failure, according to a NASA release. On Thursday, the astronauts were reviewing spacewalk procedures and preparing everything they needed for the approaching walk.
While they're outside of the station completing their tasks, NASA astronaut Mark Vande Hei and the European Space Agency's Paolo Nespoli will stay in the station to assist the two and guide them through their tasks. They'll also help the spacewalkers in to and out of their large spacesuits.
The list of tasks the astronauts will carry out is made up of replacing the failed camera light on the Canadarm2, the part of the station that will capture the Cygnus after its November launch. They'll also install an HD camera on the starboard truss of the station. Additionally, they will replace a fuse on the payload platform and remove insulation that is currently on two spare parts kept on stowage platforms, according to NASA.
This spacewalk is the final walk of Expedition 53, the team is made up of six astronauts from NASA, ESA and Roscosmos, the Russian space agency. The members of the team who have been there since July are scheduled to return to Earth in December while those who launched in September will return to Earth in February.
They're studying cosmic ray particles, manufacturing fiber optic filaments and studying muscle atrophy during their time on board the station. These are just a few of the experiments that are constantly going on in the zero gravity laboratory in space. Two spacewalks have already been completed during the expedition earlier this month. Both of these walks lasted for more than six hours.
During the previous walk NASA took questions during the spacewalk and answered them during the live broadcast while the astronauts were conducting their tasks. The actual astronauts are busy working so they don't answer but the NASA employees working on the broadcast answer questions about the spacewalk, exploration and the station. To ask a question during the walk just tweet using #AskNASA.
Watch NASA astronauts conduct a spacewalk live online:
© Copyright IBTimes 2023. All rights reserved.