Watch Live: Expedition 53-54 Members Launch To International Space Station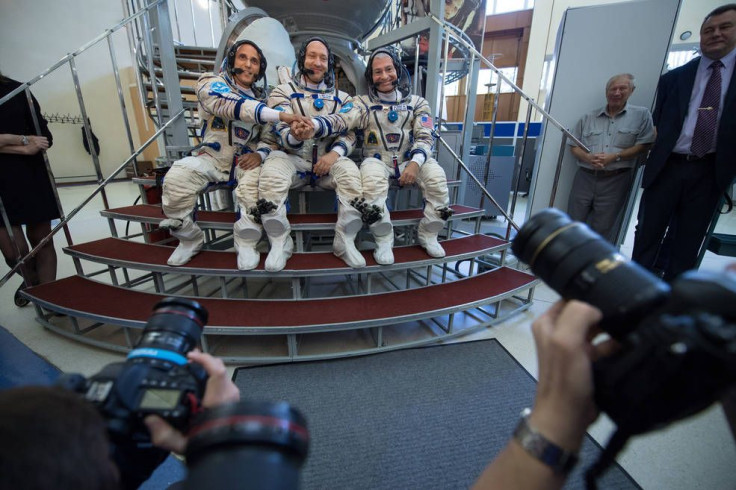 The final three members that will round out Expedition 53-54 on the International Space Station are headed to their new home in the sky Tuesday night. Two of those crew members who will be spending five months onboard are NASA astronauts.
Mark Vande Hei and Joe Acaba will be launching to the station in a Soyuz MS-06 craft along with Roscosmos cosmonaut Alexander Misurkin on Tuesday evening eastern time. The three will launch from the Baikonur Cosmodrome in Kazakhstan at 3:17 a.m. local time Wednesday, or 5:17 p.m. EDT.
NASA will have live coverage of the launch as well as of the docking of the pod to the ISS later Tuesday night. Launch coverage is scheduled to begin at 4:15 p.m. EDT about an hour before the scheduled launch of the three crew members. After launch the trip to the station should take about six hours or so at which point the crew will dock and the hatch will open roughly two hours after that.
The station orbits Earth at an average altitude of 220 miles, according to NASA. It's traveling about 17,000 miles per hour as it orbits meaning the Soyuz needs to catch up to the speed of the station before it can dock. NASA will start coverage of the docking around 10:15 p.m. and then the hatches are expected to open around 12:40 a.m. on Wednesday morning.
The current commander of the ISS, NASA astronaut Randy Bresnik will welcome the three new crew members aboard with Flight Engineers Sergey Ryazanskiy of Roscosmos and Paolo Nespoli from the European Space Agency, says NASA. The three crew members who are currently on the station launched in late July before NASA's Peggy Whitson and Jack Fischer and Fyodor Yurchikhin of Roscosmos returned home a little more than a week ago.
Astronaut Joseph Acaba has already spent 138 days in space prior to this trip during two prior missions and will add to that time with this mission. Mark Vande Hei has served as a Capsule Communicator in the Mission Control Center in Houston, Texas and has also served as the Astronaut Office's Director of Operations in Russia prior. This launch will be astronaut Vande Hei's first mission to space.
While on board all of the astronauts and cosmonauts will work on the experiments on the station that further the research done on biology, biotechnology, physical science and Earth science. Those experiments include the recently resupplied experiment to grow food on the station as well as the supercomputer that was recently installed on board.
The launch will be broadcast on NASA TV on NASA's website as well as on Youtube, or you can watch it live here:
© Copyright IBTimes 2023. All rights reserved.