Watertown Standoff: Police Reportedly Arrest Suspect Following Explosions And Shootout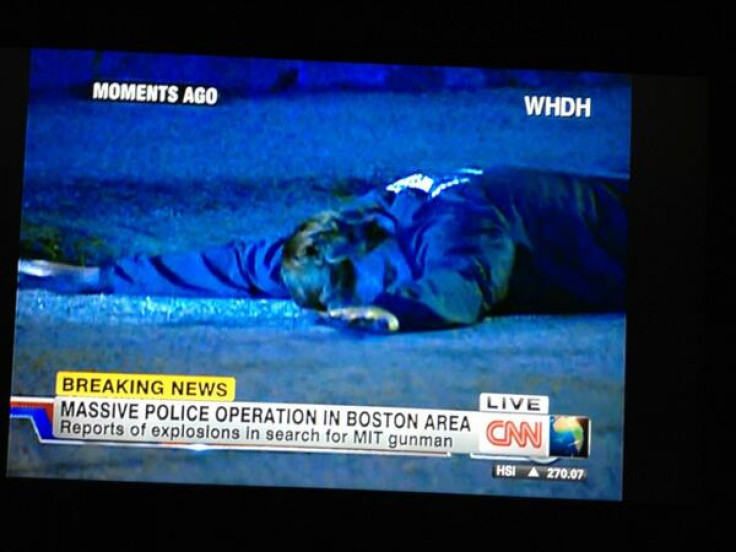 Update 3:50 A.M.: The Boston Globe reports that a Massachusetts Bay Transportation Authority worker is beign treated for gunshot wounds sustained during the ongoing manhunt.
Update 3:10 A.M.: According to WFSB's Kevin Michael, Boston police have stated the names of both Boston Marathon bombing suspects over police scanner: Suspect one is Mike Mulugeta, and Suspect 2 is Sunil Tripathi. Police chatter is not confirmed as factual, however.
Update 3 A.M.: The Boston Marathon bombing suspect captured by police appears to be Sunil Tripathi, a student missing from Brown University, the Atlantic's Matt O'Brien reports.
Update 2:47 A.M.: 7News reports that the suspect taken to Beth Israel hospital has died of his wounds.
Update 2:28 A.M.: The Boston Globe reports that one subject In the Boston Marathon bombings has been captured at Watertown. This is huge news if true. One suspect appears to be at large.
"One Marathon bombing suspect has been caught, and another is on the loose in Watertown after a firefight with police, officials said," the Globe tweeted.
Update 2:20 A.M.: Boston's Channel 5 News has provided uncut audio and video footage of the shootout at Watertown. Watch it here.
Update 2:15 A.M.: Update: The second subject in the Watertown shootings appears to have been shot by police and taken to Boston's Beth Israel hospital, according to Boston's 7News.
"7's Steve Cooper citing sources: 1 of the suspects in Watertown was shot and taken to Beth Israel Hospital," reporter Brad Tatum tweeted.
Watertown residents are being warned to stay indoors, as police believe explosives may still be live in the area.
To recap the night's situation: Two suspects appear to have robbed a 7-11 in Cambridge, Mass. late Thursdat night before fleeing to the MIT campus. There, they shot and killed a campus police officer before fleeing to nearby Watertown. On the way, the suspects fired on police and reportedly dropped hand grenades from their stolen Mercedes.
Once in Watertown, the suspects engaged in a firefight with Boston and Watertown police. Boston's Channel 5 News reported that the suspects fired as many as 25 rounds in a single minute. Police managed to capture one suspect, and another appears to have been shot and taken to Beth Israel hospital.
Reports still state that there may be additional explosives around the Watertown area.
Update 1:45 A.M.: Update: Despite one suspect being in custody, explosives still appear to be live in Watertown. Authorities have referred to several "devices" and "packages" on the Boston police scanner, and police have asked nearby witnesses to power down their cell phones "for fear of explosion."
One suspect still appears to be on the loose. It is not known whether the Watertown shootings and explosions are related to the MIT shooting or the Boston Marathon bombings.
1:30: Explosions have rocked the Watertown, Mass., area after authorities tracked the MIT shooter from Cambridge to nearby Watertown. Police appear to have captured one of two suspects following an armed standoff and several explosions in Watertown.
Details are incredibly scarce, but information from reporters in the field point toward a standoff with Boston police. Boston's 7News has reported that authorities have suspects in custody in Watertown, Mass., after an armed standoff possibly involving a hand grenade.
"Cops emerging with man in custody," tweeted Boston Globe reporter Wesley Lowrey. "Handcuffed male being questioned by FBI in back of ambulance."
Lowrey later added that the suspect appeared to be a white male.
Before the suspect was reportedly arrested, it was suggested that there were two armed suspects involved in a firefight with police and hand grenades were reportedly involved.
"This is what I heard, I cannot confirm this. A paramedic said 'Get back, get back, there's a hand grenade.' I just heard another shot fired, Adam Williams, reporter for Boston's 7News, said live on air. 7News also reports that the suspects had been involved with two gas station robberies before the MIT shooting.
According to reports from Boston police scanners, two suspects reportedly hijacked a car and were chased by police officers. Some reports suggest that grenades were thrown out of the moving car before the suspects arrived at the current location in Watertown.
"Per the police scanner: two men hijacked a Mercedes, threw grenades at chasing cops in Watertown, and then stole a police SUV," Massachusetts-based Grantland writer Bill Barnwell wrote on Twitter.
Watch a live feed from Boston's 7News live below.
© Copyright IBTimes 2023. All rights reserved.