'We Bought a Zoo' Review: Matt Damon Shines as Family Man Zookeeper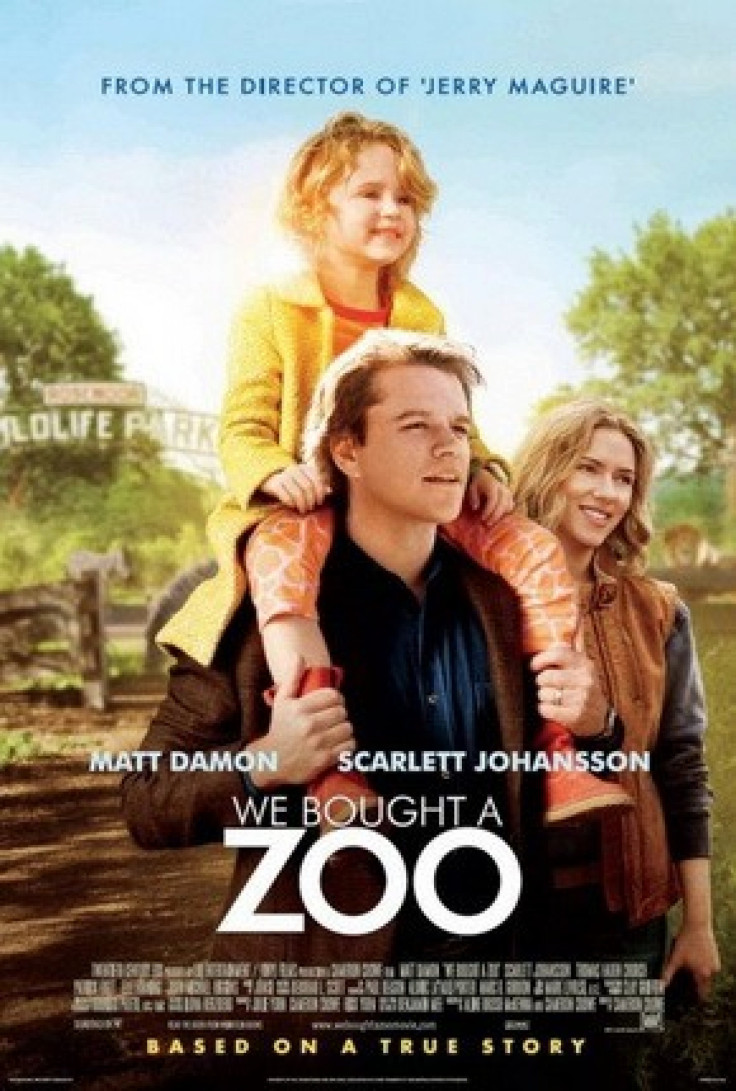 'We Bought a Zoo' is a film I would likely have never seen if my mother hadn't dragged me along Christmas night to see it.
But we went to the multiplex after a little goading, and I was bowled over by how genuine and warm the movie was.
Matt Damon, in a major departure from his roles as the cerebral, ripped action hero of the 'Bourne' series and 'The Departed,' plays a family man journalist who falls into a unique lifestyle.
As his daughter - played by seven-year-old Maggie Elizabeth Jones, a natural actress with a bright future in film - says jubilitantly at more than one point, he bought a zoo!
And thus is the crux of We Bought a Zoo established. Damon's character, based on the real-life reporter-cum-zoologist Benjamin Mees, loses his wife before we meet him and his family.
Before his wife died, Mees was addicted to adventure as a reporter at unnamed California publication, but he is racked with grief and overwhelmed by the prospect of raising his two children as a single father.
His early-teens son Dylan, played by Colin Ford, takes his mother's death the hardest and begins to paint horrifying portraits of decapitated heads and death before getting expelled from school.
So Mees takes the plunge into a new life, purchasing an old house in the California sticks, along with a sizeable zoo with 47 species of animals and a staff of about eight dedicated people, including head zookeeper Kelly Foster, played convincingly by Scarlett Johannson.
The action takes off from there, and the travails of rehabilitating an aging wildlife park with several endangered species on the premises consumes Mees, who nearly succumbs to the pressures of such a task.
But the staff's committment to the causes of keeping the park open and the animals alive and thriving give Mees the strength to deal with a runaway 700-plus-pound bear, a depressed tiger and a bastard of a zoo inspector named Walter Ferris, played by John Michael Higgins, who presents him as an anal, relentless nitpicker.
As We Bought a Zoo flowers, a romance develops between Dylan Mees and a young girl who works under the table at the zoo, Lily Miska (Elle Fanning), and he comes out of his depression as his father learns to connect with him and get over his wife, who was killed by cancer.
The ending is a triumphant testament to the power of courage and human perseverance, though I'll leave that out here so as not to spoil a wonderful tale.
It really is a great feel-good movie, but We Bought a Zoo goes further than that, as Matt and the rest of the cast bring a true genuineness not often seen in such a high-profile movie. Though the zoo the movie is based on is really based in England and the wife actually died after Mees bought it, the story provides a glimpse at a life most people have likely never even imagined.
This movie will likely boost zoo visits and animal-rights groups for a while, as they come into focus through the lens of big celebrities and the Hollywood treatment.
But for the individual viewer, it also provides a boost of energy and heart in a movie scene often devoid of both. And for that, We Bought a Zoo will be remembered.
© Copyright IBTimes 2023. All rights reserved.