Weak China, Euro Zone Data Dent Stocks: Daily Markets Wrap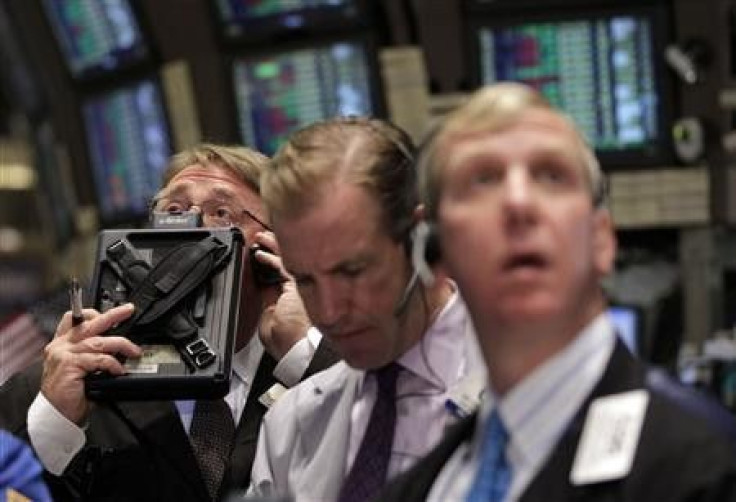 Stocks took a big step back Thursday after more signs pointing to weakening economic conditions in China and Europe spooked investors into making a run for safety.
The main trigger for the slide seemed to be China, where factory activities shrank in March for a fifth successive month, according to HSBC's preliminary purchasing managers' index.
Further weighing on sentiment was a separate report that showed factory output unexpectedly shrank in Germany and France. Markit's Eurozone PMI Composite Output Index for March found that the euro zone had fallen into a recession.
Concerns about global growth overshadowed a drop in U.S. jobless claims and a better-than-expected growth in an index of leading economic indicators.
Stocks. European markets finished in the red as bank stocks continued to head lower. The Dow Jones Industrial Average and S&P 500 retreated for a third day, closing at 13,047.35 and 1,393.39, respectively. The tech-heavy Nasdaq lost 11.52 points to 3,063.80. Asian bourses were mixed.
Bonds. Investors favored the safety of U.S government debt and accepted Thursday a negative yield in the sale of $13 billion of 10-year Treasury Inflation-Protected Securities, or TIPS. The yield on benchmark 10-year notes declined to 2.28 percent.
Commodities. Growth-sensitive copper futures slumped to a two-week low. Crude oil futures more than gave back the previous session's sharp gains and ended at $105.35 a barrel. Gold settled at a two-month low of $1,642.50 an ounce. Natural gas slipped.
Currencies. The U.S. dollar gained against the euro but fell against the Japanese yen. The ICE dollar index rose 0.14 percent to 79.70. The Chile peso, which often follows the direction in copper prices as Chile produces a third of the world's supply, closed weaker. The Brazilian real fell.
© Copyright IBTimes 2023. All rights reserved.