Wearable Tech Trends 2016: 10 Products And Brands To Know Now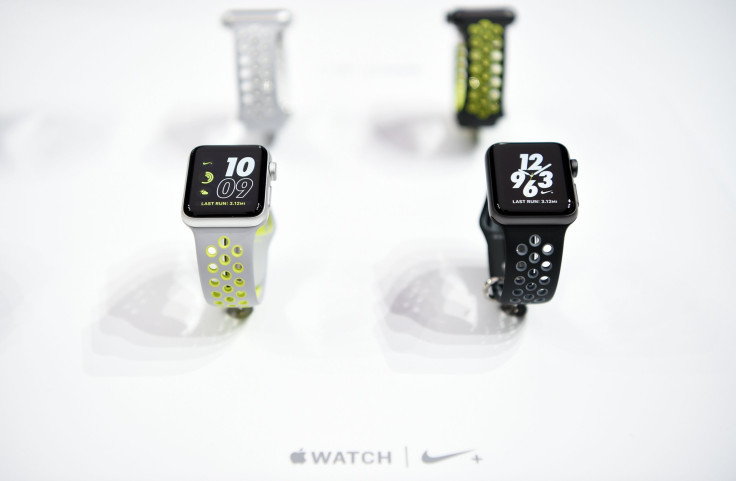 The world of wearable tech, as we know it, is growing and consistently pushing the existing boundaries between technology and what we wear.
What began with fitness trackers, smartwatches and other tech-driven accessories, has since blossomed into wearable technology that can measure, monitor and report on our health, now, from the very fabric of our clothing.
Wearable tech has been the hot topic of the year with brands like Fitbit. The fitness tracking brand pulled ahead of Apple and Samsung as the top purveyor of leading wearable devices. Fitbit recently reported first-quarter net income of $11 million on $505.4 million in revenue.
As consumers' response to tech has varied, from the unfavorable (Google Glass) to the hopeful (VR Goggles), the question remains: How will the consumer respond to the meteoric developments in the world of wearables?
"It's this convergence of really figuring out how you integrate technology in an invisible way, yet it's meaningful to the consumer. Every brand has a unique consumer," Sandra Lopez, vice president of strategic relationships/business development for Intel's New Devices Group, told The International Business Times at the 2016 Fashion Tech Forum, which was held in Brooklyn Oct. 13. Founded by CEO and consultant Karen Harvey, this was the conference's third year and played host to innovators in the wearables space, from Sandra Lopez, Intel's vice president of wearables, to Paul Dillinger, Levi's vice president of global product innovation.
Lopez has championed Intel's bite-size module device, Intel's Curie Module, and formed partnerships with fashion brands like Fila for Baja East and Hussein Chalayan to integrate the device, a mix of software and hardware, into their accessories, making virtually any piece a wearable. Lopez said the success of wearable pieces lies in how each brand harnesses the technology to make it work for consumers. And "one size" does not fit all.
"It's personal. I firmly believe that the people who are not using their Fitbits and put it in their drawer three months later, it probably wasn't for them to begin with.
"As a technology company, there is not one solution for everybody," Lopez added. "We're all different. Bringing relevant experiences and multiple experiences is going to be the key to success."
In 2016, there is no shortage of brands and companies that have delivered to bring consumers those "relevant" and continued experiences. From wearable, tech-driven fabrics to mood, health and wellness trackers, here are 10 brands and products that are redefining "wearable tech" to bring consumers smart, intuitive experiences through technology.
Tech Fabrics: Garments that feature "smart" fabric will be the washable, everyday answer to the wearable tech accessory. Google and Levi's teamed up on Project Jacquard, which was first announced in May and champions garments made from yarns that can interact directly with digital devices and smartphones.
Using integrated GPS and electronics that are washable, Wearable Experiments also debuted a line of pieces that connect wearers to experience, or "human/computer" interaction. The company released a sports jersey, aptly named the Fan Jersey, prior to the Super Bowl that transmits haptic vibrations, allowing fans to feel vibrations based on real-time plays during the game. The company also released leggings called the Nadi X. The tights are made with the same technology as the jersey, but assist the wearer in correcting form during a workout.
Module-Based Wearables: Intel's Curie Module is an example of a device that could be incorporated into a variety of products to make them wearable. In the past year, Intel has partnered with fashion brands to integrate the module into a variety of pieces. A collaboration with designer Hussein Chalayan during Fashion Week in September saw the debut of Curie Module-powered glasses that gather biometric data to monitor breathing, heart rate and brainwave activity.
Baja East and Fila partnered for Fashion Week to debut a footwear line that also used Intel's Curie technology. The connected shoes can "track and interpret fitness data" for the wearer.
Fitness and Wellbeing Trackers: Fitness trackers have had some of the highest success rates in the wearable tech space, and when it comes to fitness, Fitbit products have consistently hit the mark. Its new Charge 2 wristband uses a PurePulse Heart Rate feature that tracks heart rate and can better track caloric burn.
Stress and overall wellbeing are kept in check with Vinaya's Zenta wearable, a pioneering piece in "emotion technology." Zenta builds a profile of the wearer by tracking sleep, stress, emotional states and overall mood. The Zenta wristbands can be pre-ordered on the brand's Indiegogo page and are expected to ship beginning in March.
VR Goggles And Glasses: With the advent of mainstream VR technology, consumers can expect to see many iterations of VR goggles debut soon. One of the most buzzed-about products is the Oculus Rift, which is expected to debut later this year. The goggles can plug in through USB or DVI ports and the consumer model is said to use 2160-by-1200 resolution, Warable reported. The Samsung Gear VR goggles are available now and connect to Samsung's smartphones, making them compatible and user-friendly.
Pet Tech: Pets are in on the wearable action, too. Wearable devices that track and monitor pet health have claimed a space in the wearables category. Brands include Whistle, which tracks a pet's location and daily activity, and PetPace, a "smart collar" that monitors a pet's vital signs, activity and behavioral patterns.
"Enviro-trackers": Devices that not only measure personal health and well-being, but monitor surroundings and the environment will be another coming wearable trend. Tzoa revealed its "enviro-tracker," which hooks directly to garments and uses internal sensors to measure and report temperature, air quality, atmospheric pressure and UV exposure. Using the data, the device can help the wearer determine where there's fresh air and indicate locations on a real-time environmental data map that shows where there is air pollution. Tzoa's enviro-tracker currently is available for pre-order.
© Copyright IBTimes 2023. All rights reserved.
FOLLOW MORE IBT NEWS ON THE BELOW CHANNELS