Weekend Box Office: 'Captain America,' 'The Jungle Book' Stay On Top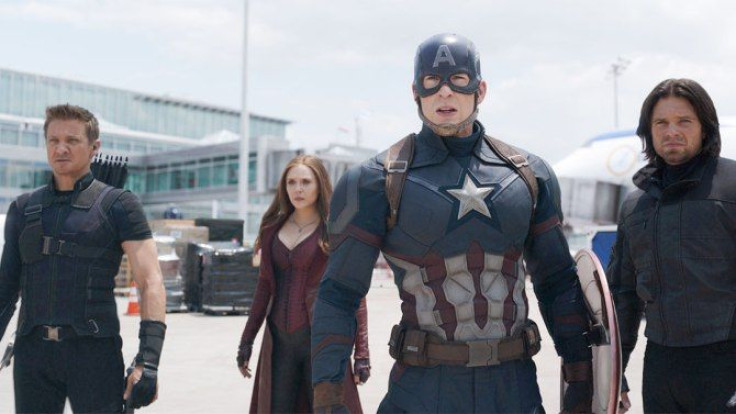 Jodie Foster's "Money Monster" could not unseat "Captain America: Civil War" at the top of the box office over the weekend. The Marvel superhero sequel took the top spot for the second straight week.
"Civil War," the third film in the franchise that includes 2011's "Captain America: The First Avenger" and 2014's "Captain America: The Winter Soldier," stayed strong at the box office in its second weekend, pulling in more than $72.6 million in the U.S. "The Jungle Book" was right behind it again this weekend with $17.76 million domestically, as both stayed ahead of "Money Monster," which earned $15 million in its opening weekend.
The big weekend for "Captain America" marks the eighth-largest second weekend of all time. The Marvel blockbuster debuted last weekend to a whopping $179 million. Its grand total through the first 10 days of is now up to $259 million domestically, proving Marvel Studios' continued dominance.
"The Jungle Book," which was in theaters for its fifth weekend, is now up to almost $312 million domestically. The Disney live-action/CGI remake was No. 1 at the box office for three straight weeks before ceding the top spot to "Captain America."
"Money Monster," starring George Clooney, Julia Roberts and Jack O'Connell and directed by Jodie Foster, was the highest-grossing new movie of the weekend. The TriStar drama, about a disillusioned investor (O'Connell) who hijacks a financial news program and holds its host (Clooney) hostage to force him and his producer (Roberts) to expose corruption in the the financial system, did not have a realistic shot at overtaking "Captain America." However, "Money Monster" did have a solid opening weekend. According to Box Office Mojo, the movie's opening puts it on pace to finish in the same ballpark as some of Clooney's and Roberts' other recent starring vehicles, such as "The Monuments Men," "Larry Crowne" and "Duplicity," at around $45 million.
Elsewhere, "The Darkness," a supernatural horror film starring Kevin Bacon and Radha Mitchell, came in fourth behind "Money Monster" with just over $5 million, while "The Lobster," a "rom-com" about a man (Colin Farrell) living in a surreal world where being single is illegal and punishable by transformation into an animal, opened in four theaters in the U.S. and pulled in $188,095.
© Copyright IBTimes 2023. All rights reserved.