Wendy Williams Found Drunk Amid Kevin Hunter's Rumored Cheating Scandal: Report
Wendy Williams has yet to address allegations concerning her husband Kevin Hunter's rumored mistress, Sharina Hudson, giving birth to his child just days ago, but she reportedly relapsed due to the news.
The Daily Mail claims that on Monday, the 54-year-old talk show host checked out of the sober house in Long Island City, New York, that she recently admitted to staying at due to addiction issues.
"It's not clear where she went but she headed in the direction of her home in Jersey and managed to find alcohol along the way," a source said.
After staff at her daytime talk show found out about her condition, they began to look for her. "She was eventually found and was drunk, she was immediately taken to the hospital," a source said. While there, Williams was reportedly given a bag of IV fluids to help sober her up.
Her crew was unsure whether or not she would be able to make it to the set on Tuesday, but she did, and appeared to be fine. However, a source told the outlet that Williams is not doing well.
"Wendy is considering divorcing Kevin. She's really distraught over the situation, she knew about Sharina but didn't think a baby would arrive, she didn't think Kevin would go this far, she's lost and everyone is worried for her."
On Monday, the NY Post reported Hudson's baby news, with a source explaining the lengths Hunter allegedly took to try to keep the information out of the public eye. Said an insider, "Sharina gave birth to the baby at Hahnemann University Hospital in Philly. Apparently, they chose this location because they were worried that if she gave birth in New York, it would be leaked to the press."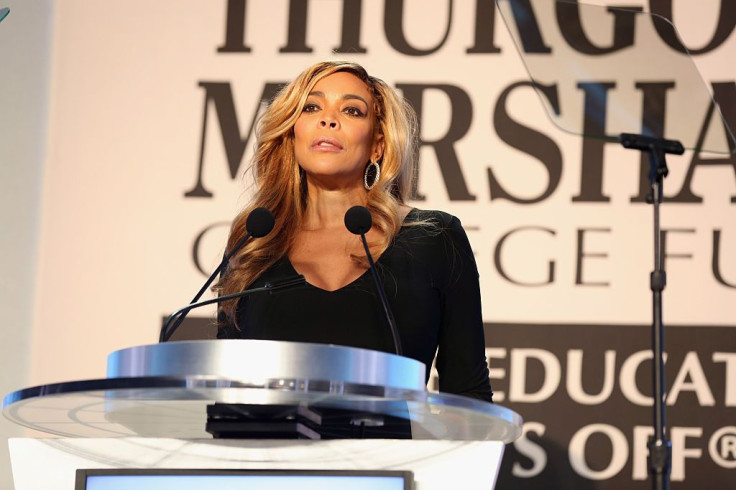 © Copyright IBTimes 2023. All rights reserved.