Were Mike Pence's Emails Illegal? VP's Private AOL Account Was Hacked As Indiana Governor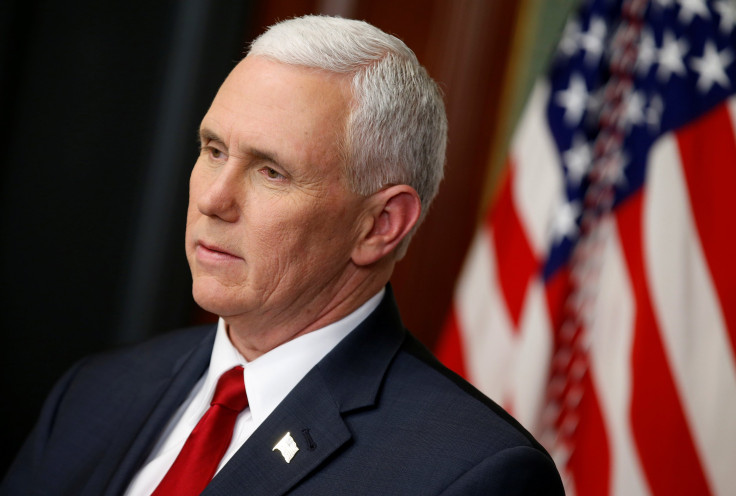 In a peculiar twist of fate, Vice President Mike Pence was in some hot water over how he handled his emails while in a government position. He used a private AOL account to conduct state business during his tenure as governor of Indiana, the Indianapolis Star reported Thursday.
This, of course, followed months and months of controversy over the fact that former Democratic presidential nominee Hillary Clinton used a private email server during her tenure as secretary of state. The FBI ultimately decided that while Clinton and her team could have been more careful with its email, criminal charges were not warranted.
"Although there is evidence of potential violations regarding the handling of classified information, our judgment is that no reasonable prosecutor would bring such a case," FBI Director James Comey said in July.
It appeared Pence might not have broken the law with his actions, as well. The vice president did, however, use his AOL email account to communicate on sensitive subjects such as terror attacks and to receive FBI updates. It also appeared he was hacked last summer, the Star reported.
The newspaper also noted that Indiana law allowed public officials to use personal accounts, but the rules were typically read to mean that any public business conducted on private emails must be saved for public records.
"Similar to previous governors, during his time as Governor of Indiana, Mike Pence maintained a state email account and a personal email account," Pence's office said in a statement to the Star. "As Governor, Mr. Pence fully complied with Indiana law regarding email use and retention. Government emails involving his state and personal accounts are being archived by the state consistent with Indiana law, and are being managed according to Indiana's Access to Public Records Act."
Pence had previously criticized Clinton for her use of a private email account on a private server, let alone using an account on AOL. "[President Trump] and I commend the FBI for reopening an investigation into Clinton's personal email server because no one is above the law," he tweeted in October during the campaign after the FBI briefly looked into emails related to Clinton aide Huma Abedin. The bureau declared soon after it had once again cleared Clinton.
But that Pence tweet lives on and — proving the old adage "never tweet" — folks online pointed out that the vice president might have been a bit hypocritical with his criticism.
© Copyright IBTimes 2023. All rights reserved.